Two of YTL resorts listed amongst Malaysia's 9 best luxury resorts by CNN Travel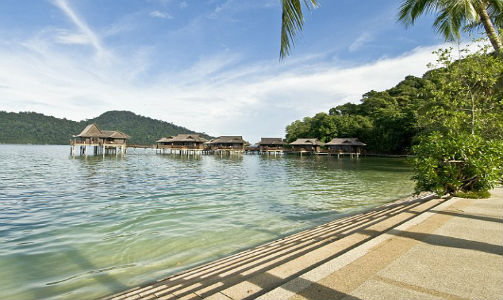 CNN Travel, October 16, 2013
By Tina Hsiao and Jules Kay
Travelers that venture beyond Malaysia's polished commercial capital Kuala Lumpur will find deserted beaches, forested hill stations, UNESCO heritage cities and some of the most extravagant resorts in Southeast Asia.
For leisure seekers looking to surround themselves with contemporary Malaysian hospitality and design, but who also enjoy an occasional breath of colonial opulence, these are some of the best resorts in the country.
YTL's Pangkor Laut Resort and Cameron Highlands Resort were listed amongst Malaysia's 9 best luxury resorts by CNN Travel.
Pangkor Laut Resort has previously won the 'Number One in the world' award by Conde Nast Traveller UK and was listed as 'Top 10 in Asia' by Travel + Leisure. It also won the 'Best Spa Resort' by CNN Go! and 'Best Luxury Destination' in the World Luxury Hotel Awards.
Luciano Pavarotti had high praise for this resort, ''I almost cried when I saw how beautiful God made this paradise.''
Cameron Highlands Resort has also won many awards under its wing, which include 'Best Romantic Stay' in the Best of Malaysia Travel Awards and numerous 'Best Spa Experience' awards in the Spa Asia Crystal Awards over the years.
Tan Sri (Dr) Francis Yeoh Managing Director of YTL Corp commented on the listing by CNN Travel saying, ''I am grateful for this mention of our two resorts in CNN Travel. Our customers truly enjoy the standard of service we uphold in all our hotels and resorts and that's why they keep coming back.
YTL Hotels & Resorts strive to be a force for good, providing our guests with a relaxing getaway like no other.
I want to thank all the unsung heroes in the YTL Hotels group whose passion to serve year after year provides an inspiration to the rest of the group in bench marking our customer service level.
I give all glory to our Lord Jesus Christ for this wonderful acknowledgement by CNN Travel.''
Pangkor Laut Resort
Three miles off the west coast of Peninsular Malaysia, Pangkor Laut Resort proves that the 'one island one resort' concept is not unique to the Maldives.
Resort guests have all 300 acres of a two million-year-old rainforest as their private playground, including four acres set aside for the spa village.
The 140 villas and suites include the 242 sqm Pavarotti Suite, named after the tenor who performed at the resort's official launch and opening of the spa village.
Whether you're staying in a sea villa perched on stilts over the Straits of Malacca, a hill villa, or a beach villa, the surroundings might just inspire you to burst out into an aria too.
Chapman's Bar on Emerald Bay marks the spot where, in 1945, a British colonel rendezvous'd with his submarine to escape occupied Malaya during WWII.
Pangkor Laut Resort, Pangkor Laut Island, 32200 Lumut, Perak; +60 5 699 1100; rooms from MYR 900 (US$282) plus tax per night including breakfast and WiFi
Cameron Highlands Resort
Located approximately 3.5 hours drive north of Kuala Lumpur, the Cameron Highlands is as quintessentially English as afternoon tea.
Not surprising, considering the area was a popular vacation spot for British colonials back in the day, attracted by the clement weather at 1,500 meters above sea level.
The landscape is dominated rolling hills blanketed with verdant tea plantations, and the temperature never exceeds a balmy 25°C or 26°C.
Cameron Highlands Resort carries many of the classic colonial design quirks, from white shuttered windows to four poster beds in each of the 56 rooms and suites.
The plateau is also where famed silk merchant Jim Thompson was last seen -- the mystery of his disappearance kept alive by one of the many 'trails' offered by the resort.
Location-specific activities from Cameron Highlands Resort include packing a hamper for a romantic picnic-for-two at the tea gardens, soaking in a tea bath, tee'ing off at the adjacent 18-hole golf course, and visiting strawberry fields.
Cameron Highlands Resort, 39000 Tanah Rata, Cameron Highlands, Pahang, Malaysia; +60 5 491 1100; rooms from MYR 450 ($141) plus tax per night including breakfast and WiFi
BORNEO
Bunga Raya Island Resort & Spa
Located in the South China Sea off the coast of Kota Kinabalu, Pulau Raya is one of the islands that make up Tunku Abdul Rahman National Marine Park.
Guests at Bunga Raya have the choice of 48 dark timbered standalone villas and suites, each one featuring open air balconies with sea or jungle views.
The Treehouse Villa with outdoor Jacuzzi offers the most privacy for lovebirds to sequester away in hidden bliss, while the poshest is the two-bedroom Royal Villa, tucked between the South China Sea and jungle, and featuring a private barbecue pit, two dip pools and a dedicated round-the-clock service team.
Activities include all those adventures Borneo is famous for -- jungle trekking, wildlife spotting or diving with turtles, whale sharks and stingrays.
Guests can also organize a tour to the Marine Ecology Research Center at the sister property Gayana Eco Resort on the same island, and even adopt a piece of coral (complete with periodic updates).
Bunga Raya Island Resort & Spa, Polish Bay, Gaya Island, Tunku Abdul Rahman Park, Kota Kinabalu, Sabah; +60 88 380 390; rooms from MYR 1,206.90 ($378) plus tax per night including return boat transfers and breakfast
Shangri-la Rasa Ria Resort
With its international airport, Kota Kinabalu is a popular gateway destination for visitors arriving in East Malaysia in search of lush rainforests, wide beaches, and biodiversity – Shangri-la Rasa Ria's got them all.
Its 416 rooms and suites are housed in two main wings that front a three kilometer-long beach. At one end of the beach, the resort's very own 64-acre nature reserve also houses the orangutan conservation and rehabilitation center.
Next door is the Dalit Bay Golf & Country Club with an 18-hole, par-72 championship golf course and a Chi Spa.
Guests can explore Shangri-la's 400 acres of greenery on an ATV, or arrange for trips to Mount Kinabalu -- the national park which earned the first World Heritage status in Malaysia – or go diving in the South China Sea.
The resort is currently in the process of adding an extension to its Ocean Wing, with a massive five-month refurbishment slated for February 2014. Travelers needn't worry, however, as the recently refurbished Garden Wing is located further down the beach,
Shangri-la, Pantai Dalit Beach, Tuaran, Sabah, 89208; +60 88 797 888; rooms from MYR 791 ($248) plus tax per night
LANGKAWI
Casa del Mar
Casa del Mar is a boutique hideaway along Pantai Cenang, the most popular and developed stretch of sand on Langkawi.
As the name suggests, the resort is built in a Mediterranean style.
Deluxe and Junior Suites feature large balconies with a hammock from which to kick back and enjoy the view.
Guests who like to explore their surroundings can stroll along the beach lined with shops and restaurants, while at the other end of the scale, the resort can arrange a castaway picnic at a more secluded stretch of sand complete with a tent and day bed.
Casa del Mar also organizes weekly sunset cruises on its 27-foot boat, plus twice-weekly day cruises and sailing lessons on the resort Hobie Cat.
Casa Del Mar, Jalan Pantai Cenang, Mukim Kedawang 07000 Langkawi; (604) 955 2388; rooms from MYR 794 ($249) plus service charge per night including breakfast and WiFi
The Datai Langkawi
Despite the lure of Langkawi's duty-free shopping, and the biodiversity on offer in the island's UNESCO-recognized Geopark, guests at The Datai may well be happy to just stay put.
The luxury resort, located on the northern shores of the island, is nestled amongst the rainforest with rooms inter connected by a network of pathways.
Of the 124 guest rooms, suites, and villas, 14 one- and two-bedroom beach villas were launched earlier this year, with only a grassy lawn separating the residences from the beach.
All rooms feature a private balcony or veranda, from which you can spend hours practicing your best David Attenborough impersonation as you narrate the activities of the dusky leaf monkeys, eagles, and hornbills.
The full suite of facilities includes a beach club which looks out over the Andaman Sea to Thailand's Tarutao island in the distance, and a spa tucked in the forest next to a babbling stream.
Water sports there are a-plenty, and the resort offers twice-daily wildlife tours with guides pointing out the neighboring natural residents.
The Datai, Jalan Teluk Datai, 07000 Pulau Langkawi; +60 4 9500 500; rooms from MYR 1,388 ($435) plus service charge per night including and WiFi and one-way airport transfer
Four Seasons Resort Langkawi
Being a branded property means you will already have some preconceptions as to the level of service and facilities on offer at this resort, and all the usual five star trimmings are accounted for.
Emulating a Malay village – albeit a rather luxurious one – the 91-key resort is located within 48 acres of gardens along the northern coast of the island. The rooms and amenities are linked by pathways and spread around a 1.5 kilometer beach frontage.
Limestone cliffs add to the dramatic landscape, featuring heavily in the design of the spa and the largest Royal Villa – actually a three-villa residence that features its own spa treatment room.
Kilim Karst Geoforest Park safaris are led by the resort's resident naturalist, and there's also a photographic mangrove safari that offers knowledge of camera tricks with the tour. Rock climbers can scale a 12 meter-high limestone outcrop, and Katniss or Robin Hood fans can master a bow and arrow at the on-site archery range.
With a kids club and recently launched Family Beach Houses, Four Seasons is definitely family-friendly, but there is also an adults only pool for a quiet(er) escape.
Four Seasons, Jalan Tanjung Rhu, 07000 Langkawi; +60 4 950 8888; rooms from MYR 2,150 ($673) plus service charge per night including breakfast
PENANG
Eastern & Oriental Hotel
The Eastern & Oriental Hotel as we now know it opened in 2001, but Penang's heritage hotel traces its history back to 1885 when the Sarkies brothers – also to thank for the Raffles in Singapore – merged the Eastern hotel with the adjacent Oriental hotel.
Situated along a sweeping sea frontage overlooking the Straits of Malacca, the E&O comprises the 100-key Heritage Wing and the Victory Annex, the latter opening in March 2013 with an additional 122 suites.
Rooms in the Victory Annex retain the old school charm, but with a little more modernity injected into the interiors.
White plantation shutters, clawfoot baths and whirling ceiling fans add to the colonial charm of the place, as does the private butler service (though be careful as the 'call butler' switch looks awfully similar to the light switches in the rooms).
E & O Hotel, 10 Lebuh Farquhar 10200 Penang; +60 4222 2000; from MYR 760 ($238) plus tax per night including breakfast and WiFi
Macalister Mansion
Named after island's former British governor, Macalister Mansion houses just eight guest rooms in a 100-year-old building.
The boutique property is slick and modern, and each guest room features privately commissioned artworks, including a love sonnet inscribed on the walls, a fabric collage, and a wire sculpture.
Some features of the original building have been incorporated into the otherwise sleek boutique design lines, including exposed truss beams in some of the rooms and a wrought iron spiral staircase inside the turret room.
To escape the pervading color palette of light pastel and white, you can fall into the arms of dark wood and leather (helped by fine wine, single cash whiskies and cigars). All this is on offer at The Cellar and The Den, just two of the five on-site F&B outlets.
Macalister Mansion, 228 Macalister Road, 10400 George Town, Penang; +60 4 2283 888; from MYR 745 ($233) plus tax per night including breakfast and WiFi