First Skywalk signals total integration of Sentul's transport network from railway, highway to foot traffic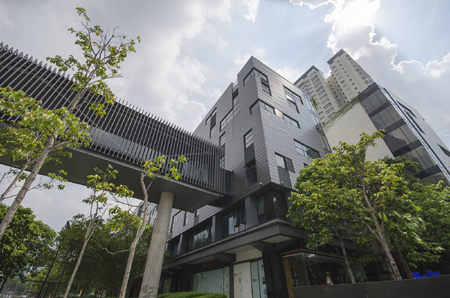 Kuala Lumpur, October 11, 2013
YTL Land has successfully completed the first phase of Sentul Skywalk, an elaborate system of pedestrian walkways that will overhaul Sentul East's transportation network. Suspended across Jalan Sentul, the first phase consists of an
overhead bridge linking the commercial blocks of d6 and d7 in Sentul East.
At first glance, the significance of this 'overhead bridge' can be lost on unsuspecting visitors beyond its über-modern architecture. "The bridge is an important catalyst for the renewal of Sentul," said Dato' Yeoh Seok Kian, Executive Director of YTL Land & Development Berhad. "It's the first phase of Sentul Skywalk, Sentul East's holistic pedestrian circulation system that will connect the commercial precinct to the Sentul KTM and Sentul Timur LRT stations."
Envisioned under YTL's master plan, Sentul Skywalk will also be supported by street-level pedestrian-friendly facilities, providing a safe and seamless commute for occupants, shoppers and office workers to the LRT/KTM integrated stations.
"As it is, Sentul today has excellent connectivity. The superb railway network will be augmented further with 2 proposed MRT lines. For motorists, the Sentul Link and Duta-Segambut highways have considerably eased traffic flow. And with the implementation of Sentul Skywalk, Sentul's integrated transport network will be all encompassing from railway, highway to foot traffic," Dato' Yeoh continued.
In other words, Sentul Skywalk will change the way people move and commute, paving Sentul's transformation from a railway hub to a transport hub.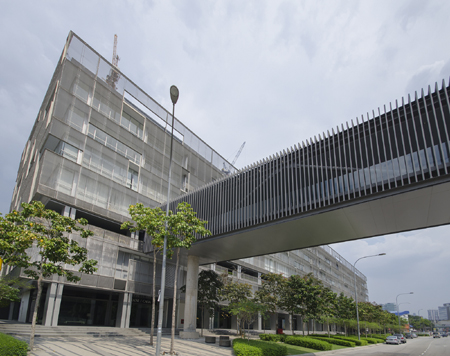 From an architectural standpoint, the bridge's streamlined design adds new sophistication to the iconic architecture of the buildings that it connects. Following on the heels of d6 and d7, Sentul East's future commercial hubs of d2 and d5 are set to radically alter the landscape of business architecture yet again.
Sentul's skyline is also undergoing a makeover with skyscraper condominiums zig-zagging into the horizon. Currently under construction, The Capers stunning profile is unmistakable and it will be followed by its sister condominium, The Fennel, which incidentally, repeated The Capers' success in selling out in 2 days during the preview weekend itself.
"We are truly overwhelmed by the level of support for our offerings in Sentul," concluded Dato' Yeoh. "It assures us that we're on the right path and we're determined to do even better."
The Fennel's second and final phase of condominium towers, with commanding views of KLCC, is scheduled for launch in the fourth quarter of 2013.