IT key thrust to power M'sia towards 2020 - Musa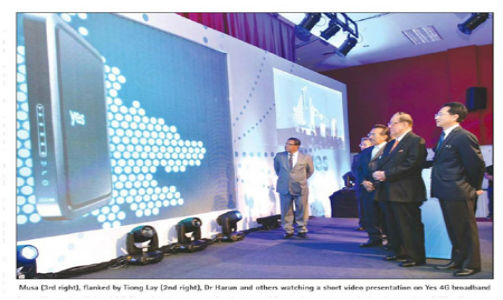 New Borneo Times, April 20, 2014
By Marryan Razan
Kota Kinabalu: Information Technology (IT) is a key thrust to ensure Malaysia stays on the right path towards attaining developed nation status by 2020.
Chief Minister Datuk Seri Musa Haji Aman said the government through the Education Ministry has been taking drastic steps to carry out transformation to boost the education system in line with IT modernisation.
A popular terminology of IT today is information communication technology (ICT).
Launching the 1BestariNet Virtual Learning Environment Professionalism Day at University Malaysia Sabah (UMS) here yesterday, he said the Education Ministry not only wanted students to use technology as a learning tool but also to enhance their academic performance.
As such, he said the government had equipped 10,000 schools nationwide with YTL's Yes 4G Internet and virtual learning platform which could be used by teachers, students and parents through the 1BestariNet.
The Chief Minister also said 1BestariNet was a major transformation programme to connect all schools to a single education platform.
And he drew parallel virtual learning environment through 1BestariNet to the "Classroom Setting 21st Century Learning-Anytime, Anywhere Learning based on Cloud Technology".
"Students can participate in collaborative learning anytime and anywhere," he said.
Musa also said since 1BestariNet was a major component in the Malaysia Education Development Plan, it was timely for YTL Communications and FrogAsia to organise this event across the country, especially in Sabah.
Musa added that he was confident this programme would enable schools, teachers, students and parents to soak up the experience of learning through 1BestariNet.
And, Musa also urged educationalists to continue to explore teaching resources and best methods and bring them to the classroom.
"They should also participate in dialogues with teachers from Champion School VLE as this is one way for them to explore new methods suitable for today's learning process," he said.
Meanwhile, the Chief Minister said ICT could change the way people think as well the society's value system now and in the future.
"As such, competition requires quick action in facing the wave of today's globalisation of technology," he said.
Musa also expressed the hope that YTL Communications would provide user-friendly Internet service not only in urban schools but also schools in the rural areas.
Also present yesterday were YTL Group founder Tan Sri Yeoh Tiong Lay, YTL Communications CEO Wing K. Lee and executive director Datuk Yeoh Soo Keng as well as UMS vice-chancellor Prof Datuk Dr Harun Abdullah and state education director Datuk Jame Alip.
Back