YTL MD Tan Sri Francis Yeoh hosts CEO of Kering François-Henri Pinault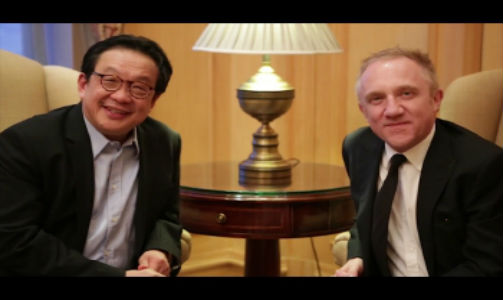 YTL Community, April 9, 2014 
Kuala Lumpur, April 9, 2014
 
Tan Sri (Dr) Francis Yeoh, Managing Director of YTL Corporation Berhad recently played host to CEO of Kering Francois Henri Pinault who was in town to visit the Groups brands in Malaysia and meet with its regional directors in Asia Pacific. The trip was Pinault's first visit to Malaysia at the invitation of Tan Sri Francis Yeoh.
 
Having a penchant for luxury businesses, the YTL Group owns Kuala Lumpur's luxury hotels – The Ritz-Carlton Kuala Lumpur and JW Marriott Kuala Lumpur, as well as Starhill Gallery, the Malaysian capital's most upscale shopping centre. In addition to its Kuala Lumpur properties, acquired stakes by Starhill Global REIT on Singapore's prime property location are Wisma Atria and Ngee Ann City on Orchard Road.
 
A family-controlled, listed company, Kering is a world leader in apparel and accessories, which develops an ensemble of powerful brands. Formerly known as PPR, the brand first invested in the luxury sector, with a 42% acquisition of Gucci Group NV. More acquisitions followed to build a stronger luxury identity for the Group: Yves Saint Laurent (now Saint Laurent Paris), YSL Beauty and Sergio Rossi, followed by the jeweller Boucheron. Kering brands housed in Starhill Gallery include Sergio Rossi, Boucheron and McQ by Alexandar McQueen.
 
Hosting the CEO and his team, Yeoh threw a grand dinner for the Kering party at The Ritz -Carlton Kuala Lumpur.
 
Sharing about Kering Group during the evening, Pinault talked about the change of name from the widely known PPR to Kering. The change of name was an opportunity to reaffirm the Group's international dimension while acknowledging its origins in the Brittany region of France.
 
"Ker means home in my language and ing is the English suffix which means movement. It's a sense of going forward, building something and it's the 'House of Brands'. And of course we take care of the brands. So that's the idea behind the Kering name," he said.
Kering has luxury brands which have ventured all over Asia, and Pinault stressed that Asia remains a hot spot for luxury brands.
 
"Asia has become by far the biggest region of the world for most of our businesses and particularly for our luxury brands. There's a lot of very interesting markets in Asia and particularly South East Asia has always been very important, and the development of countries like Malaysia is important to balance the weight of China in the region. The fact that this country has also very strong characteristics in terms of tourism has been an encouragement to invest a little more in this country as the touristic component which is very important to luxury brands will grow in Malaysia," said Pinault.
 
Touching on his investments in South East Asia and in particular Kuala Lumpur, Pinault expressed his excitement at the growth of the retail luxury experience here. Kuala Lumpur currently enjoys a duty-free shopping environment for over 300 items, making Malaysia the most price-friendly place for leather goods, luxury watches and jewellery.
 
"For tourism in key cities like Kuala Lumpur, New York and Paris, there is a tourism dedicated to consumer goods, and particularly luxury goods. When you go to a resort you don't go to shop, but when you travel to discover a big city, retail is part of the experience. So we need to make sure that we are in the best malls.
 
"I must say that what I see here in Kuala Lumpur - Starhill Gallery, Pavilion, or KLCC are very high standard malls, offering not only luxury but luxury in a very dedicated space with other different brands for the type of customers. So it's well balanced and we can make sure that we bring in nice assortments that could be very attractive to people coming to this city to shop," he said. 
src="//www.youtube.com/embed/I3r4lxNxgx8" 
frameBorder=0 width=560 allowfullscreen>
Back