YTL's Shook! Shanghai wins 3rd best restaurant for dinning in DiningCity's Shanghai Restaurant Week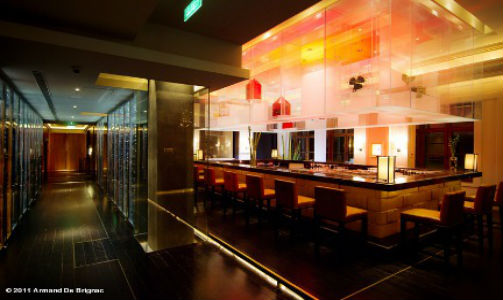 Shanghai, April 3, 2014
YTL's Shook! Shanghai recently won 3rd best restaurant for dining at Shanghai's Restaurant Week. Organised by DiningCity, the leading worldwide restaurant guide, Restaurant Week selected eleven winning restaurants worldwide for this year's edition.
Shook! Shanghai was ranked alongside world class restaurants in Shanghai like Nougatine by Jean Georges and Paris Rouge.
Shook! Shanghai was previously awarded the "Best Modern Restaurant" by Modern Weekly in the Modern Weekly 2011 Best Restaurants Awards.
The restaurant has also received favourable response and was rated No. 1 restaurant in Shanghai by TripAdvisor.
Shook! Shanghai is the second Shook! restaurant by Malaysian YTL Hotels, after Shook! at YTL's Starhill Gallery in Kuala Lumpur. It occupies the penthouse floor of The Swatch Art Peace Hotel, a Renaissance- style 1906 heritage landmark on the Bund.
Shook!'s distinctive concept in an iconic landmark makes for a truly unforgettable dining experience. Its uniquely designed open-kitchen conveys the feel of "dining without borders" – intimate, nothing hidden, open to all.
The open culinary theatre comprises four master chefs and four distinct cuisines. The unique menu features delicacies from Chinese, Japanese, Southeast Asian and modern Western cuisines. Signature dishes include snow white dancing prawns (stir-fried prawns with hot mayonnaise sprinkled with honey-glazed walnuts), confit of slow-cooked salmon, and Cajun-style sea bass.
Shook! Shanghai also houses The Time Bar and The Swatch Art Peace Hotel Terrace on the roof top overlooking a stunning backdrop of the Pudong skyline.
The glorious view of The Bund is an added incentive to make Shook! your must-visit restaurant while in Shanghai.
Back