Chromebooks Now in 22% of All US School Districts, Silently Booting Windows Out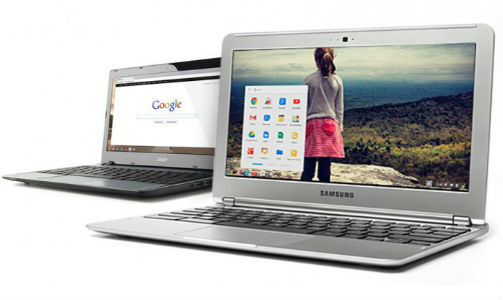 Android Headlines, October 3, 2013
Nick Sutrich
Once upon a time Microsoft ran the tech market.  In the 90's everything from the operating system down to the internet browser was made by Microsoft, and there weren't many people that thought Microsoft's grip on the tech world would let up anytime soon.  Fast forward to just 15 years later and you'll find a very different world, one where Microsoft is being quickly replaced with that of other tech companies.  
Take Internet browsers for example; Microsoft once reigned supreme with well over 95% of the Internet traffic on PCs coming from users who browsed the web on any version of Internet Explorer out there.  Nowadays that's down to somewhere around the 55% margin, and browsers like Chrome and Firefox both taking up about 17-18% depending on the month.  That's 45% of the market now using browsers other than IE, and Microsoft's hold on other markets is lessening too.  
Google came up with the brilliant idea of using Chrome to create an entire operating system, and it launched Chrome OS on its first Chromebook back in the summer of 2011.  Back then it was the first major cloud-powered laptop, and many were skeptical of its success.  It doesn't have a traditional operating system that stores most of its data on the hard drive inside the computer, but rather syncs all your information with Google's cloud services like Google Drive.  Chromebooks get 100GB of data storage on Google Drive out of the box, and of course all of Google's services work perfectly on the device.  Given Google's incredible expansion over the years from a small search company running out of their garage to the search giant who's mobile operating system, Android, now powers 80% of all smartphones worldwide, it's no surprise to see the possibility of just using Google's ecosystem for daily tasks and productivity.  So how far has Google come in the laptop marketshare?
Today marks a milestone in Chrome OS and Chomebook history.  Google's Chromebook VP Caesar Sengupta told Business Insider that 22% of all US school districts are now using Chromebooks, which is a staggering number considering just how many Windows machines there are out there.  Google's Chromebook is a perfect mix of technologies for a school, and provides many of the functions a school would need in a laptop at a considerably cheaper price.  In fact Google just recently announced a new line of Chromebooks that are cheaper and faster than before by using Intel's newest chipset, Haswell.  This new line of Chromebooks are also made by more manufacturers than ever, with companies like Lenovo, HP, Asus, Acer and Toshiba now jumping on board to make laptops with Chrome OS instead of just Windows laptops.  We saw back in July that Chromebooks now make up over 25% of laptop sales under $300.
Microsoft's dominance in the market has surely taken a blow with the emergence of Google Chromebooks. Google sold 175,000 units in the 10 weeks of June 30 - Sept 7, NPD analyst Stephen Baker found with Chromebooks providing "all the growth" in a lackluster market hurt by tablets.
While this is still a smaller portion of the pie, Chromebooks are catching up rapidly to Windows.  Currently the NPD group states that Windows commands a leading 58% of the marketshare in the PC world, while Macs are at 20% and Chrome OS is at 3%.  Still this is a pretty incredible dent in the marketshare for a platform that didn't even exist more than 2 years ago.  Android saw a similar growth pattern and quickly overtook mobile OS giants like Nokia, Blackberry and Apple, so is there really any reason to think that Google can't do it in the laptop market as well?  Exciting things are happening at Google HQ, and Chromebooks are here to stay.
Related Articles:
WATCH OUT MICROSOFT: 22% Of All U.S. School Districts Are Using Chromebooks, Google VP Says
http://www.businessinsider.com/22-percent-us-school-districts-use-chromebooks-2013-10
Back