YTL's Express Rail Link Receives Environmental Commitment Award at the Global AirRail Awards 2013 in Frankfurt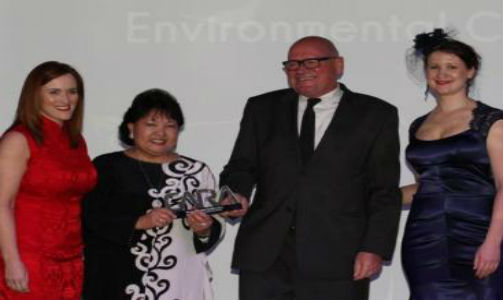 Kuala Lumpur, 22nd May 2013
Express Rail Link (ERL) was awarded the Environmental Commitment Award at the Global AirRail Awards 2013 held in Frankfurt on 16th May 2013.
Organised by UK-based airrail NEWS and hosted by Hahn Air, the Global AirRail Awards is the first ever international awards ceremony dedicated to the air-rail market to recognise the best practice in intermodal travel around the world. ERL submitted a project paper entitled Environmental Compliance: Implementation of Environmental Management System [ISO14001: 2004] under the Environmental Commitment category.
Noormah Mohd Noor, Chief Executive Officer of ERL, who picked up the award at the ceremony said:  "Express Rail Link was a strong contender in this category as we are part of the YTL Group and an active member of its Sustainability Committee. As such, safety, asset integrity, the environment, social performance, ethical conduct and sustainability are all integral to the long-term success of the Group."
"This award underscores the close cooperation between ERL and its wholly-owned subsidiary, ERL Maintenance Support Sdn Bhd (E-MAS) which manages the operations and maintenance of the trains. With the successful ISO14001:2004 certification for Environmental Management System received by E-MAS, it solidifies our commitment to sustainable operations," added Noormah.
Also present at the event was Thomas Baake, Chief Executive Officer of E-MAS, who was equally delighted with the award win. "The ISO certification we received last year was the direct result of all the hard work and dedication of the staff.  This award win is a great recognition of their efforts and caps a long journey to certification that started back in 2009," he said.
Milda Manomaityte, Editor-in-Chief of airrail NEWS said: "Cooperation is a vital feature in delivering the seamless journey experience between train and plane. Vision, creativity and determination are the ingredients of mature relationships that often span transport modes, companies and countries."
She also added that to stay ahead in the competition with other transport modes, airport rail links have to constantly improve their service via new technologies, customer service and marketing. Strong brand values mean that a railway can attract air travellers who normally would travel with cars or taxis.
On ERL's entry for this category, the judges complimented that ERL has demonstrated "an excellent, comprehensive, multi-disciplinary and far-reaching approach to all environmental and sustainability impacts of train fleet operation. Highly impressive results clearly reflected company-wide commitment at all levels." Twelve judges from air and rail industries - excellent specialists in their field - evaluated the entries and selected this year's winners in 10 different categories.
There were already several ongoing green initiatives taken by the company since 2003, for example energy saving Train Driving, reduced Building Energy Consumption and improved Train Washing Plant efficiency. All these continual efforts contribute towards:
• savings from safer workplace conditions, reduced legal risk/potential liabilities.
• reduction of cost associated with discharge, emissions, waste handling.
• higher quality and consistency in service provided, more efficient use of resources e.g. conversion of wash plant into other usage, reduced energy consumption.
• giving the company a competitive advantage, recognised as an industry leader, earns credibility and recognition from the regulators.
For more information on KLIA Ekspres, visit www.KLIAekspres.com. For more information on the Global AirRail Awards 2013, visit www.airrailawards.com.
Back