YTL Land's Singapore Project Sandy Island Wins International Real Estate Industry's Top Accolade at FIABCI Prix d'Excellence Awards 2013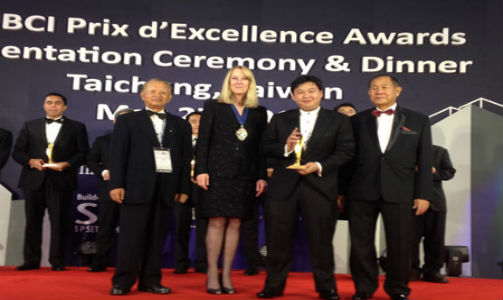 Malaysia, 28 May 2013
Sandy Island, YTL Land's maiden luxury development in Sentosa Cove of Singapore, has been announced as the prestigious Gold Winner of the FIABCI Prix d'Excellence Awards in the Residential (Low Rise) Category, edging out award-winning projects from all over the world. This win follows soon after YTL Land received the FIABCI-Singapore Property Award in October 2012, qualifying the development to compete internationally for the acclaimed Prix d'Excellence honour.
Often referred to as the 'Oscars of the Real Estate industry', the FIABCI Prix d'Excellence Awards are judged by a global panel of real estate professionals and experts, recognising projects that demonstrate excellence in all aspects of real estate development. The Award Ceremony announcing the win was held last evening at the 64th FIABCI World Congress in Taichung, Taiwan.
Having already garnered numerous prestigious regional and local awards, including five FIABCI-Malaysia Property Awards for its Malaysian projects, this international win is a crowning achievement for YTL Land. It demonstrates the company's winning formula of crafting every YTL home with great attention to details to meet homeowners' needs, through its ethos of building homes that are 'Designed by Masters, Built as Masterpieces'.
Speaking on the win, Tan Sri (Dr) Francis Yeoh, Managing Director of YTL Corporation Berhad commented, "We are very pleased that our first foray into Singapore has been given the highest honour by the international real estate community. This award is an endorsement of our long term commitment to creating exquisite homes of the highest stature and raising the bar in design excellence. In particular, our introduction of Sandy Island's bold concept and contemporary modern style unprecedented in the Asian market have been well received, encouraging us to strive for greater heights in future projects in Malaysia, Singapore, Niseko in Hokkaido and Koh Samui in Thailand.
"We give our Lord Jesus Christ all glory and honour for this award."
Sandy Island is a trophy collection of 18 limited-edition waterfront villas in Sentosa Cove nestled within a rainforest setting, with luxury finishes and fittings that include five en-suite bedrooms, a private berth for a yacht and premium European furnishings. It marks the first-ever residential development in Asia for internationally-acclaimed architect and designer Claudio Silvestrin, renowned for his contemporary minimalist designs as seen in numerous global projects such as the 26 Giorgio Armani flagship stores worldwide.
"I am greatly honoured with this FIABCI Prix d'Excellence Awards 2013. Merit is due for my creativity and vision but equally to YTL Group, which has had the courage to build my original design," commented Claudio Silvestrin. "Both developers and entrepreneurs need not be driven by profit only: they are in a position to enhance people's spiritual and material lives. Without this consideration, this prize may have never been awarded."
A testament to the success of Sandy Island, the project has to date accrued several other honours including the FIABCI Singapore Property Awards 2012, SEA Property Awards 2011 for Best Architectural Design (South East Asia) and Best Housing Development (Singapore), and the CNBC Asia Pacific Property Awards 2009 for Best Development (Singapore) and Best Development Marketing (International).
With the illustrious FIABCI Prix d'Excellence Award now under its belt and the numerous sold out projects in Kuala Lumpur, YTL Land will be looking to further its successes in Malaysia. Its upcoming projects Shorefront in Penang and U Thant Place in Kuala Lumpur will once again demonstrate its dedication to achieving the highest standards of design that meet the demands of discerning Malaysian and global homebuyers.
Back