First Samsung 4G Chromebook in the world launched in Malaysia by YTL YES with Google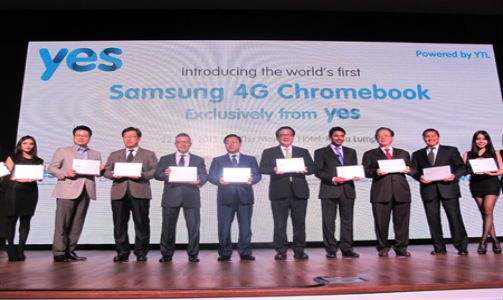 Kuala Lumpur 22 May 2013
The Samsung 4G Chromebook has built-in connectivity to Malaysia's largest and widest 4G network, designed to work with Yes IDs.
Yes today launched the world's first Samsung 4G Chromebook. Developed by Google and Samsung, the 4G Chromebook is another game changing product in Yes' innovative portfolio that enables everyone to live, work and play in a simpler, smarter and lighter way.
"Yes is about driving positive change at a national level by delivering to Malaysia one of the most sophisticated 4G networks in the world. Based on this guiding principle, we have been working tirelessly to build the largest 4G network in Malaysia," said YTL Communications Chief Executive Officer Wing K. Lee. "As a result of our expansive network, many Malaysians already have access to high-speed Internet through our portfolio of innovative devices and services."
"I am really excited about what the Yes network can do for this country. Everyone can be connected to the cloud anywhere and anytime. The Samsung 4G Chromebook is the perfect device to use on our network. It brings the power of computing to everyone, ushering in a new era of Cloud Computing," said Tan Sri Dato' (Dr) Francis Yeoh, YTL Group Managing Director.
Sundar Pichai, Senior Vice President for Android, Chrome and Google Apps at Google reiterated that he is "particularly excited at the pace at which 4G connectivity is being rolled out throughout the country." He further added, "What's happening in Malaysia can be a role model for many other countries around the world."
The Samsung 4G Chromebook comes with a built-in 4G chipset that enables seamless and always-on Internet. It is designed from the ground up to work with Yes IDs, providing high-speed mobile Internet connectivity of up to 20Mbps on the Yes 4G network. With nationwide 4G coverage, Malaysia is the ideal market to launch the world's first Samsung 4G Chromebook.
The Samsung 4G Chromebook is a new type of computing device, designed by Google, to be fast, simple and safe for everyone to use. It boots in second and comes with popular Google apps like YouTube, Gmail and Drive, so users can work and play right out of the box. The Samsung 4G Chromebook also comes with 100GB of Google Drive storage that is free for two years. Unlike other computers, it keeps getting faster over time with seamless updates and built-in virus protection.
Perfect for those on-the-go, the Samsung 4G Chromebook is one of the lightest laptops on the market. It is a mere 17.5 mm thin and weighs just 1.1 kilograms, with a 7-hour battery life.
"Over the past few months, Chromebooks have become a part of everyday life for many people-a computer for the kitchen, for when on-the-go, or for sharing with the family," said Caesar Sengupta, Product Management Director at Google. "Many of you around the world have told us you're eager to get your hands on a Chromebook, so we've been working with our partners to make this possible. Today we're happy to say we're one step closer to making Chromebooks truly 'for everyone' – or rather, 'untuk semua orang'."
David Song, Head of Global PC Sales & Marketing at Samsung's PC Business said, "I'm very excited about the collaboration with YES and Google. This is a trinity of great partners working towards developing mobile internet connectivity combining design and technology innovation with seamless content integration."
The Samsung 4G Chromebook retails at RM988 with a 24-month RM88 postpaid plan which comes with a monthly data quota of 3.5GB. The device alone retails RM1299. It is now available at Yes Stores nationwide and its online store, (http://shop.yes.my)/ The device is also available to 1BestariNet Yes ID holders through the FrogStore at (http://frogstore.my) and at Bestari roadshows nationwide for RM988 with a 24-month RM69 plan which comes with a monthly data quota of 3.5GB.
"The Samsung 4G Chromebook will be a first device for many people. It is affordable, secure and always connected to the Internet. No one will be left out of the Internet age," Lee added.
For more information, visit www.google.com.my/Chromebook or www.yes.my/Chromebook.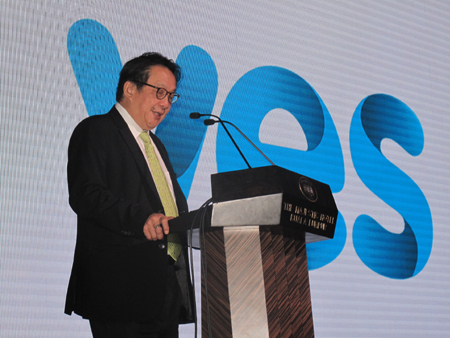 ------------------------------------
Speech by Tan Sri Dato' (Dr) Francis Yeoh
Executive Chairman of YTL Communications Sdn Bhd
at the launch of the Samsung 4G Chromebook
at The Majestic Hotel Kuala Lumpur
Honourable Guests,
Valued Partners from a far,
Fellow Directors,
Dear friends of the media,
A very good morning to you all.
Thank you all for making time to attend this event. We are very honored to be hosting this event together with our valued partners Google, the world's undisputed leader in Internet technologies and Samsung, the world's leading electronics manufacturer. Together with YES, Malaysia's widest and fastest 4G Internet, we have something very exciting to announce today.
We, at YTL, have always been very passionate about bringing positive change to all Malaysians. With that strong unwavering vision, we had started an amazing journey in 2010 by forming YES.
YES has come a long way since its inception and is beginning to unleash the tremendous potential of all Malaysians. Our continuous aim is to provide affordable, world-class Internet services that improve the lives of people across Malaysia. We backed that up with action by building the fastest and widest 4G network in record time: more than 4,000 base stations today when compared with 1,200 base stations 30 months ago when we launched!
We believe that the Internet will not only contribute to the growth of a country's GDP but also uplift the living standards of its people. Over the past 15 years, developed countries with matured Internet infrastructure have recorded, on average, a real per capita GDP increase of USD 500[1]. The last time in history this happened was during the Industrial Revolution and the same result took 50 years to achieve.
While the Industrial Revolution is a physical revolution that involves manufacturing, standardization, organized labour, etc. the Internet revolution is less physical but is actually more impactful to society. Never before in the history of humanity had so many people been able to collaborate, communicate and create. Never before has so much human knowledge been captured and freely accessible to all. And all of this is done through a non-physical medium of the Internet that is always represented by a cloud in network engineering diagrams.
At YTL, we want more Malaysians to have access to the knowledge and opportunities that awaits them in this cloud. It has become almost as indispensable as electricity and water and it is already considered as a daily necessity by a lot of urban Malaysians in this day and age. However, we also understand that not everyone in Malaysia has access to quality Internet connectivity. In our way, we would also want to bridge the digital divide and ensure that all Malaysians will get to enjoy using the Internet.
That is the reason why we are working with the Malaysian Ministry of Education on their 1BestariNet programme. In this programme, we are enabling all 10,000 Malaysian schools – and thus their extended local communities- in Malaysia with high-speed 4G Internet connectivity and an award winning Frog VLE cloud teaching and learning platform.
The Frog VLE is also integrated with the FrogStore, an online marketplace for online learning content from local and global partners such as the Khan Academy, TED-ED, and more. Both free and paid content are available, such as digital books and textbooks, as well as game-based learning apps, videos, and revision material. With convenient access to digital learning resources, students and teachers can lighten their load and reduce the amount of physical books carried around. Teachers can also share and distribute content they have created on Frog Sites with schools around the nation through the FrogStore, enabling the pooling and sharing of talent and resources.
Ladies and gentlemen, this 4G connected cloud platform has the potential to touch and change the lives of 10 million teachers, parents and students. We want to expose young Malaysians to the transformative power of the Internet in changing lives positivity whether for live, learn, work or play.
To complete the 1BestariNet experience, we will be unveiling our latest and newest 4G device, the world's first Samsung 4G Chromebook. This device is developed by YES together with Google and Samsung. Malaysia is the FIRST country in the world to introduce the Samsung 4G Chromebook and this is only possible because of our widest 4G network in this country. In fact, looking beyond 1BestariNet, we also look forward in helping Malaysia to become a shining model on how Chromebooks would help herald in the new era of Cloud Computing.
Suffice to say, this will really transform the way we think about always-connected mobile computing. As we launch the Samsung 4G Chromebook for consumers today, I am happy to inform that we also have an affordable education pricing for teachers, parents and students in the 1BestariNet program. I can't wait to get my hands on it and with its unveiling today, I'm sure you can't wait to get your hands on it too.
In closing, I would like thank our valued partner Samsung who has graced us with their presence here today. I would also like to thank our good friend Mr. Sundar Pichai , the Senior Vice President of Android, Chrome and Google Apps at Google in Mountain View. We have been working very closely with him and his colleagues in Google and he has recorded a short message that I would like to share with all of you this morning.
I thank our Lord Jesus for His blessing in this important endeavour.
God bless all of you and thank you.
________________________________________________________
[1]Impact of Internet on Economic Growth, McKinsey Global Institute 2011
Back