Kimora (k)onquers KL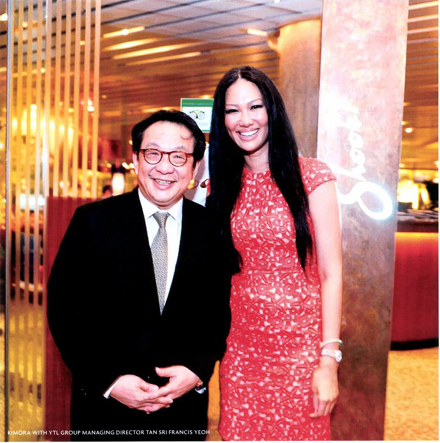 Unreserved, June 2013
Ninety minutes late for the event at Starhill, the sexy, statuesque and (previously) 'strange' fashion and reality TV star nevertheless proves well worth the wait, Kee Hua Chee reports.
She looks larger than life on her reality show, Life in the Fab Lane. In real life, Kimora Lee Simmons is just as statuesque.
The sexy brunette was in Kuala Lumpur recently to launch Starhill Gallery Luxury Channel but one thing she wasn't was punctual. She kept her hosts and fans waiting for nearly one-and-a-half-hours at the Shook! stage at Starhill.
Though there were some catty remarks about her tardiness, no one stomped out. It must be due to the non-stop flow of Mumm champagne, fine wines and soft drinks.
Apparently, Kimora was having issues with her hair. Hair salon A Cut Above's chief creative director, Winnie Loo, was supposed to attend to her crowning glory but the celebrity hair stylist was in hospital after being knocked down by a car which smashed her left cheekbone.
Miraculously, everything was spot-on as Kimora appeared in a vermillion Valentino get-up. Her crowning glory looked its usual gleaming self and as usual, in killer heels, she towered head and shoulders over everyone.
I scanned the horizon - not one man, woman or third gender was taller than Kimora. She is even taller than Kavita who is the tallest celebrity so far in town. It seems that Kimora was already an impressive 5'10" at age 10!
Growing up in St Louis, Missouri, there was only one route for her - leave town for Paris to model. At 14, she was in the City of Lights modelling for Chanel. The brand's chief designer, Karl Lagerfeld, took her under his wing and she became one of his four muses called the "Karlettes".
Kimora looks much taller than her 6' (183 cm) as she has lost weight since her Life in the Fab Lane series when she looked decidedly pudgy. Now she is (almost) back to her former model figure though no one can accuse her of being bony. Her heels simply amplify her larger-than-life persona. "My height, according to different people, ranges from 6' to 6'6"."
Kimora was cruelly nicknamed "Chinky Giraffe" due to height and race. She was neither black nor white, or Oriental, but all three! Her father is black American and mother half-Korean, half-Japanese.
"I was the first Oriental-looking model who looked like I had native American blood and did not fit any mould."
Today it is not easy for Oriental models to break into the international modelling scene but back then it was worse. Blacks were considered "exotic" but Kimora was simply "strange", to put it mildly! People didn't know what to make of Kimora and she was the first to break the mould.
"I love Malaysia because I look at all of you and I see myself! I blend right in here and I feel so at home. I can be mistaken for a Malaysian anytime, right? Malaysia is like my second home and I even have an apartment in The Ritz-Carlton Residences! The Yeoh's are like my second family and I always feel good in Malaysia."
Back