Office lobbies get the co-working makeover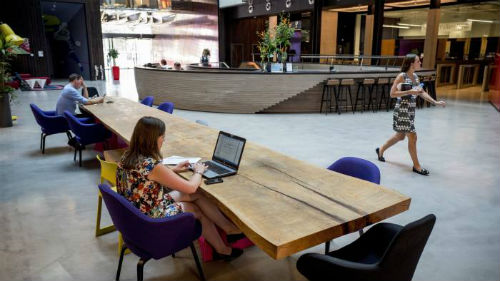 FT, July 30, 2018
By Emma Jacobs
Enter the vast lobby of the Alphabeta building on the fringes of the City of London, and you will see a vast curved reception desk. If this appears grand, you will have missed the fact that it doubles as desk space for workers from the building, or those who are visiting.
That desk is just one of the places to meet or work in the building. There are also velvet armchairs tucked away in a library area and a large wooden table that would not look out of place in a kitchen.
Agnes Bak, Alphabeta's reception manager, who describes her role as a mixture of concierge and receptionist, says it is not unusual for visitors and tenants to work at her desk for up to two hours. At first, visitors can "feel shy" about doing so and so she has learnt to "approach them and explain the facilities".
This is an example of the stealthy overhaul of reception areas, once the grand portals to workplaces which were imposing and intimidating. But now as well as informal meeting areas and flexible event spaces, they increasingly include co-working spaces— in other words, desks — for use by visitors and employees wanting a change of scene.
Richard Kauntze, chief executive of the British Council for Offices, says that historically, a building's entrance usually sought to make a statement about the status of the owner or occupier.
"Now, as the boundaries between work, company culture and private life blur, the reception area is transforming into a 'social condenser' — a space that mediates between all three," he says.
James Evans, a director at Savills, the property company, observes the trend among new build and refurbishment projects. "We've gone away from the lobby as a defensive front-of-house — [to] a place to dwell."
Tony Layne, managing director of the Minneapolis office at Perkins + Will, a design and architecture firm, says that he started to see changes to reception areas seven years ago, when he was asked to build "hotel lobbies into office lobbies — opportunities for people to gather and work, moving away from transitory environments".
Such places are often overseen by "concierges" instead of reception staff, and the area may include features such as Amazon delivery lockers and bike storage.
The popularity of co-working has been driven by WeWork, the US-based company valued at over $20bn. Companies such as Deloitte, the professional services group, Centrica, the energy group, and Citi, the bank, have placed workers in WeWork premises, hoping the cool vibe and on-site entrepreneurs will spark ideas.
In turn, a trend for informality has prompted changes in office aesthetic, and that includes common areas both in reception and those designed to facilitate collaboration and meetings.
Landlords are having to up their game, due to the likes of WeWork, says Adam Strudwick, principal at HLW, a design, architecture and planning company. "They have been used to a clean ride. They can't do that any more. They have to do all these extra things to ensure they're not losing customers."
Design is part of a company's strategy to attract and retain staff, says Mr Strudwick. The entrance, he says, is the first impression, and they have to think about the impact on staff and visitors.
"The power reception is outdated. They want to give the space a bit of a buzz." Corporate design is increasingly taking its cue from hotels, he adds, with many including shops and cafés in lobbies. There is also a desire to make businesses seem more transparent, to demonstrate the culture and let clients "see into the machine".
Gabrielle Omar, director of Spot This Space, has had some requests for an area that is "so relaxed that it's like a bachelor pad, with pinball machines and snooker tables".
One client even requested a water feature that people could change into their swimming trunks or bikinis to cool off in. "We are in talks," she says, diplomatically.
The City of London Corporation, which oversees planning and development in the capital's financial district, is encouraging developers to create flexible space in reception areas.
Chris Hayward, chairman of the City of London's planning and transportation committee, says: "There is a younger workforce in the City than we've ever had. It's a more casual workforce." The increased number of fintech start-ups in the area also has an effect on the workplace aesthetic.
Visitors love the informal business lounge area in the reception of the Manchester offices of Shoosmiths, the law firm, according to Vaqas Farooq, a partner. "We get clients hanging around more. A lot come from out of town, will use our office as their [temporary] office. From a relationship point of view it's good."
The Holborn office of another law firm, Hogan Lovells, also now includes a reception area and business lounge in which employees as well as contacts and clients are encouraged to hang out.
"People travel a lot," says Susan Bright, regional managing partner for UK and Africa. "We have lawyers from relationship firms who are coming through London and don't have an office. They can work and get stuff done. It's a more agile way of working."
It has often been argued that smartphones and smooth connectivity will make the office obsolete. That does not seem to be happening. Workers still want to meet face-to-face.
And a co-working area within a company also offers privacy, says Devinder Bhogal, head of workplace strategy at Deloitte. "If we go out to a café, we don't know who will be sitting next to us — there's more confidentiality."
Back