MAHB Q1 earnings rise 2.1pc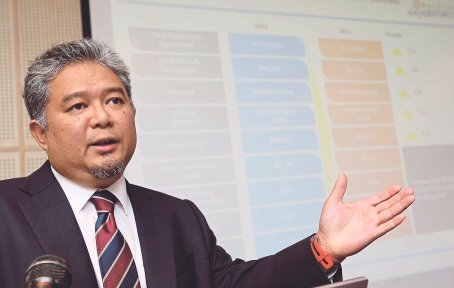 NST, April 24, 2014
MALAYSIA Airports Holdings Bhd (MAHB) earnings increased 2.1 per cent to RM128.7 million from RM126 million for the first quarter ended March 31 2014, but revenue fell 24 per cent to RM781 million from RM1.03 billion in the same period a year ago.
In its filing with Bursa Malaysia, MAHB said the lower revenue was attributable to the lower construction income in relation to the Kuala Lumpur International Airport 2 (klia2), which was RM121.6 million compared with the same quarter a year ago at RM454.6 million, on the back of klia2 works, as well as the expansion of the Penang International Airport.
Excluding construction cost, MAHB revenue would see an improvement of 15.2 per cent.
Chief financial officer Faizal Mansor said the improvement would be due to the stronger airport operations segment, driven by strong air travel demand in the Asia-Pacific region.
"We see a higher contribution from the non-aeronautical operations to the revenue, accounting for 52 per cent," he said after announcing MAHB's first-quarter financial results, here, yesterday.
Faizal said MAHB recognised the construction revenue and costs amounting to RM121.6 million and RM116.4 million, respectively, in the first quarter of this year compared with RM454.6 million and RM435 million, respectively, in the same quarter last year.
Its net gearing was below the 1 time mark, at 0.6 time.
"Most airports around the world have a net gearing of 1.5 times whereas ours is below one. That's an indicator of a good airport, which should not go beyond one."
Meanwhile, MAHB recorded passenger growth of 18.1 per cent in the first quarter, outpacing the expected passenger growth rate of 9.7 per cent for this year.
This translates into a total of 20.6 million passengers.
Both international and domestic passenger movements recorded strong growth at 14.9 per cent and 21.5 per cent, respectively.
Faizal said the positive growth of passenger numbers would not be affected by the impact on international passenger arrivals after the flight MH370 incident.
He also said MAHB targeted to welcome at least five new international airlines to Kuala Lumpur International Airport this year.
Back