Nestle's water contingency plan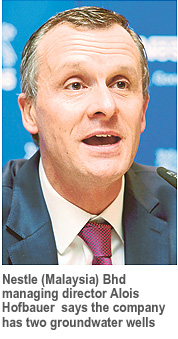 NST, April 24, 2014
Nestle (Malaysia) Bhd's Shah Alam manufacturing plant has put in place contingency measures to cope with water cuts.
Its managing director, Alois Hofbauer, said the factory had formulated a business contingency plan which, among others, included working with the water authorities and the Federal Government to ensure smooth water supply.
"We cannot afford production disruptions because the plant supplies goods to more than 50 countries. Hence, we are looking at solutions such as extracting groundwater.
"The company currently has two groundwater wells and more wells are expected to be utilised," said Hofbauer after Nestle's annual general meeting here, yesterday.
Hofbauer said Nestle hoped to get more support from the relevant authorities, as well as tax benefits in the form of investment incentives.
Industry observers said manufacturers in Selangor had managed to get the relevant water authorities to postpone water rationing in selected industrial areas.
"Selangor manufacturers stressed that there is an urgent need for short-term solutions to the water shortage as the Langat Two water treatment plant will only be ready in three years. Thus the state government should encourage manufacturers to develop alternative water supplies by providing tax incentives for investments in water conservation projects, rainwater harvesting and groundwater extraction.
"These may include investment tax allowance and import tax exemption. The state government is also urged to fast-track the approval of groundwater extraction and waive groundwater charges for the first three years," said an observer.
Meanwhile, analysts are cautious on any potential water rationing impact on Nestle Malaysia's operations.
"The government is taking the issue seriously and making efforts to transport water from outside the affected areas.
"It has stressed that there would not be any rationing in major manufacturing areas until the end of the month.
"Having said that, Nestle is making efforts to reduce any shortfall through various efforts, such exploring for groundwater sources.
"Although underground wells are not costly, we are still cautious of any water supply disruption which could lead to disruptions in Nestle's operations."
For the financial year ended December 2013, Nestle Malaysia registered a turnover of RM4.8 billion, 5.1 per cent higher than the corresponding period last year, on the back of strong growth in domestic sales.
Meanwhile, Nestle's new Taman Seri Muda manufacturing plant is on track to be launched by the fourth quarter of this year and will boost its fastest-growing ready-to-drink segment by 75 per cent.
A total of RM280 million had been set aside for capital expenditure this year, and most of it is for the Taman Sri Muda plant.
The board has recommended a final net dividend of 175 sen per share, giving a total net dividend of 235 sen per share.
Back