Daihatsu eyes 35pc share of truck and van market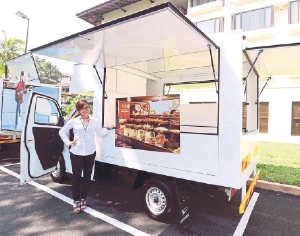 NST, April 24, 2014
Daihatsu (Malaysia) Sdn Bhd is confident of increasing its market share in pick-ups and panel vans to 35 per cent by year-end, from 28 per cent currently, on the back of its upgraded Gran Max range.
The vehicle manufacturer, whose main shareholders are MBM Resources Bhd (51.5 per cent), Daihatsu Motor Co (Japan) Ltd (18.5 per cent) and Mitsui & Co Ltd (30 per cent), expects to sell 1,800 Gran Max units this year, compared with 1,445 and 1,387 units in 2012 and 2013, respectively.
"We are confident of achieving both targets even though there was a marginal drop in sales last year compared with the previous year," said Cheng Seng Fook, its managing director, during the launch of the upgraded Gran Max range, here, on Tuesday.
"There were numerous factors that were out of our control, such as interest rates and the general election in May last year, but what's important is that we see room for growth this year as the economy stabilises, followed by an emergence of entrepreneurs who want to do small mobile business in night markets and the likes."
He also said Gran Max's popularity also extends to the corporate side as big companies such as Pos Laju Bhd and Samsung Malaysia Electronics Sdn Bhd purchase the vehicles in bulk for their corporate agenda.
"We see this trend continuing this year and we are confident that the target we set is achievable," said Cheng.
The upgraded version of the vehicles include collapsible steering for safety, anti-lock braking systems, front-seat slide, three-point seat belt, parking-break centre lever and separate front seat.
On-the-road pricing for the Daihatsu Gran Max range for both the pick-ups and panel vans begins from RM60,000.
Back