Umno backs Najib on hudud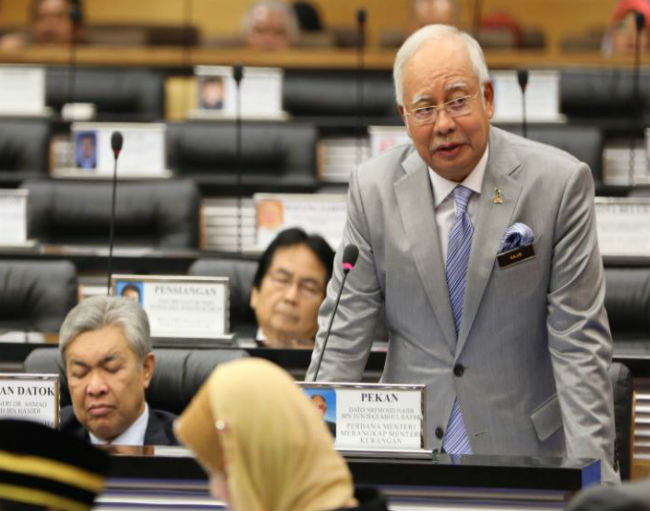 NST, April 26, 2014
THE Umno supreme council yesterday endorsed the Federal Government's stand on hudud and the complexity surrounding the implementation of Islamic law in the country.
Prime Minister Datuk Seri Najib Razak, who is also Umno president, said the party's supreme council took note of his views that the Federal Government had never rejected hudud and that several issues needed to be resolved before the law could be implemented.
"Umno supreme council took note of my speech (over his views on the implementation of hudud), yesterday (Thursday).
"The supreme council supported my views and the party will monitor developments on the issue," Najib said after chairing the supreme council meeting here yesterday.
He was asked to comment if his views on hudud were raised at the meeting, which was also attended by his deputy Tan Sri Muhyiddin Yassin and senior party leaders.
Najib, in Kedah on Thursday, had said the Federal Government supported any effort to implement hudud, but cautioned that it was vital to ensure Muslims and non-Muslims understood the concept of the law.
Najib had also raised the need for a comprehensive understanding of hudud to protect the sanctity of Islamic teachings.
On suggestion for a muzakarah (discussion between Umno and Pas) over the implementation of hudud that was mooted by Kelantan Umno liaison committee chairman Datuk Seri Mustapa Mohamad, Najib said the party was waiting for Pas to table its proposal.
"We want to know their proposal. We do not know what is their proposal, but Umno is willing to look into it," he said.
The implementation of hudud has been a torn in the flesh of the opposition pact, with DAP vigorously rejecting Pas' bid to enforce the law in Kelantan.
On another matter, Najib said Barisan Nasional had not decided if it would field a candidate for the Bukit Gelugor parliamentary seat by-election in Penang next month.
"It is too early for BN to decide. However, I will discuss with the MCA leadership since the seat is allocated to the party," he said.
Asked if BN would be contesting, Najib stressed that nothing had been decided.
"Just wait as we still have a lot of time," he said.
The Election Commission had on Thursday fixed May 25 for the Bukit Gelugor by-election, with early voting to be conducted four days earlier.
The by-election was called following the death of Bukit Gelugor member of parliament Karpal Singh in a crash on April 17.
EC chairman Tan Sri Abdul Aziz Mohd Yusof had announced that nomination day for the Bukit Gelugor by-election, the fifth after last year's general election, would be on May 12.
Najib also put to rest rumours that two menteris besar would be replaced, saying that it was the media that speculated on the mater.
"Who said it? It is the press who had come out with such claims."
He also announced that this year's Umno general assembly would be for five days, beginning Oct 28.
Najib also refuted allegations that the government had pressured United States President Barrack Obama not to meet opposition leader Datuk Seri Anwar Ibrahim during his inaugural visit to Malaysia, which begins today.
"This is not true. No one can pressure Obama. He is the president of the United States, a superpower. Malaysia is just a small country.
"God willing, everything (Obama's visit to Malaysia) is safe. The government spares no effort to ensure everything is secured," he said, in response to a question on security arrangements for Obama's visit.
On whether he would discuss issues raised by Anwar, who had been making allegations against the government and the judiciary to the foreign media, during his meeting with Obama, Najib said: "We just have to wait. I will inform you after the meeting with Obama."
Earlier, Najib launched Umno Youth's "For The Rakyat" community complaint portal at the Putra World Trade Centre here.
The portal, which has been online since March 3, was initiated by the wing's Community Complaint Bureau to investigate and resolve community issues.
Back