Media members learn about the finer culinary techniques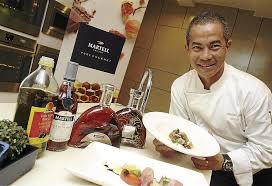 The Star, October 18, 2013
By WONG PEK MEI
MEMBERS of the media had a hands-on chance to discover the importance of techniques and fresh ingredients during the Martell Pure Gourmet Masterclass recently.
YTL corporate executive chef and Starhill Culinary Studio Master Chef Wai Look Chow, 40, emphasised how different culinary techniques can affect the end result of the dishes.
He started out by showing media members the various ingredients and steps needed to make a Cauliflower Espuma and Duck Confit with Foie Gras and Slow Roasted Rack of Lamb, Concasse and Parmigiano.
"We will use techniques such as foaming by nitrous oxide (N2O) for the Cauliflower Espuma and slow-cooking for the lamb," he said at Starhill Culinary Studio.
He said using nitrous oxide would make the cauliflower puree light and fluffy.
The slow-cooking technique was applied to the lamb to prevent the meat from being dry and tough, such as when using high temperature.
Slow-cooking involves a low temperature for a longer period of time, resulting in the meat being tender, juicy and soft.
Wai sprinkled sea salt on the lamb, roasted it for 10 minutes and then left it wrapped in foil in room temperature.
This process was repeated two more times.
"Those who want it medium to well-done can roast it for 14 to 16 minutes and repeat the process three times," he said,
After his demonstration and briefing, media members tried making the Cauliflower Espuma and slow roasted Rack of Lamb.
They then feasted on the dishes they had prepared.
Wai also served Fried Spiced Tiger Prawn with Crispy Sushi Rice Cake, which was paired with Martell Cordon Bleu and Guanaja Mousseline and Vanilla Bean Anglaise, which was paired with Martell Chanteloup Perspective.
The next Martell Pure Gourmet dinner, to held on Oct 29 and Oct 30, will showcase an array of culinary techniques using the finest and freshest ingredients for a menu created by chef Ryan Clift of world-acclaimed Tippling Club in Singapore.
For details or to receive an invitation to the next Martell Pure Gourmet, call 019-317 9237.
Back