Branson serves as stewardess to Tony Fernandes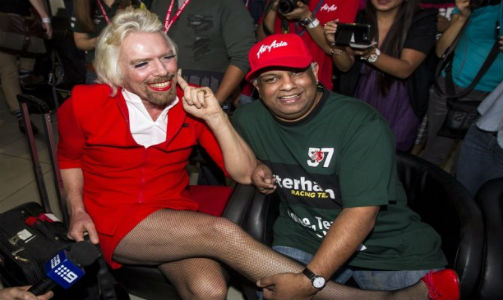 The Straits Times, May 12, 2013
By Aisyah Sulaiman
SEPANG: From behind, the long legs, short red skirt and the tied-up blonde hair made an impression of a beautiful woman. Imagine the surprise when it turned out to be none other than Virgin Atlantic owner, Sir Richard Branson.
Complete with bright red lipstick, stockings and heels, a dolled-up Branson was serving as an AirAsia X air-hostess for the passengers on flight D7 237, from Perth to here.
It was the result of losing a wager with AirAsia group chief executive officer, Tan Sri Tony Fernandes.
The wager started two years ago, over which Formula One racing team would finish ahead of the other, in the 2010 Formula One Grand Prix in Abu Dhabi. The loser would have to dress up in the winner airline's female flight attendant attire for a day.
Fernandes's then team, Team Lotus, finished two spots above Branson's Marussia Virgin racing team in the final rankings.
Branson, who is well-known for his flamboyant style, sportingly struck a feminine pose for the photographers after he arrived, and even managed to hook one leg on Fernandes' lap, much to the amusement of those present.
When asked to comment on Branson's performance as a flight attendant, Fernandes jokingly described him as "rubbish".
The wager also resulted in a charity event, and more than 300,000 Australian Dollar was collected for the Australian Starlight Children's Foundation.
Fernandes said the foundation focused on helping seriously ill children throughout Australia, and helping to improve their quality of life.
Back