Overnight queue for DAHLIA, the final phase of 2-storey terrace homes at Pakatan Jaya Ipoh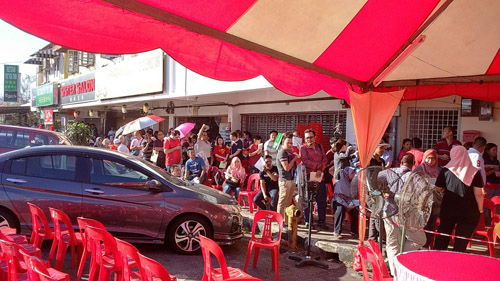 Ipoh, 23 January 2016
The much-anticipated preview of DAHLIA, the final phase of 2-storey link homes at Pakatan Jaya Ipoh by PYP Sendirian Berhad (a YTL company) saw a queue forming outside the sales gallery one night before the preview. The final phase comprises only 216 homes and all units released on the first day of the preview were sold out within half a day.
"There is every reason to buy now. With prices starting from RM200,000 Dahlia presents a truly attractive value-for-money investment for the young generation to own their first homes in this choice location. The majority of them are young working adults and young families from this area and the immediate neighbourhoods. But the first to arrive at 11.00 pm the night before were 2 young adults from Teluk Intan and Kampar who were full of determination to purchase their first homes in our development, quoting affordability and modern design as the main reasons for their purchase. We are deeply grateful to all purchasers who have expressed their confidence in our development and who have given us their fullest support today," says Dato' Yeoh Seok Kian, Director of PYP Sendirian Berhad.
Ipoh's residential property market has been experiencing a steady growth over the past few years with prices picking up despite weaker economic sentiments and stringent measures on loan applications by Bank Negara.
Furthermore, property investment in Ipoh is largely driven by economic fundamentals and not speculative investment.
"We captured the interest of more than 2,000 registrants within 2 weeks during our registration exercise. In our show house we demonstrated spaciousness and efficiency in 1,435 sq ft of built-up area, coupled with a modern lifestyle theme. Naturally we are happy that purchasers were convinced with our product and pricing. These are genuine prospective homeowners. At the prices that they are paying today, there will be room for appreciation as property prices continue to increase due to demand and inflationary pressures," says Dato' Yeoh.
Bankers present were impressed with the long queue and overwhelming response to DAHLIA as they have not witnessed an overnight queue for property launches in Ipoh.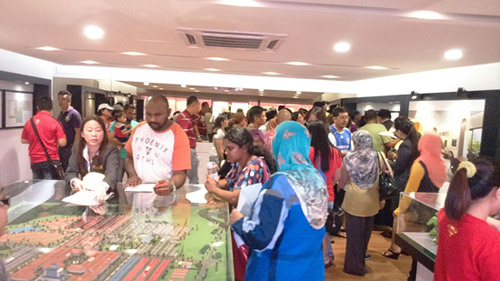 About DAHLIA
Designed for convenience and practicality, these modern homes feature spacious layouts with generous built-up areas starting from 1,435 sq ft. The standard intermediate unit features 4 bedrooms and 3 baths. A family hall on the first floor affords additional living space for privacy and comfort. The car porch easily accommodates 2 cars side by side. End and corner units open up to extra land from 600 sq ft to 2,130 sq ft respectively which provide open spaces for families who value outdoor living amidst landscaped gardens and greenery.
The development spans 13 acres with 216 units of terrace homes complemented with a park which features green spaces and outdoor leisures for family recreation and pastimes.
About Pakatan Jaya Ipoh
Since PYP Sendirian Berhad first launched Pakatan Jaya, it has found its place in the hearts of homebuyers who invested in these affordable modest homes, majority being first time homeowners. It has since matured into a fully integrated and established township to more than 2,000 terrace homes.
Set within a strategic location, Pakatan Jaya enjoys excellent accessibility to Ipoh and major towns via inter-connected access roads and highway, ie. North-South Expressway, Jalan Bercham, Jalan Tambun and Jalan Sultan Azlan Shah Utara.
The development is also close to neighbourhood conveniences and hypermarkets like Jusco, Tesco and Giant. Sunway City, a popular recreational-tourist hotspot is located nearby.
Back