Express Rail Link ready to welcome passengers to KLIA2 on 2nd May 2014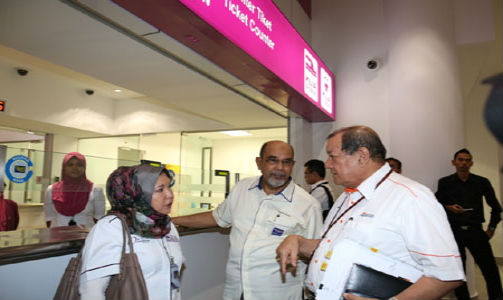 Kuala Lumpur, 21st April 2014
Express Rail Link Sdn Bhd (ERL) welcomed the Chairman of Suruhanjaya Pengangkutan Awam Darat (SPAD) YBhg. Tan Sri Dato' Seri Syed Hamid Bin Syed Jaafar Albar onboard the KLIA Ekspres train on a pre-opening visit to KLIA2.
Both the KLIA Ekspres and the KLIA Transit services have been extended to KLIA2, and will start commercial operations on 2nd May 2014 together with the opening of the KLIA2 airport terminal.
KLIA Ekspres
The KLIA Ekspres will still provide non-stop service from KL Sentral Station to KLIA Station in 28 minutes, and will then continue on to KLIA2 Station. The return journey will also be via KLIA Station. The total journey time from KL Sentral Station to KLIA2 Station is 33 minutes, with a two-minute stop in KLIA Station.
KLIA Transit
With the extension of services to KLIA2 Station, passengers and commuters staying around Bandar Tasik Selatan, Putrajaya, Cyberjaya, and Salak Tinggi will be able to travel to and from KLIA2 directly by train with ease and comfort, and faster than any other modes of road transport.
YBhg. Tan Sri Dato' Seri Syed Hamid and the senior management of SPAD were the first group of visitors to try the train service from KL Sentral Station to KLIA2 Station since ERL was granted the new license to operate from 14th April 2014. The visitors were taken on a tour of the new KLIA2 Station by Noormah Mohd Noor, Chief Executive Officer of ERL.
She remarked, "It has been almost eight years since the low-cost carriers were moved from KLIA to the LCCT. With the move back to KLIA2, we are ready to welcome the passengers flying with these low-cost carriers onboard the KLIA Ekspres, and they can finally enjoy the fastest airport transfer in Kuala Lumpur."
The visitors were also briefed that ERL was working closely with Malaysia Airports Holdings Bhd (MAHB) to provide free trial rides on KLIA Ekspres/KLIA Transit for 1,000 lucky visitors to attend MAHB's KLIA2 Open Day on Sunday, 27th April 2014. The public are invited to register online at www.KLIAekspres.com from Wednesday, 23rd April 2014 and receive an e-ticket upon confirmation. They can use the free Return Ticket for travel from KL Sentral Station to KLIA2 Station on the KLIA2 Open Day. One thousand Return Tickets will be available on a first-come, first-served basis from the website only.
Back