SEED welcomes Artisan Roastery Cafe
Kuala Lumpur, November 1, 2013
Malaysia's coffee culture can be easily traced back to rustic kopitiams which line its main streets, serving the locals' all-time favourites – a cup of steaming morning brew, almost always accompanied by kaya-butter toasts and half-boiled eggs. From a much-loved pastime, this culture blossomed into a lifestyle trend when commercial chains like Starbucks entered our shore, followed closely by home-grown coffee café franchises. As the coffee scene evolved, so does appreciation of coffee. We have today, a new generation of coffee drinkers and lovers, thanks to the third wave of specialist roasters that emerged in the early 2000s, and which gave Malaysians exposure to specialty coffee beans from all over (the world) plus a variety of ways to truly enjoy the beans. Your cuppa of hand-crafted coffee will soon be well within reach at Sentul when Artisan Roastery opens its new outlet at SEED this year.
Sentul East Design Centre (SEED) will be Artisan Roastery's 4th location in the Klang Valley; adding to its locations in Bangsar Village 2 and Taman Tun Dr Ismail in KL, and Section 13 in PJ.
This hip boutique café at d7 will join SEED's existing line-up of the world's leading brands dedicated to design and technology in furniture, kitchen cabinetry, equipment and accessories, architectural lighting solutions, and home automation systems. The design centre currently houses the Herman Miller, Armani/Casa, Ligne Roset, Moroso, Rossana Cucine, Smeg, Erco and Gira brands within its inspiring and artful setting.
The café concept and design, though similar in feel, promises to be different from the rest of its cousins. For one, it will feature a micro-roastery to house a state-of-the-art coffee roaster which is the best in the world for the style of specialty grade coffee that it roasts. The new café will also be a launching pad for Artisan Roastery's new vibrant coffee brand, Three Little Birds Coffee, sourcing directly from the world's best coffee farms and roasting in-house for Malaysia's growing discerning coffee market. Taking coffee appreciation a few steps further, the founders will also use and share their coffee know-how to bring a whole new coffee experience to its customers. This focus on education on all things coffee – its history and culture, the beans and the art and science of coffee preparation, will change the way we Malaysians drink and appreciate specialty coffee.
"We built a space for a roaster in our latest café in Section 13, PJ. Despite being an industrial area, this venue has been so popular that we now have our customers seating in the roastery. We could open in another industrial lot, but after we visited d7 at SEED, we decided this is a great space to showcase our coffee," says Michael Wilson, co-founder of Artisan Roast Ltd in the UK and Artisan Roastery Sdn Bhd in Malaysia.
"One of our cafés in the UK was named best in the UK in 2012 and the business is the current holder of the Spirit of Scotland Award. In the same year, our café in TTDI was named Best Place for Coffee in the Time Out KL Food Awards. We want to create another different outlet and repeat the same kind of success in Sentul that will continue our tradition of excellent, passionately prepared coffee in the same welcoming environment that our guests have come to enjoy," added Wilson.
Coffee aficionados have come to recognize coffee as an artisan beverage at any Artisan Roastery café, and expects only good coffee prepared just the way they like it. "Coffee comes first, not making yet a quick buck," added Wilson. There will be the traditional coffee accompaniments, homemade cakes, pastries, etc. Guests who prefer the outdoors could enjoy their coffee and mingle around the lushly landscaped courtyard right at the doorstep of the café.
The introduction of new offerings at SEED in the form of lifestyle tenants will further entrench the centre's positioning as the preferred design destination for the art and design community. The presence of Artisan Roastery also represents YTL Land's continued commitment to provide a mix of tenants which will best serve the community at SEED and its surrounding neighbourhood.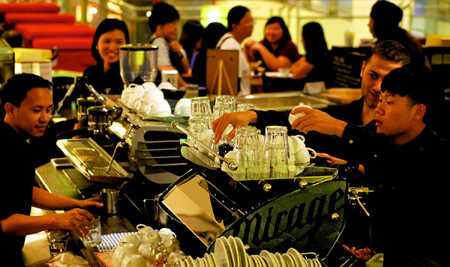 About Artisan Roastery Sdn Bhd
Artisan Roastery Sdn Bhd was founded by husband and wife team, Michael Wilson and Amirah Mohamad. Wilson brings coffee expertise from many areas of the industry and his cafés enjoy a reputation for high quality product and excellent service. Amirah is a coffee roaster with a background in biological research, which makes her very methodical in her roasting approaches and application to business. The founders planted the seed for what is now Klang Valley's thriving artisanal coffee and micro-roasting scene, and have established a highly successful independent coffee brand. It is their aim to grow the specialty coffee industry – by introducing to coffee fans a different level of appreciation for specialty coffee, as well as to educate Malaysians to be as passionate about coffee as the Artisan crew.
Back