Tan Sri Dato' Seri (Dr) Yeoh Tiong Lay conferred the Lifetime Achievement Award for Entrepreneurship at World Chinese Economic Forum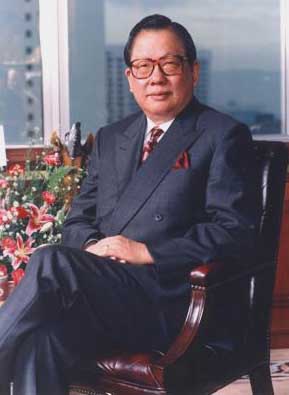 Kuala Lumpur, October 7, 2013
Tan Sri Dato' Seri (Dr) Yeoh Tiong Lay, Group Executive Chairman of YTL Corporation was recently conferred the Lifetime Achievement Award for Entrepreneurship at the 5th World Chinese Economic Forum. The award was conferred by Tan Sri Michael Yeoh, Chairman, WCEF & CEO of ASLI.
Since its founding in 2009, the World Chinese Economic Forum (WCEF) has become an institutionalised Annual Forum, bringing together over 2,000 participants from more than 25 countries worldwide. The WCEF is supported by the Prime Minister and Deputy Prime Minister and the Government of Malaysia, as well as the China Council for Promotion of International Trade (CCPIT), the China Mayors Association, the China Development Institute (CDI) and the China National Committee for Pacific Economic Cooperation (China-PECC).
Tan Sri Yeoh Tiong Lay has been involved in the construction industry for the last 58 years with extensive experience and knowledge of construction methodology, having successfully completed numerous major projects that include high-rise buildings, schools, hospitals and many others.

In recognition of his achievements in the upholding and furtherance of professional standards in the construction industry internationally, Tan Sri Yeoh was conferred the honorary degree of Doctor of Engineering (D.Eng) by Heriot-Watt University in Edinburgh and the Honorary Doctorate in Philosophy (Business Administration) by Universiti Malaysia Sabah in recognition of his entrepreneurial and management skills.

Tan Sri received the Honorary Doctorate degree in Education from the Changhua University in Taiwan in May 2013.

Tan Sri Yeoh was honoured by the International Real Estate Federation (FIABCI), Malaysia Chapter, with the prestigious Award of Distinction for Property Man of the Year 2003.
In December 2007, Tan Sri Yeoh was conferred the Order of the Rising Sun, Gold Rays with Neck Ribbon by His Majesty The Emperor of Japan.

Tan Sri Yeoh, a chartered builder and dynamic entrepreneur in Malaysia is currently the Honorary Life President of Master Builders Association Malaysia (MBAM). He was the Senior Vice President of the World Contractors' Association.

In addition to his business and professional success, achievement and eminence, Tan Sri Yeoh is also an active social worker and a philanthropist who has involved and associated himself closely in voluntary, social and charitable activities.

Tan Sri is also Honorary Chairman, Tung Shin Hospital; Honorary President, Associated Chinese Chambers of Commerce & Industry Malaysia; Honorary President, Malaysia-China Chamber of Commerce; Honorary President, the Federation of Hokkien Associations of Malaysia.
Back