Tan Sri Dato' Seri Dr Yeoh Tiong Lay Awarded the Seri Panglima Darjah Kinabalu title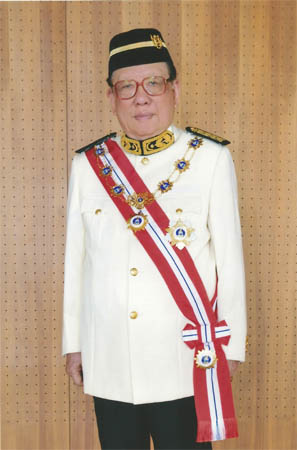 NST, October 5, 2013
KOTA KINABALU: Six people were accorded the state's highest award, the Seri Panglima Darjah Kinabalu, which carries the title "Datuk Seri Panglima", in conjunction with Sabah Yang di-Pertua Negeri's birthday yesterday.
Local government and Housing Minister Datuk Seri Panglima Hajiji Noor and Tourism, Culture and Environment Minister Datuk Seri Panglima Masidi Manjun were among the recipients.
The others were Inspector-General of Police Tan Sri Khalid Abu Bakar, former inspector-general of police Tan Sri Ismail Omar, Armed Forces chief Tan Sri Zulkifeli Mohd Zin and corporate figure Tan Sri Dr Yeoh Tiong Lay.
A total of 703 people were on the honours list, including 36 who received the Panglima Darjah Gemilang Kinabalu, which carries the title "Datuk".
The others were awarded the Ahli Darjah Setia Kinabalu (61), Ahli Darjah Kinabalu (130), Bintang Setia Kinabalu (209) and Bintang Kinabalu (267).
Back