Starhill Gallery celebrates 7th edition of A Journey Through Time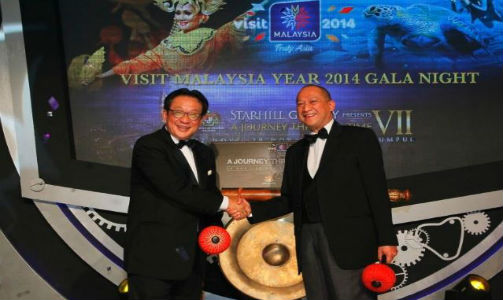 Kuala Lumpur, 22, November 2013
Asia's grandest watch and jewellery showcase returns in grand fashion at Starhill Gallery. Endorsed by The Ministry of Tourism & Culture Malaysia for the seventh consecutive year, this year's edition will reveal the most unique collections from world-renowned watch and jewellery brands.
Tourism Malaysia launched the week-long celebrations with a gala dinner held at Shook! restaurant.
Officiating the launch, Minister of Tourism and Culture Malaysia, Dato' Seri Mohamed Nazri said, "I'm honoured to be here to officiate the 7th consecutive A Journey Through Time. Over the next few days, YTL will be presenting beautiful and exquisite watches and jewellery pieces to be found anywhere in the world and demonstrating once again that Malaysia is a premium destination for luxury shopping."
Attending the festivities for his first year, Dato' Seri Mohamed Nazri shared that he was overwhelmed at what he has seen on his tour of Starhill Gallery. "This gives me the strength and belief that this event will be a success and we will see more A Journey Through Time events for many years to come. Next year will certainly be different. We will allocate a bigger budget for A Journey Through Time. That's a promise!"
A Journey Through Time is Starhill Gallery's most anticipated event of the year and plays a major role in diversifying retail activities in Malaysia. With exhibitions of limited edition watches and jewellery pieces, visitors have an exciting range of activities which include fashion parades, delectable cuisine and stellar performances. This year, guests enjoyed an incredible opening performance by Belgium singer Yannick Bovy who wowed the crowd with an impeccable rendition of 'Getaran Jiwa'.
The shopping scene in Malaysia has certainly begun to thrive with events organised by the private sectors. Shopping expenditure by tourists was recorded to be about RM18.56 billion last year, with total tourist arrivals in Malaysia reaching more than 25 million.
"The Ministry of Tourism and Culture Malaysia constantly seeks new ways to make Malaysia the shopping destination of choice. 15 years ago, a breakthrough was made with the government's decision to work with the private sector, hence the retail experience in Malaysia.
"In 1999, with the formation of a duty free environment luxury goods with reasonable prices were made available. And the abolishment of import duties on approximately 300 popular goods in 2011 has paved the way for future success," said Dato' Seri Mohamed Nazri.