Tan Sri (Dr) Francis Yeoh honoured with Lifetime Achievement Award at The Peak's 25th Anniversary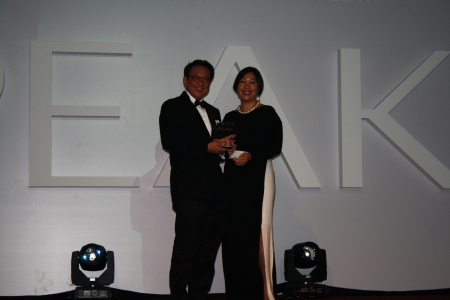 The Peak, October 2014
Tan Sri (Dr) Francis Yeoh was bestowed the Lifetime Achievement Award at The Peak's 25th Anniversary held at the Mandarin Oriental, Kuala Lumpur.
Honoured to be recognised such a prestigious award, Tan Sri (Dr) Francis Yeoh said: "First and foremost I must congratulate The Peak Magazine for having survived 25 years, despite a digital revolution in the media world. The digital revolution has beaten to pulp many old print businesses but they (The Peak) seemed to have survived these past 25 years.
"I must congratulate Dato' Ibrahim, Datin Azliza and Diana Khoo for their perseverance and the consistent quality they have kept in this magazine to continue to attract advertisers in a very tough time in the media space where digital media seems to rule supreme.
"I'd like to consecrate this award recognising my achievements to our Lord Jesus Christ who deserves all the glory and honour – not me. He is the author of the script and I am just a willing pencil."
One of Corporate Malaysia's most well-known names and faces, YTL Corporation's Tan Sri (Dr) Francis Yeoh has indeed steered the family business, which was started by his father, Tan Sri Dato' Seri Dr Yeoh Tiong Lay, in 1955, to greater heights. It was under his leadership that real fortune came, as the company diversified, from construction into utilities.
"Using innovative financial instruments and measures, YTL created and funded the first Independent Power Producer project in Malaysia. The plant was completed in world record time of 14 months ahead of schedule," he says, citing this as one of his top career highlights over the past 25 years.
YTL Corporation also owns and maintains Wessex Water, which under its stewardship, has grown to become the top water utility in the UK. It is also to YTL's great credit that it is the only water company to have won the Queen's award for enterprise in sustainable development (the UK's highest accolade for business success) on two occasions.
"Of course, taking YTL Corporation public in 1986 is another key highlight in my career," adds Yeoh. "The company has realized a compound annual growth rate in pre-tax profits of 55 percent, especially in recent years. Put simply, RM1million invested in the company's shares back in 1986 is worth around RM140million today!"
YTL Corporation is also the muscle behind the building and operation of the Express Rail Link (ERL) between KL Sentral station and KLIA1 and KLIA2. "The ERL has received global acclaim as one of the most punctual and price-friendly airport-to-city express rails in the world," he beams. "It is not only environmentally sustainable, taking over seven million cars off Malaysian roads every year, but also acts as a cost-efficient commuter train for millions of passengers travelling to and from Putrajaya."
On a more lifestyle-oriented topic, Yeoh is also particularly proud of the initiation and building of what is now known as Bintang Walk, transforming a once-notorious district in Kuala Lumpur into a veritable shopping haven that attracts 50 million footfalls annually.
"From just RM200 per sq ft, Bukit Bintang can now command over RM2,000 per sq ft in property value, making it a key contributor to Kuala Lumpur being voted the fourth most popular shopping destination in the world, according to CNN." Yet, for all his accomplishments, Yeoh remains humble, wearing his faith on his sleeve and professing his ultimate definition of success simply "to have tried diligently as a steward of God's goodness and resources, especially by being true to our Lord Jesus Christ's higher calling to be a force for good in this very unforgiving world."