JDMines To Generate Double-Digit Revenue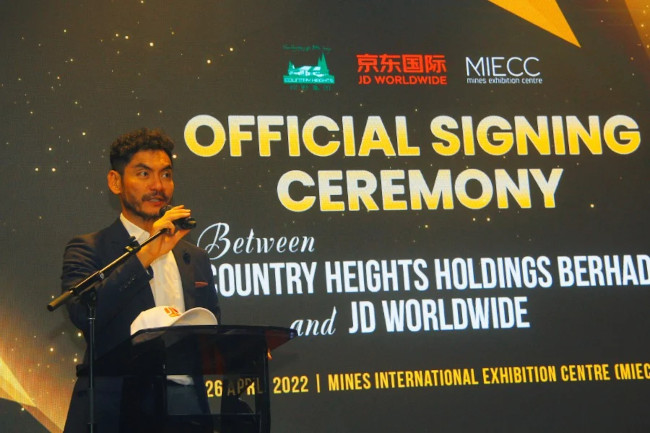 Country Heights investing over RM250m to set up large retail spaces
NST, May 6, 2022
by Sharen Kaur
Country Heights Holdings Bhd expects its new omnichannel retail business to generate double-digit revenue in its first year of operation, said managing director Datuk Jared Lim.
He said the property development and investment group is optimistic about the business because the e-commerce market is worth billions of ringgit and it is entering a niche market.
On Dec 28 last year, Country Heights signed a licensing and collaboration agreement with Beijing Wodong Tianjun Information Technology Co Ltd, a subsidiary of JD.com, to develop the omnichannel business model.
As a result, JDMines, a 70:30 joint venture between Country Heights and technology incubator Star Pulse Sdn Bhd, was formed.
Country Heights will collaborate with Star Pulse to execute the omnichannel business model.
"The local retail market, particularly e-commerce, has enormous growth potential.
"JD.com shares our commitment to provide an exceptional consumer experience. Customers will have a very different experience because we will provide both online and offline shopping
options," Lim told the New Straits Times at the launch of JDMines in Seri Kembangan last week.
He said Country Heights intends to invest more than RM250 million over the next five years to set up large retail spaces.
It will also open small retail outlets in strategic locations.
"We have several options how we want to build this company. We could either buy the land and build the retail stores ourselves, which would cost around RM50 million each, or we could form a joint venture with the landowner. Smaller retail footprints would be significantly less expensive."
Country Heights will invest RM50 million in the flagship JDMines retail store, which will span 150,000 sq feet on the ground floor of the Mines International Exhibition and Convention Centre.
It will house about 10,000 of China's best stock-keeping unit products. It is expected to start operating in the second half of 2023 together with JDMines' ecommerce platform, which will offer over 50,000 products.
"We will have a few anchor divisions like smart living, smart home furnishing, smart home appliances and consumer products from China that aren't easily available in Malaysia.
"China is our most important purchasing market. Through JDMines, we are essentially bringing China's future of living into Malaysia.
"All the items we are bringing aren't easily available online. Who will maintain, service, guarantee or certify it? JD.com is well known in China for providing these services. We are putting it together and bringing it to Malaysia. Once we have the anchors in place and the first model is stable, we will gradually roll it out across the country," he said.
Country Heights founder and chairman Tan Sri Lee Kim Yew believes that the collaboration with JD.com will transform the group and the Mines township in Seri Kembangan into a leading import and export hub.