YTL Foundation Partners Yellow House to Raise Funds for Building Renovation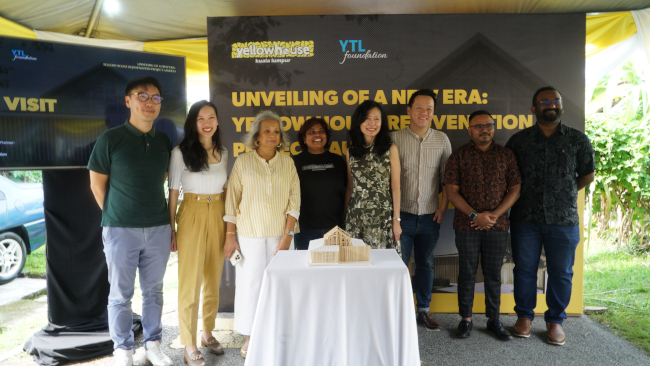 Kuala Lumpur, September 2, 2023
Pertubuhan Kebajikan Masyarakat Yellow House ("Yellow House"), a non-profit organisation dedicated to improving the lives of marginalised groups, is raising funds to rejuvenate its physical space, which will cater to future plans for the urban poor and refugee communities. The fundraising initiative was officially launched at the Yellow House premise with Shyam Priah, Founder & President of Yellow House and Dato' Kathleen Chew, Programme Director of YTL Foundation.
Renovation work for Yellow House is already in motion with an estimated cost of RM275,000, and is expected to be completed by the end of the year. In support of Yellow House's rejuvenation and future ambitions, YTL Foundation has donated RM50,000 to Yellow House to kickstart the fundraising matching the RM50,000 that Yellow House has raised to-date.
The balance of RM175,000 will be raised through donations from the fund-raising campaign. Donations will be channelled directly to Yellow House, and can be made online and via QR code at https://yellowhousekl.com/.
First built in the 1980s by Shyam's father and grandfather, the Yellow House premises in Ampang, Selangor, has served as a shelter for more than 6,000 homeless individuals and refugees, as well as hosted over a thousand international volunteers since Yellow House's inception in 2011. Today, the aging building is in constant need of repairs, which has severely limited the functionality of Yellow House to continue operating and running its social programmes.
Shyam Priah, Founder & President of Yellow House said, "To date, Yellow House has served thousands of beneficiaries despite its space and operational constraints. With the incredible support of YTL Foundation and YTL Construction, we're embarking on a transformative renovation journey. Our aim is to maximise the potential of Yellow House, making it a beacon space of hope and support for our refugee, homeless and urban poor communities."
"Through this fundraising campaign, we want to extend the opportunity for good-willed Malaysians and corporates to come forward and support a cause that resonates with their values. The new era of Yellow House is a shared vision for the betterment of communities; and every donation signifies the collective ownership in Yellow House's future," she added.
Dato' Kathleen Chew, Programme Director of YTL Foundation said, "Yellow House's mission and impact on marginalised groups have inspired us to collaborate with them to bring a new lease of life for the communities they serve. With the assistance of YTL Construction, we are delighted to contribute our resources to undertake the renovation of the Yellow House building, including finance, expertise, network and manpower."
"The rejuvenation of Yellow House carries the express mandate to increase its functionality, not just in creating a welcoming atmosphere for volunteers and the underserved communities, but also in enabling Yellow House to add on social initiatives that could benefit the surrounding community," she added.
Yellow House has several projects planned for the envisioned renewed building, including a co-working space, a farm-to-fork initiative and a repair café. These initiatives allow for diversified revenue streams that will enable Yellow House to continue its social mission whilst allowing it to financially sustain its operations.
Bamboo-tifully Empowering Communities
In line with YTL Foundation's ethos and Yellow House's own sustainability practices, the renovation of Yellow House will see extensive use of bamboo as an innovative and sustainable building material. YTL Construction, as the Design & Construction partner, has conceptualised the idea of incorporating bamboo into Yellow House's renovation, not only as an eco-friendly choice, but also to add a unique touch of natural beauty to this initiative.
Tsen Yeoh, Director of YTL Construction said, "As we endeavour to create sustainable changes in the lives of the underserved, we are confident that the new face of Yellow House will be a sustainable space in every way – socially, by providing shelter and dignity for the marginalised; economically, as a platform to generate work opportunities; and environmentally, with the use of bamboo that encourages natural lighting and open spaces."
"With a more optimised space, Yellow House will be able to scale up and carry out new projects that the old place had no carrying capacity for, so that we can increase the number and impact on the communities we serve," Shyam concluded.
To find out more about Yellow House's rejuvenation project or to donate, please visit https://yellowhousekl.com/.