Carly Paoli – the British Airways voice on what to see in Kuala Lumpur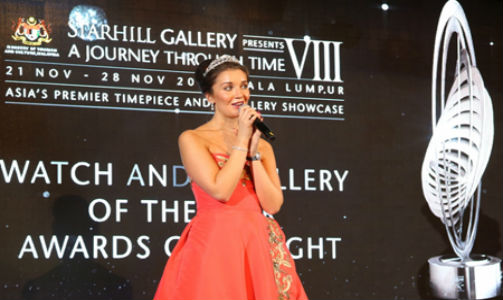 Kuala Lumpur, April 17, 2015
British mezzo soprano Carly Paoli received a rousing welcome as she performed in Kuala Lumpur last year. She left a huge mark on her Malaysian fans as her distinctive and powerful voice reverberated throughout Starhill Gallery and captured the hearts and souls of all who were present. Carly's performance in Kuala Lumpur at A Journey Through Time – Asia's premier luxury watch and jewellery showcase, follows many other great singers who have performed at the event including Russell Watson, Katherine Jenkins, Julio Iglesias and Delta Goodrem among others. Performing for a packed house over four nights, many dignitaries and distinguished guests consider her performance the best so far at A Journey Through Time.
The 26-year-old opera sensation has already performed for audiences across Europe and the US.  She recently performed at the David Foster Concert alongside Steven Tyler and Oscar winning actress Jennifer Hudson where she received a standing ovation. Carly also performed at the International Women's Media Foundation Courage in Journalism Awards (IWMF) in Los Angeles in tribute to Anja Niedringhaus. Carly has received rave reviews for her performance of her hit song 'Save Your Love For Me' and the famed Paula Abdul even commented saying, "She has the voice of an Angel, and it's effortless with sheer beauty. It was the perfect song and the perfect singer."
Having spent some time in the Malaysian capital, Carly was recently featured in Highlife magazine as the British Airways voice on what to see in Kuala Lumpur.
She spoke about Hutong at Lot 10 saying, 'Malaysia is renowned for its street food and the best place to sample the city centre's top offerings is at Lot 10 Hutong.'
Newens Tea House was also on her list, as Carly was recently named brand ambassador of the 165-year-old British brand. "It is a little taste of home for me in Malaysia," she said of the world famous Maids of Honour tarts – a specialty at Newens Tea House.
Carly's go-to place for retail therapy is Starhill Gallery which is home to the world's largest watch gallery, stocking brands such as Bedat & Co, Audemars Piguet and Chopard, as well as a string boutiques by Dior, Kenzo and Alexander McQueen. Catching on to the perks of luxury shopping in Malaysia, Carly quips that 'it's all Duty Free!'
Talking about Shook!, her favourite restaurant in Kuala Lumpur, Carly says, "It's a great venue for a night out with a brilliant atmosphere and great service. The menu has an amazing choice of eastern and western dishes with Japanese, Chinese wok, Italian and Western 'grill show' on offer. Don't miss the famous delicious 'dancing prawns'!"
Carly is also brand ambassador for Bedat & Co. and was recently appointed patron of When You Wish Upon A Star charity in the UK. For more info and news on upcoming performances, visit, http://www.carlypaoli.com/
Back