The Humble Hotelier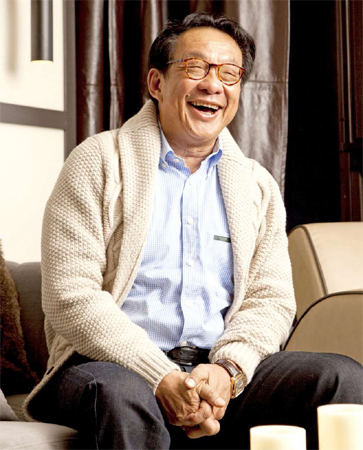 The Star, January 11, 2015
Tan Sri Francis Yeoh talks about his passions, his business style, his family and above all, his love for God.
By June H.L Wong
WITH his slightly messy wavy hair, tortoise shell glasses, cream-coloured cardigan over a blue shirt and jeans, Tan Sri Francis Yeoh looked more like an absent-minded professor than the savvy, successful business tycoon that he is.
As group managing director of YTL Corporation, Yeoh, 60, has presided over the growth of what was a small but reputable construction firm founded by his father, Tan Sri Yeoh Tiong Lay in 1955, into the conglomerate, comprising five listed companies, it is today. In 1996, YTL Corp made history when it became the first Asian non-Japanese company to be listed on the Tokyo Stock Exchange Its portfolio includes cement, construction, utilities, power, high-speed rail, real estate and hotels and resorts.
It is the hotels and resorts business which has brought him to Niseko Village, Hokkaido, an award-winning ski resort which the YTL Hotels owns and operates.
He came to launch two developments – the shopping village and Kasara Townhouses – which are part of a grand design to further develop the resort gently and carefully, with always a nod to preserving the natural beauty of the place.
A day after the gala launch which featured the legendary American jazz Freddy Cole Quartet, I sat down in the cosy and well-appointed lounge of one of the townhouses with a relaxed and jovial Yeoh.
Why did you get into the hotel industry when your family company was in construction?
I have always loved hotels – always. You see, hotels give you an experience that's different from your home. Even kings love hotels.
But the hotel industry is also a very tough and the most humbling of businesses. To me, it's a reverse pyramid, meaning everything is upfront.
What hotels inspire you?
European ones like the Aga Khan hotel in Porto Cervo (a seaside resort in northern Sardinia, created by Prince Karim Aga Khan). Also, great palaces converted into hotels which set the benchmark for food and quality of service. I loved the elegance, the glory of preserving such architecture.
What was your first hotel property?
Pangkor Laut, a private island we own. But in 1985, it was a very simple product with thatched roofs, but really quite exotic too. It evolved over time and we made it the best resort in the world (it was voted "Number One in the World" by Conde Naste Traveller UK in 2003).
What I love about Pangkor Laut, (Pulau) Gaya and Niseko is the opportunity to preserve them as pieces of paradise on earth. For us, they are God's creations so we mustn't overwhelm His glory. (Any development) must be done in proportion and with humility.
How did YTL come to own Niseko?
In 2008, we started doing a few things. We bought Power Seraya in Singapore, we bought Starhill Global REIT, the best of Orchard Road (in Singapore), and we bought Niseko. (The deal was concluded in 2010. It was Yeoh's youngest brother, Datuk Mark Yeoh, who got wind that CitiGroup Inc was selling Niseko Village. The Yeoh family were frequent visitors and loved the place. YTL acquired it for US$60mil.)
What I like about Niseko is its very Japanese orientation. For a long time, it wasn't open to the rest of the world because the Japanese market was big enough. (That changed with the recession in the 1990s. Australian skiers were the first to discover its amazing powder snow quality.)
There's a great story to tell here. When we took over the Green Leaf hotel (one of two hotels in Niseko Village), we had two choices: destroy it as it was an old building or preserve it.
We found that Green Leaf was popular with the Japanese but it was all self-service, full of coin-operated vending machines, which is what the Japanese are accustomed to. To me, it was not right. So we decided to make it less mechanical, retain the Japanese architecture, make the rooms bigger and hope the Japanese would love it.
By lifting the product, Green Leaf has taken off. Even the non-Japanese like it. We kept some of the vending machines but the lounge is beautiful, so is the onsen. The rooms are very nice with a lot of art. This is what YTL likes to do – always honour the culture we operate in.
When you have an authentic culture, food and snow of this level and geographically, it is just seven hours within reach of some of the richest people in South East Asia and Asia who can afford homes in Europe and as far as Canada, why wouldn't Niseko work?
But the well-heeled South-East Asian tourists love to do a little shopping. That's why we built the shopping village. This was how Courchevel (ski resort in the French Alps) was built 20, 30 years ago when people like Bernard Arnault (chairman and CEO of the world's leading luxury products group LVMH Moet Hennessy) got the best operators to go there. Courchevel is now the top resort in the world because the players were very visionary and passionate. We want to do the same for Niseko; put the Cheval Blanc (LVMH's luxury hotels) kind of brand here.
What was the thinking behind the design concept for the townhouses and shopping village?
I didn't want it to look like Vail or Aspen (North America's top ski resorts in Colorado). I wanted it to have an old Kyoto rustic feel; to look very Japanese, yet with all the modern creature comforts.
You decided on the traditional Machiya architecture style which we were told surprised the Japanese who didn't seem to realise how wonderful their own heritage is.
That's why people need to be reminded. Why forget the wealth of culture there is?
You seem to be very lucky to have a younger brother who shares your passion in hotels. (Mark is executive director of YTL Hotels & Properties.)
I am very blessed with siblings who also love God and when they take on something, they are just as passionate as me.
As the big brother, did you have a hand in influencing your younger siblings?
I became a Christian at 16 and they were all quite upset because as the eldest son from a family of 20 generations of non-Christians, they thought I was unfilial.
So my siblings started reading the Bible to challenge me and to say I was wrong. But they all came to Christ after that.
When you are united in purpose, when you have humility and love, it's much easier to get rid of your own ego. You want to be a force for good to reflect the goodness of God.
Was there ever a time your faith was shaken?
No, never. In fact, the chances of YTL making it this way is mathematically impossible – like one in a trillion. I don't think I tell enough of God's glory, nor spoken enough of the near mathematical impossibility of how we made it. It's miracle upon miracle and it still happens - in our personal lives, in our business.
We siblings are united in Christ, and the next generation is also united. They love each other to bits. It's wonderful to see 27 cousins so united. They are also the smartest people – Oxford, Cambridge, Imperial College, Nottingham....
For my generation, I said we must have an honours degree. For their generation, they needed to have two degrees or at least a Master's from a good college. I didn't have to pressure them as they all understood they must have some achievement based on merit for them to join the company. That is their first foundation.
So they are not guaranteed a job with the company?
They have to earn their keep. Nobody is mollycoddled in the Yeoh family.
How do you balance between having family members and professional managers in the company?
Most of the CEOs are non-family. All my nephews, nieces and my own children are understudying them. One day, many years down the road, they could be CEOs. They must learn how to operate, to be very streetwise.
We can share our experiences and teach them the mistakes, but our children must be able to manage and make good decisions, that's very important. Most of them will make the cut, I can tell you that.
What do you look for in your people?
I always say they must master three languages in this order: the language of God which is morality and integrity; the language of man because as a leader you must be able to articulate your vision with passion and bring people on board. Lastly, you must have the language of machines because that has to do with technology and IT.
It's also my joy (to take care of my staff) and the turnover at YTL is very low. I have many staff who have signed 30-year contracts with the company. After seven years, they get a big chunk, so it's a good incentive to stay and we have stability. In this day and age, it's awesome, isn't it? People, especially young people, don't want to stay a year let alone 30 years. I like that.
You are very open about your faith which may be viewed cynically by those who believe that for businessmen to succeed, they must be ruthless and willing to compromise on their morals. Do you think you are misunderstood?
As a businessman, that's to be expected. But I know I have a lot of people who believe in me and love me lots. I get very touching letters from people who inspire me, so I don't have any chip on my shoulder whatsoever. I am humble with plenty to be humble about. If they want to criticise me for my inconsistencies and all that, it's all right because I am imperfect.
As far as I am concerned, that is fair game. But at the end of the day, what is the best measure of what we do? If people start queuing 48 hours before to buy my houses; if people fill my hotels and we keep winning awards year in, year out, then it's no longer about me. It's about my unsung heroes who keep delivering and winning global awards. I will be worried if Niseko (voted Best Ski Resort in Japan two years running) or Wessex Water (two-time winner of the Queen's Award for Enterprise and Sustainable Development in the UK) stops winning, then I will ask where is the passion.
Have you achieved all your dreams or do you plan to slow down to spend time with your family?
I am a very young man (laughs). My family time has never been compromised. I always spent more than 50% of my time with the kids when they were growing up. Whatever I do, I never miss family time.
When you became MD of your dad's construction company in 1988, was it hard to convince him to accept your plans and changes?
No, because he knew I had to make changes, in particular, technological changes. He knew he could not cope with that. But persuading him to go public and give 30% to bumiputras and all that ...it was like (giving away) the family silver which you had worked so hard for, and to face the public and scrutiny – that was hard. But I said we could do it because we were transparent enough and there would be enough investors. I like that transparency. I like the fact I can tell the shareholders this is your company, not my company, that is doing well. There is a certain sense of humility to being able to own up and be accountable. That is a good culture for YTL.
What does the future hold for YTL?
I have so much faith in the next generation because they are so much smarter.
In my time, there were seven of us (siblings) and I was always asking them to graduate quickly – no holidays or sabbaticals – as I wanted them back to help with the business as we were expanding.
Now with 27, we can expand what we are doing and do other kinds of businesses which they come up with and do well in them. Many like Joseph (Yeoh's second son, who is 28 and vice-president of YTL Hotels & Properties and YTL Land & Development), who is understudying Mark and other CEOs, have ideas and dreams. They have already been able to come up with thinking that is quite ahead of the curve.
Back