YTL's Lot 10 Hutong gives a taste of history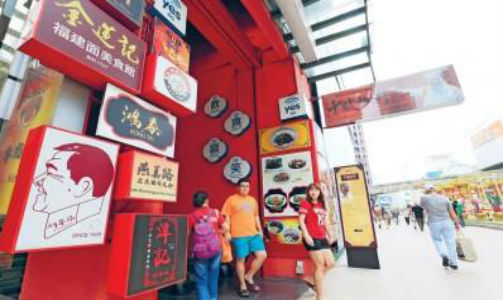 The Ant Daily, August 4, 2014
By Sumitra Valliappan
KUALA LUMPUR: Amid the glitz and glamour of the city, tucked away in the basement below one of the country's top shopping malls, lies an unassuming food court that serves local delicacies from some of the city's oldest street hawkers. The food court is the brainchild of Tan Sri Dr Francis Yeoh, who is the managing director of YTL Corp and was borne out of his passion to preserve a slice of history where good food is concerned.
As a child, the MD's father, Tan Sri Yeoh Tiong Lay, would take him and his family all over town to enjoy the best, most famous local comfort foods – be it in the back alleys of Petaling Street, along the roadside of Campbell Street, Tengkat Tong Shin or further beyond to Petaling Jaya and Klang.
Lot 10 Hutong has been synonymous with the good selection of hawkers who occupy the basement food court along the intersection of Jalan Bukit Bintang and Jalan Sultan Ismail.
The pragmatic company head, who is used to enjoying great local food since his childhood, started Lot 10 Hutong with the aim of sharing this Malaysian legacy with his children and the younger generation, to ensure that they do not forget their cultural roots and culinary heritage.
"He was worried that one day the younger generation would think fast food was a symbol of what good food was," says Augustus Tan.
"Tan Sri Francis personally persuaded each of these heritage stalls to open in Lot 10 Hutong. Not only did he intend on bringing all these beloved hawkers together in one destination but he also wanted to give them an avenue to increase their business in the heart of the golden triangle in the city centre," says Tan.
Modelled on a traditional hutong, the narrow alleyways that characterise old Beijing, this "food village" is a maze of passages that link stalls. Rather than the traditional open-plan food court design, in which a diner can see every stall from a centre cluster of tables, Lot 10 Hutong diners go searching for the dishes they want. Since its establishment in November 2009, Lot 10 Hutong has attracted the attention of food authorities and aficionados worldwide.
The New York Times listed Lot 10 Hutong as one of "Asia's Top Odysseys" while celebrity chef Martin Yan was highly impressed with its localised concept. It also captured the attention of world-renowned celebrity food critic, author, TV producer and media host Chua Lam, who was so impressed that he became Lot 10 Hutong's international brand ambassador, inking the calligraphy in the Hutong logo himself.
Hutong currently houses about 30 vendors, mostly ethnic Chinese hawkers who have plied the trade for generations. In the early days, these hawkers would sell their food on the streets. Pork noodles, wonton soup and Cantonese-styled porridge were often sold from carts or sometimes in a little store along alleys and lanes in the city.
"Most of the food you find here was staple fare on the streets, eaten by many Chinese – from those working at offices to the labourers," explains Tan. "Some of the vendors you see here are second, third or even fourth-generation owners of the businesses, which have been passed down to them from their grandfathers and fathers."
Lot 10 Hutong is made up of heritage brands that have been around since the 1930s and 1940s for their authentic tastes that appeal to the Chinese palate, especially the migrants who came from China in search of a better life. Food forms an integral part of the Malaysian lifestyle today. Its cultural identity has been well preserved by the noble efforts that the oil and energy conglomerate has taken to ensure that these brands will live on at least a few more generations to come.
The furnishings and settings in the Hutong replicate the golden years of the country, with each stall having its own distinct array of collectibles that greet the customers as they stand in line and wait for their food to be ready.
Efforts to globalise the Hutong brand have come to fruition with the move to establish Hutong in Guangzhou, China. The first international Hutong, which opened its doors to the public in August last year, is located at Zhujiang New Town Development with a unique concept of Nanyang heritage cuisine.
Back