Ministry targets 100% 4G Internet access in schools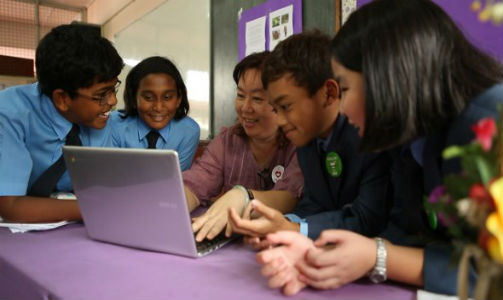 The Edge Financial Daily, May 28, 2014
1BestariNet, introduced last year, has positive impact on education system
Kuala Lumpur: The ministry of education (MOE) is targeting 100% 4G Internet access in schools nationwide by next year.
Deputy Minister of Education P Kamalanathan said the facility, implemented under 1BestariNet, has reached 86.3% or 8,746 schools.
"We are still short of 14% and will reach it by 2015. Focus is on schools in remote areas that have access to 2G Internet," he told a press conference after opening Digital Education Show 2014, here yesterday.
Kamalanathan said 1BestariNet introduced by MOE last year had positive impact on the education system and was used as a model by some developed countries.
"Modern cities with access to great technology such as Berlin (Germany) still uses 3G. People from countries advanced in education such as Finland came here to learn why we made the decision (to create 1BestariNet).
"For me, it's a paradigm shift and thinking outside the box," he added.
1BestariNet is a learning portal initiated by the MOE to improve teaching and learning and bridging the digital divide between rural and urban students.
The 1BestariNet project was awarded to YTL Communications after it came out top out of an open tender which attracted 19 global competitors in this field.
Back