YTL's star chefs host gourmands at tony Pangkor Laut Resort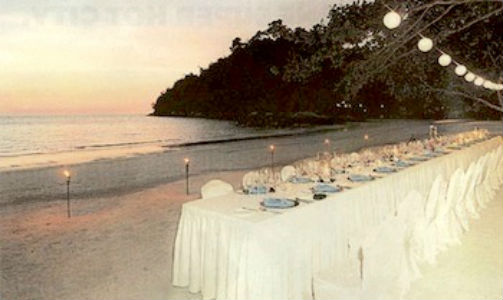 The Star, May 25, 2014
By Patsy Kam
The setting: a candlelight dinner set on the beachfront against an orange-streaked sky bidding goodnight. The pristine Emerald Bay was the peerfect backdrop for an evening of wining and dining – who knew that a barbecue by the beach could be such as an elegant affair?
This was no romantic meal for two, but a lavish spread for the Perak Chapter members of the Confrerie de la Chaine des Rotisseurs, an international association uniting gourmands and culinary professionals. The luxurious culinary weekend gateway at Pangkor Laut Resort, Perak, on May 9-11, gave food connoisseurs a chance to savour the refined cooking skills of the resort's new executive Chef, Stevie Jones, and a Amical Dinner menu by Chef de Partie, Jeremy Blanchot.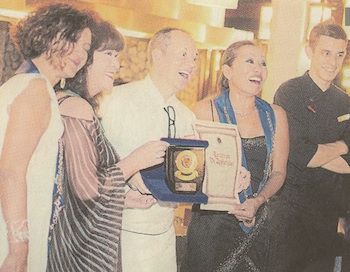 The Chaines had its beginnings centuries ago in Europe where it was formed to nurture the arts. Today, there are more than 25, 000 members in over 70 countries, with the main focus being the culinary arts. The Malaysian chapter was formed in 1977 and membership is by introduction. Among the members who attended the event included Elizabeth Lee (president of Perak Chapter), senior executive director of Sunway University & Sunway Education Group, Ming Ho, (vive-conseiller gastronomique) general manger of Le Cordon Bleu, Malaysia; and Datuk Steve Day, organising chairman of the Malaysia International Gourmet Festival, and his wife Datin Su Day.
Chef Jones, who joined Pangkor Laut Resort last year, put a lot of painstaking hard work into the making of what looked like the most simple of meals in the hands of an executive chef, even a barbeque can go a long way in delighting the taste buds.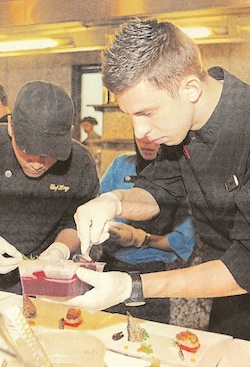 Menu highlights included Fresh Prawn Tikka Skewers sourced from the nearby Pangkor Island, marinated in mild Indian spices and yoghurt; Half Tail Bamboo Lobster basted in garlic and citrus butter, and Spit-Roasted Whole Lamb, inspired by the Chaine des Rotisseurs' origins in 1248 as an association of roasters. The Sea Bass was given an Asian spin, grilled in banana leaves and tamarind juice.
Known for using fresh produce and sustainably-sourced ingredients in his clean, contemporary style of cooking, the Welsh-Australian Jones first served under renowned celebrity Chef Tony Bilson in Sydney in 1993, where he worked as junior sous chef for three years. Over time, he has honed his skills with international companies such as Aman Resorts, The Oberoi Group and Le Gray Beirut, working in exotic locations like India and Eastern Europe.
Dinner on the second night was held at the resort's Fisherman's Cove restaurant which showcased an open-air kitchen fronting the Straits of Malacca.
Elegant canapés and champagne preceded the culinary journey that followed, which saw specially chosen exquisite wines paired with each course. Particularly notable was the 2010 Ardéche Chardonnay Louis Latour from chef Blanchot's French hometown, Ardéche, that accompanied the slow-cooked North Pacific Sablefish with mild, rich coconut curry and regional clams, interestingly juxtaposed against diced watermelon for a refreshing finish.
The well-structured Bordeaux Chateau Petit Moulin AOC, with hints of ripe merlot fruit and good complexity on the palate with red berry flavours, went well with the Grain Fed Beef with red wine reduction and fondant potato. The classically French olive tapenade was intentionally included as a reminder of chef Blanchot's influences; however, it offered a little too sharp a contrast to an otherwise pleasing meat course.
Starters was Yellow Tuna and Scallops with beet reduction, mango chutney and papaya and the palate teaser of pandan-passion fruit granite played to local familiarities. Mascarpome Mousse topped with Kahlua cream and cocoa fulfilled sweet cravings at the end.
The 25-year old chef Blanchot was inspired by the flavours of Malaysia, coming up with a delicate fusion of French-Asia dishes such as the fragrant laksa leaf-infused Pangkor Lobster Bisque with Chinese-Style prawn dumplings and the unique fish presentation.
A graduated from Centre Formation D'apprentis, he was apprentice chef at Le Domaine du Colombier Hotel and later, chef de partie at the five-star Hotel La Bastide de Saint-Tropez. Prior to joining Pangkor Laut last December, he was with the prestigious Hotel Amanresorts Le Mélézin in the French Alps.
The verdict? Nothing like feasting by the sea to fire up the tastebuds!
Back