GARRARD, the world's oldest jewellery house has opened its first regional boutique at YTL's Starhill Gallery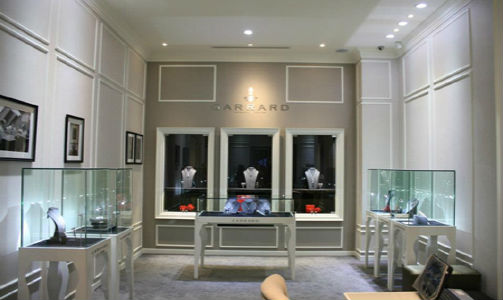 Business Times, December 9, 2013

By Adrian David

GARRARD, the world's oldest jewellery house, has opened its first boutique in Southeast Asia in Malaysia, in view of the outstanding potential the country has to offer.

Garrard chief executive officer Eric Deardorff said the company has been supplying crown jewellery to the country's royals for the past 30 years.

"Garrard is here to charm the hearts of Malaysians who have an opulent taste for high jewellery. Malaysia also offers a great customer base and excellent facilities for boutiques at YTL's Starhill Gallery, which by itself in a strategic location for many branded items.

"I must commend the YTL Group, which fits as an ideal partner with its interest, passion and knowledge to do business for luxury brands," he said in an interview in conjunction with the free-standing boutique's grand opening, here, recently.

The London-based company was founded 278 years ago.

The event coincided with the annual jewellery and watch exhibition, "A Journey Through Time VII", held at Starhill in Jalan Bukit Bintang.

Just last month, the renowned crown jeweller opened a boutique at Harrod's in London.

Exuding class and elegance, Garrard's boutique certainly speaks volumes of the stellar brand that has decked the delicate necks and hands of British royalty for centuries.

Deardorff said it was paramount to find the right business partner with a proven track record to steer Garrard to greater heights and maintains its reputation as a distinguished brand.

"Malaysia is strategically located and can act as a catalyst for Garrard to open more boutiques in this region, especially in Thailand, Singapore and Indonesia. We are already doing great in Europe and the Middle-East and looking towards the Far East to expand our business," he said.

Each jewellery piece is crafted to the utmost quality and distribution partners around the world receive impressive, beautiful marketing tools and sales training in support.

Through this platform, Garrard has expanded beyond being predominantly a London-focused high-end jeweller to a profitable and design-led aspirational house entering new territories and increasing distribution with more than 25 new locations in the last two years.

"We have expanded global distribution in numerous key markets, delivering high-quality classic, elegant jewellery and creating a stronger presence in the silver giftware, trophies and medals/honours markets," he said.

On sales in Malaysia, Deardorff said it was very encouraging with public response being terrific.

"While a great number of our wide range of jewellery has been snapped up, we have had enquiries for custom-made items to suit the buyer's specific taste," he said.

Deardorff claimed that Garrard commanded a worldwide sales growth of 75 per cent in the last three years, owing to its impeccable and excellent heritage and sales team responsible for building a competitive, efficient, profitable and professional organisation.

"The team has a clear understanding of the luxury market trends in each region and is focused on building international awareness of Garrard's strong heritage in creating beautiful and timeless designs of fine jewellery collections, high jewellery suites, bespoke tiaras and bridal engagement rings," he said.

On Garrard's philanthropic activity, it has supported British charities like The Prince's Trust, Prince Harry's Sentebale charity, Chain of Hope and The Royal British Legion.

Garrard also remounted the trademark tiara of the queens of Malaysia, known as the Gandik Diraja, from a previous diadem.

Crafted from platinum and diamonds, it incorporates several traditional motifs: a central star with a crescent and the swirling "awan larat" design.

Garrard is also the official trophy maker for the World Match Racing Tour at the Monsoon Cup in Terengganu.

Garrard's history of luxury and grandeur began in 1735 with the patronage of Frederick, Prince of Wales.

It has since had the honour of serving each successive king and queen of Great Britain, followed by international royalty and the upper echelons of society worldwide.

In 1981, Garrard created the sapphire and diamond ring that Prince Charles gave to Princess Diana, which was also later presented by their son, Prince William, to his bride Kate Middleton, as their engagement ring.
Back