Tan Sri Datuk Seri Panglima (Dr) Yeoh Tiong Lay receives Legendary Lifetime Achievement Award & YTL Corporation wins Conglomerate of the Year Award at the 5th Malaysia Business Awards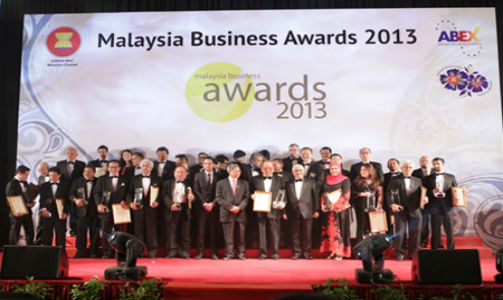 Kuala Lumpur, November 11, 2013
YTL Corporation Berhad recently garnered top awards at the Malaysia Business Awards (MBA) Gala Dinner organised by the ASEAN Business Advisory Council Malaysia in collaboration with the Kuala Lumpur Malay Chamber of Commerce.
The MBA is designed to celebrate the success of exceptional individuals in the Malaysian business and corporate sectors, highlighting exemplary figures of the business community as well as the importance of excellence, innovation and best practices in business.
The Legendary Lifetime Achievement Award was conferred to Tan Sri Datuk Seri Panglima (Dr) Yeoh Tiong Lay, Executive Chairman of YTL Corporation Berhad at the event. The primary highlight and paramount award was presented to the YTL Group founder for long service and for being an outstanding business personality.
Accepting award, Tan Sri Datuk Seri Panglima (Dr) Yeoh Tiong Lay gave a heartfelt speech thanking the ASEAN Business Advisory Council Malaysia and Kuala Lumpur Malay Chamber of Commerce for the award.
"I have been in business for more than 65 years. I learned how to run a business from my father during the Japanese occupation and also under British rule. Later, I established my own company in 1955 just before Independence.
"After all these years, I could confidently say that "Success is not a gift, but a reward based on integrity, industry and determination. It is also very important that we have vision and to see that vision through."
"Needless to say, it makes me very happy that my children and grandchildren share my outlook on life and business. I want to thank them for continuing the vision of the YTL Group.
"Please also let me take this opportunity to thank our beautiful homeland Malaysia, and the Malaysian public for believing in us and what the YTL Group represents," said Yeoh in his speech.
YTL Corporation Berhad was also announced as the winner of the coveted MBA Conglomerate of the Year Award. This Award was presented in acknowledgement of the exceptional performance of YTL Corporation Berhad for the year and the groundbreaking milestones achieved, reflecting continuous growth and success in business activities.
Accepting the award was Tan Sri (Dr) Francis Yeoh, Managing Director of YTL Corporation Berhad. In his speech, Tan Sri Francis reminded his fellow businessmen how blessed we all are to be in Malaysia – a country in the midst of a necklace of fire and typhoons and tsunamis yet sheltered and protected.
"We are further blessed with great leaders in this country. From Tunku Abdul Rahman's days to Tun Razak, Tun Hussein Onn, Tun Mahathir, Badawi and now Dato' Seri Najib. We experience so much peace and prosperity, leaders that advocate economic prosperity and a balance for the society so that nobody is left behind" he said.
"Over the years YTL Group has won many accolades in all its different businesses, ranging from utilities, high-speed rail, cement manufacturing, telecommunication, construction and property development to luxury resorts around the world. I am grateful and thankful to the many loyal leaders and unsung heroes within the group that are passionately and tirelessly serving their 12 million customers in three continents that made these awards so meaningful.
Most important of all, We give all the credit and glory to our Lord Jesus for all these prestigious awards," said Tan Sri Francis Yeoh.
Back