Kimora brings in fabulosity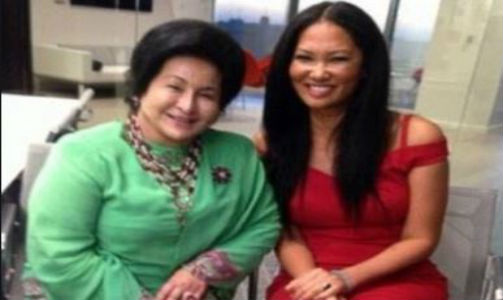 The Malay Mail, September 26, 2013

by Subhadra Devan & Faizal Nor Izham

WHY is fabulous fashion mogul Kimora Lee Simmons always in Malaysia, or so it seems? This whole month, the tall, leggy Korean-American model has uploaded numerous anecdotes and photos on her Twitter account @officialkimora.

Updates have also been posted by local celebrities and fashion enthusiasts.

Kimora gained fame through her television programme Kimora: Life in the Fab Lane.

This week, she was a guest at the opening of Khazanah Nasional Bhd's regional office for the Americas in San Francisco.

On Sept 23, Kimora tweeted: "W the PM of #Malaysia Dato Sri Najib, my dear Dr Tim and Tan Sri Azman in #San-Francisco" as well as "In #SanFrancisco with my friend Datin Sri Rosmah at the opening ceremony of Khazanah SF."

Prime Minister Datuk Seri Najib Razak and his wife Datin Seri Rosmah Mansor were at the launch of Khazanah Americas Incorporated.

Early this month, the six-footer Kimora was spotted at Kuala Lumpur's luxury shopping centre Starhill Gallery, for the launch of an online television channel based on the fashion and lifestyle of Starhill Gallery Luxury Channel.

She told the press that she had been specially flown to Malaysia to promote the F1 charity programme at Hotel Majestic, before attending the launch of The Hackett London fashion boutique in Pavilion and the Formula One race at the Sepang circuit afterwards.

Also spotted at Chinoz at KLCC, Kimora reportedly said that Malaysia has become like a second home for her.

"Since I know the family of Yeoh (Tan Sri Francis Yeoh) and Teoh (Arianna Teoh), I became close to them and that will make me come here often.

"I was also provided a lovely place to stay, in the penthouse of the Ritz-Carlton, Kuala Lumpur. I feel very lucky," she said. Since her first visit two years ago, she had fallen in love with Malay expressions and also the food.

Little wonder then that she sprinkles some words in Malay on her Twitter page.

"Yes it's true, I often tweet in Malay. Like Aku Cinta Kamu, Aku Cinta Kamu Juga, Terima Kasih, Sama-sama dan Sayang. In fact I call everyone sayang here, even though the word is mostly intended for lovers.

"What makes me happy to be here is that I feel on par with other Malaysians because I myself am of Asian blood and thus it makes me very close to the country.

"Unlike in the United States, I do not feel any racial differences. "I also love the food here, such as nasi lemak and satay," said Kimora, who is also visiting her mother country to promote the Islamic Fashion Festival soon.

She added that her recent appearance during the F1 fund-raiser night to assist the IJN Foundation had opened her eyes as to how her presence in the country is important in helping those in need.
Back