Bloggers praise YTL's Majestic Hotel, KL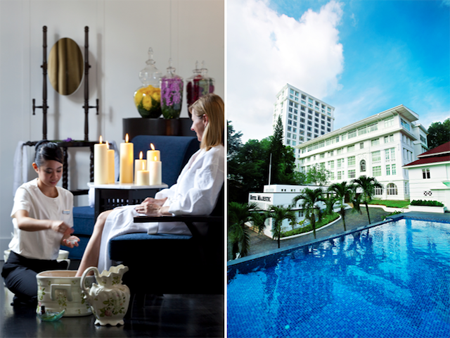 The Majestic Hotel Kuala Lumpur – A Date with History
Travelandbeyond.org, April 17, 2013
by Rosemarie John
Tucked away on the corner of what was once called Victory Avenue, the neo-classical styled Majestic Hotel which closed in the 80s has once again reopened its doors to the affluent traveller.
Built in 1932 as a hotel and then converted into an art gallery temporarily, this colonial hotel has had a second renaissance with restoration and further expansion of a new wing that towers 15 floors over Victory Avenue renamed as Jalan Sultan Hishamuddin.
A Reminisce of Distant Past
While walking through the Majestic Wing of the hotel up to the Colonial Suite on the second floor, I felt that I was strolling through corridors of Malaysia's colonial past. Painted timber floors overlaid with tufted carpets in warm colours, mirror panelling and luxurious art décor furnishings throughout the separate living room and bedroom stands testament to the rich cultural heritage this hotel embodies.  I was transported to the heydays of 1932 when the Majestic Hotel was the largest and grandest hotel in British ruled Malaya.
All suites in the Majestic Wing are provided with butler service, I was introduced to my own butler who introduced my room to me section by section. Cosy quarters with a living room, a bedroom and yes, the lovely black and white chequered tiled bathrooms reminiscent of the black and white style of the Tudor revival architecture. The bathroom featured a beautiful claw-footed bathtub and separate showers.
It was also very interesting to learn that for the first time in Malayan history, modern sanitation was introduced throughout the hotel when it was first built and that it included hot and cold water showers and long baths – a true luxury in the days when proper sanitation had yet to be implemented.
Whilst wandering around my room and revelling in its ambience- the double windows, the fresh scent of orchids, and the personalised hand written notes, I began to envisage life at The Majestic Hotel in days of its glorious beginning before the hotel's last guest checked out on 31st December 1983. I would never know but I presume that I may find the answer by the end of my stay here.
Evoking Fond Memories
"When my family and I lived there for half a year, back when I was a kid, I remember my brother and I running around the gardens and monkeys raiding our room for food", said Oliver Ontiveros after viewing my photos of the hotel on Facebook. "We both poked around the rear gardens catching little snakes as well. Looks like a visit is on the books! Am glad they returned it to a hotel", added Ontiveros.
Today there are no more monkeys or little garden snakes around, much has developed in the surroundings of the 3.2 acres the hotel sits on.  It has been revamped and restored to meet the demands of the 21st century clientèle.
"As kids, we would tag along to the hotel. It was a treat to be taken for English style dining! I also remember a couple of wedding receptions being held there (my dad used to be the wedding coordinator those days for Malayalee weddings", said Rema Menon who plans a visit to the Majestic Hotel with her friends soon.
And for those who have experienced its charms in the past, its revival has brought back childhood memories and the desire to revisit the premises – a place where every whim and fancy of the contemporary society was and still is catered to.
Historical Footprint and Rebirth
The Majestic Hotel witnessed and played its own role in the history of Malaysia. In its prime, the hotel was a gathering place for the elite, the artistic, the aristocrat and the intelligent. During World War II, it was used as the Japanese High Command. Before independence, it witnessed the formation of political parties that eventually achieved independence for Malaysia.
But sadly in the 80s the hotel closed its doors. For a while it was temporarily used as the National Art Gallery. When the gallery shifted its premises, the hotel was unoccupied and abandoned since 1998. The locals looked at it fondly remembering its glorious past. And yet in its abandonment, the hotel stood tall and firm waiting for its time to rise again.
Entrusted to YTL Hotels, who have carefully and meticulously restored it to its original period design and much to the glee of the locals, the Majestic Hotel stands restored to past glory and splendour once again. With many historical shop houses and buildings being torn down instead of being restored, the Majestic Hotel's revival goes to show how architectural significance of the past never really fades out.
As I strolled through the corridors and the walkway that connects the Majestic Wing to the new Tower Wing, I always found something to admire or gaze at. From the purple and blood red roses in the Tea Lounge to the high ceiling of the lobby of the Tower Wing, from the golden dome of the Bar to the cool windy breeze of the Orchid Conservatory, I was captivated.
Situated on a commanding hilltop, the Majestic Hotel faces the Neo-Moorish style old railway station. A view, I admired every morning outside my suite window. The cream coloured Indo-Saracenic domes of the station compliment the tall white classically proportioned Roman columns, detailed cornices, curved driveway and covered porte-cochère of the hotel.
After spending enough time lounging and relaxing in the hotel, I hopped on one of the Majestic Luxury Coach services that operate regularly to Kuala Lumpur Sentral Station and Starhill Gallery, the swanky and stylish mall in the Bukit Bintang shopping district of the city. It's a very thoughtful gesture by the hotel to provide a luxury coach in a city known for rowdy and errant taxi drivers. It was a nice way to explore the city without having the need to deal with taxi touts or the gruelling tropical heat of Malaysia.
Back in my room in the evening, I was greeted by an already turned down bed with a bottle of water placed on each side table and bedroom slippers neatly placed at the foot of the bed. It was a lovely day and an even better night as I slept well, rising to an in-suite breakfast served in the living room by my butler. Opting for the Hainanese breakfast instead of the Continental option, my meal was made up of soft breads and kaya spread, a plate of mixed fruits, fresh juice and a choice of coffee, tea or hot chocolate. My luxurious day of pampering and dining began all over again.
Dining Haven
Whatever its disputed origin may be, Afternoon Tea evokes memories of Colonial past.  And at the Majestic Hotel it was one of my favourite experiences. The buttery scones and clotted cream were divine and so were the accompaniments that followed. The choice of tea was really varied from English Breakfast and Raspberry Royal to Pure Camomile and Apple Fantasies.  The elegant tea lounge itself with its old-fashioned grid ceilings that feature classic cut-glass lighting with antique brass fittings is located in the Majestic Wing. Cosy arrays of comfortable arm chairs with subdued lighting from table lamps provide the perfect setting for English Afternoon Tea with a Malaysian twist of curry puffs and savoury snacks.
Dinner was at the Contango Restaurant that features an interactive open kitchen concept. Dining choice includes a combination of an elaborate buffet with special requests to the in-house chefs for choice of favourite dishes specially prepared for the diners express request.
Contango Restaurant's freshly prepared to order cuisine ranges from Asian, Japanese to Western and grilled dishes. The Italian section is simply fabulous and it was a lot of fun watching my choice of noodles being tossed skilfully and dramatically in a black wok on the Asian side of the food displays.
My lunch the following day was at the Colonial Café  with delicacies ranging from authentic classical cuisine of the colonial era like Fried Chicken Wings, Indian Vegetarian Thali, Porterhouse Angus Steak and English Trifle to name a few. Plush red leather chairs, crisply starched white tablecloths and timber panelling reinforce the colonial feel. The food was exquisite and satiating.
Where Everyone Knows Your Name…
I make a special mention on the high standards of service I experienced at the Majestic Hotel. Every single person working at the hotel is a warm and caring person with ready smiles and helpful attitudes. Those manning the wing where I was staying knew not just my name but also my tastes and it goes to show that they are observant and diligent. It is people such as these that make the stay in this great hotel an even more memorable experience.
There is more to this magnificent hotel and one article does not necessarily cover the range of experiences it offers. And then again mere words are inadequate to describe feelings or emotions that a stay in this hotel seems to stir up.
Its grandeur steeped in history of a bygone era evokes memories of a golden period of British Malaya.  It still stands tall on the hill it was built on and watches a new generation create history of its own. And who knows The Majestic Hotel may still have a role in Malaysia's future. Only time will tell…
Source: http://www.travelandbeyond.org/2013/04/17/the-majestic-hotel-kuala-lumpur/
---------------------------
Weekend Rejuvenation: The Majestic Hotel KL
The Honeycombers, Singapore, April 16, 2013
Ace service, central location, and possibly the comfiest bed we've been in in a looong time – ladies, get your air tickets at the ready.
We just spent the weekend at the fabulous new heritage hotel, The Majestic Hotel Kuala Lumpur, and let's just say adjusting to the harsh reality of Monday has been harder than expected.
Our verdict: it's a fantastic place to stay at, especially in a busy city like KL. Let's be frank here: we hit up KL to eat, shop, drink, and shop even more till we drop (or the credit card is maxed out). And if you're anything like the city-dwellers that we are, KL isn't exactly a place you go to if you're looking for some downtime. Or for a long holiday.
And that's where The Majestic Hotel KL plays a significant role in really stepping up the luxe side of a weekend retreat. It's in a terrific locale: right outside the major shopping district of Kuala Lumpur City Centre (KLCC) and Berjaya Times Square. If you're a KL rookie, you'll be happy to know that many of the major tourist spots (museums, gardens, parks, and even the National Mosque) are your closest neighbours.
The hotel offers complimentary car services to take you around (just speak to one of your many butlers) should you want to skip out on the complimentary shuttle bus services that head to Starhill Gallery, an ultra luxe shopping/ dining mall that gives off Paragon vibes.
Compared to the hustle and bustle of the city, The Majestic Hotel is a t-r-e-a-t. We stayed in the Majestic Wing of the hotel, which has a strict no kids policy. If you have kids, rooms are easily available at the Tower Wing, where the decor is generally more contemporary – though no less lavish. We like the Majestic Wing for a total peace of mind (no wailing kids at 4am – ka-ching!), and the space is perfect for two.
Breakfast is served in your room by your butler, there's a sneaky turn down service which wipes all traces of that middap nap, and if you're a sucker for the little things like us, everything in the minibar is complimentary (!!!). Fulfill those childhood dreams of cleaning it out and everything will be magically restocked the next day.
Your ensuite bathroom is outfitted with Crabtree & Evelyn products, there's a complimentary ironing service available for getting that delicate silk piece ready for the night's fancy soiree, and you might genuinely lose yourself in bath heaven: take your pick from a regular standing shower, rain shower (with fantastic water pressure no less), and clawfoot tub.
Sticklers for service will be relieved to know that the staff undergo rigorous training to deliver top-notch service. You'd be hard-pressed to find another place that would go so far as to repair your broken phone for you without even being asked to – and that's exactly what these guys did.
So The Majestic Hotel has that whole colonial vibe going on because the heritage hotel was restored from the original building established in 1932. The iconic location is a hit with Malaysian royalty, TV stars, and other important figures, but for the most part it's generally quiet – which is exactly what you want when you're looking for a weekend away.
English afternoon tea is served in the Tea Lounge (pictured above). High tea can get pretty crowded during weekends, so we suggest a spot of shopping before loading up at the hotel's buffet dinner.
You'll find this over at Contango, where the spread features everything from Thai to Japanese to Italian cuisine. Dessert is particularly enticing – adventurous palates will want to give the durian ice-cream a spin –  but get your cameras out at the noodle station, where the chefs put on quite a fiery show with their woks and deft wristwork.
Whatever you do, make time in your schedule for this: a spa appointment at the divine The Majestic Spa. Unlike bigger spas, this boutique spa doesn't have an extensive menu, but its selection is executed to perfection. The therapists are well-trained and considerate, and the products used in their in-house line are made from only natural ingredients. We opted for the English Afternoon Tea treatment – Blackberries and Cream Scrub, Garden Berries Massage, and English Rose Natural Facial – and emerged rejuvenated, hydrated, and smelling like an English rose (no, really).
If your man doesn't do spas, send him off to Truefitt & Hill (the world's oldest and most respected barber), where he can get a hot towel shave and a haircut.
For those who like a bit of charm to your hotels, this is a sure bet.
Source: http://www.thehoneycombers.com/singapore/2013/04/the-majestic-hotel-kl.php
Back