Tan Sri Francis Yeoh – Steering YTL with vision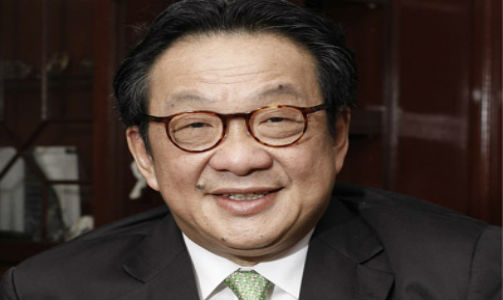 KL Lifestyle Magazine, December 28, 2012
As the head of YTL Corporation and the driving force behind one of Asia's most successful businesses, Tan Sri Francis Yeoh has become an icon on the Malaysian economic front. From changing Kuala Lumpur's retail landscape, particularly the famed Bukit Bintang area, building significant landmarks, notching several firsts in various sectors to bringing Malaysia to the world through YTL's major investments abroad, he is acknowledged as one of Malaysia's most influential corporate figures.
Early Years and Beyond
Tan Sri Francis Yeoh Sock Ping was born in 1954. The eldest son of the founder of YTL, Tan Sri Yeoh Tiong Lay, Francis had his secondary school education at Victoria Institution in Kuala Lumpur, Malaysia where he was school captain. He studied there until 1973 and it was where, he says, he was given such a responsibility that probably helped shape his leadership qualities for the future. To Yeoh, being the head student at the time was like a career where he had to make sure VI did well in every field.
Yeoh says that even during his schooling years, he helped out his father with the business. On vacations he would visit and supervise construction sites. His father used to joke that 'sight-seeing' meant visiting building sites of the family's construction company.
Initially, Yeoh wanted to help with the business right after he completed school as it was a time of financial crisis but was forbidden by his father who insisted that a degree would be vital for his future. Yeoh found his fathers' advice to be spot on. Right after his return from UK, in 1978, armed with a degree in Civil Engineering from Kingston Polytechnic (now known as Kingston University), Yeoh set about running YTL and expanding it to become more than just a construction company.
From the age of 24, Yeoh had his hand in not just running the day-to-day business of YTL but also in major projects such as army buildings, schools, hospitals, residential properties and commercial buildings. He set about expanding the YTL business and diversified into cement manufacturing, hotels, technology, property development and power service provision.
In 1984, Yeoh was appointed to the board as executive director and subsequently, YTL Corporation was created when the company gained control of a public-listed tin mining company in 1988. In that same year, Yeoh was appointed as its managing director.
YTL Corporation grew from a single listed entity in 1985 to a force comprising six listed companies with a combined market capitalisation of over RM38 billion today. It is now one of the biggest conglomerates in Malaysia.
On the personal front, Yeoh married his wife, the late Puan Sri Rosaline in 1982 and they have five children, Ruth, Jacob, Joseph, Joshua and Rebekah. All of Yeoh's six siblings remain on the board of directors of YTL Corporation. His two older children lead various subsidiaries of the corporation. The Yeoh family strongly believes in having a strong educational background and each of Yeoh's children have had to gain their places at Ivy League universities on their own accord.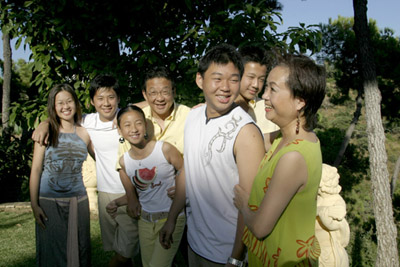 Major Milestones
The first of Yeoh's major achievements that led to the rise of YTL is largely attributed to the opening of Pangkor Laut Resort in 1986, establishing it as the first in a line of luxury properties that YTL Hotels would become renowned for. In 1997, Yeoh opened the Ritz-Carlton Kuala Lumpur, making it Malaysia's first luxury boutique hotel.
Then, in 1993, YTL became Malaysia's first independent power producer in a landmark deal with Tenaga Nasional. Following that, YTL expanded its reach in power provision abroad by owning a 33.5 per cent stake in ElectraNet Pty Lot, which owns and operates the electricity transmission grid for South Australia.
One of Yeoh's most astonishing coups was in 2002, when YTL Power purchased Wessex Water Limited and paid £1.2 billion for the plant, less than the £1.4 billion that Enron originally paid for it. Says Yeoh of the historic deal, "We asked them what were they afraid of when we became the owners and they said they were afraid that we would be like any other owner who would strip the company of its assets and take short cuts to make profits. We assured them that wasn't what YTL was about but they had to do us a favour and grow the company with us."
Wessex Water Limited is now the top five most efficient water and sewerage service providers in the United Kingdom.
In that same year, YTL Corporation entered into a joint venture with Lembaga Tabung Haji and Trisilco Equity Sdn Bhd and launched the iconic KL Express Rail Link. It is the first of its kind express train that runs from transportation hub KL Sentral to Kuala Lumpur International Airport. Moving along the same track, Yeoh also had his hand in YTL's purchase of the Eastern & Oriental Express Luxury Train service.
Today, YTL owns and manages regulated utilities and other infrastructural assets, and has stakes in construction contracting, cement manufacturing, property development, hotel development and management, information technology and e-commerce initiatives, serving 12 million customers in three continents with the numbers continuing to grow every day.
The seat of the YTL Corporation is Bukit Bintang where Yeoh had set his sights on reviving this popular shopping area. The penthouse of the building named after his father, Yeoh Tiong Lay Plaza, is where Yeoh helms the corporation and it is a common sight to see Yeoh walking around the area checking on his properties such as the Starhill Gallery and Lot 10.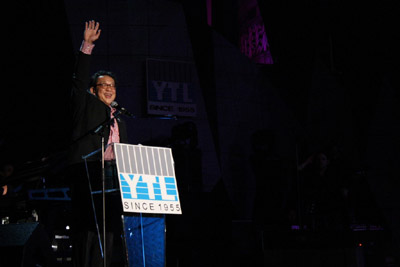 Changing The City-scape
It is from this seat that Yeoh has become one of the country's most influential corporate figures. It began back in 1999 when he acquired properties along Jalan Bukit Bintang. YTL acquired Starhill Gallery, Lot 10 and the JW Marriott hotel when business was in decline. Starhill Gallery was given a major facelift with David Rockwell from New York and many other iconic mall designers engaged to redesign it. Its business was repositioned by doing away with the anchor-tenant business model. YTL also engaged the renowned branding guru, Interbrand which did a good job with Selfridges in London, to reposition Starhill.
Having had his heart set on reviving his beloved Bukit Bintang strip, it was a happy coincidence when Yeoh was subsequently asked by the government to make KL a city that would be renowned for its shopping.
Fast forward to the present and Kuala Lumpur is now the second best shopping city in Asia-Pacific, according to the Globe Shopper Index. Kuala Lumpur is also ranked fourth best shopping city in the world, according to the global news network CNN, outranked only by New York, London and Tokyo.
When asked about this achievements, Yeoh is quick to remind Malaysians that his hand in putting KL on the world shopping map was something that has taken years of diligence and is the culmination of a lot of hard work and persistence. He recalls the story…
"In 1999, 13 years ago, KL was a backwater city and most people went to Singapore to do their shopping. This was because we had duties of 40%. In that year, YTL had taken over Starhill Centre, Lot 10 and the Marriott. It was then that the government approached me to help turn KL into a city that people wanted to shop.
"I went to Hong Kong and realised that this was not a difficult task if the government dared to do something. This something was to make KL duty-free. In other words, to make Malaysia duty-free. Normally, it would be easier to make a city like KL or Singapore duty-free as it is easier to implement but we were asking for an entire country to go duty-free.
The government, which was at the time under Tun Dr Mahathir Mohamad, was very brave.
"I had sent in research that indicated that the big investors (such as luxury watch brands) would be keen to set up stores in KL, but only if it was duty-free. Within four months of that, and my request, the government had declared Malaysia to be duty- free."
He adds, "There's a common misconception that duty-free only applies at the airports. Apart from alcohol and cigarettes, your branded goods are actually cheaper in the stores as the rentals in the airport are higher. The whole of Malaysia is duty-free and it is something that should be celebrated!"
Keeping his commitment to turning KL's shopping scene around, Yeoh had one more request to the Malaysian government in 1999. "Every city has a Champs Elysee, a Rodeo Drive or an Orchard Road, except KL, so I made one more request…and that was Bintang Walk. Amazingly, Bintang Walk was also finished in 1999 within six months! Now Bintang Walk holds many principle brands and flagship stores such as Jaeger-LeCoultre and Sephora.
"These two phenomena allowed KL to become, through the research of independent bodies to be one of the best shopping cities in the world, beating Singapore and is only second to Hong Kong in Asia. This is something I don't want people to forget. It was a lot of hard work and this is YTL's contribution."
Following this success, YTL ventured abroad. Its purchase of the Starhill Global Reit, a Singapore-based real estate investment trust investing primarily in real estate used for retail and office purposes and has properties in Singapore, Japan, China and Australia. To top that off, the Starhill Global Reit owns a significant part of Singapore's Orchard Road. Says Tan Sri Francis, "It is very exciting for me to see how we've grown from here, Bintang Walk, to owning part of Orchard Road and 80 per cent of our business is now outside of Malaysia. Going global happened within the last four years since 2008."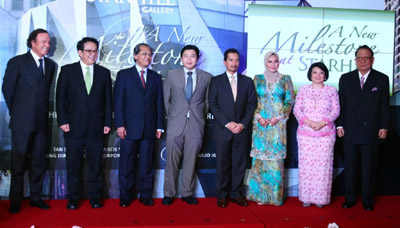 Extolling Technology
If YTL's contribution to the Malaysian economy today was through the inception of a tourism boom that was forecasted 14 years ago, Yeoh was on the path to crafting another spike in Malaysia's advancement. In 2010, thanks to Yeoh's vision on the future, YTL brought the first and only 4G service network to Malaysia. Yeoh cites this as one of his proudest achievements at the helm of YTL.
He also quickly points out that it is thanks to Malaysia being a country that has liberal views on the Internet. "Just like the regional duty-free shopping, many people are not aware that this country has no censorship of Internet. Many countries are afraid of the Internet but not Malaysia, we have very liberal rules about it and that is to be aplauded.
"We are the only nation that has a 4G network throughout the country. You ask, 'why is this exciting?' I am excited about this because it has allowed us to network the schools in Malaysia, which means connecting 10,000 schools and six million children. This is the most important thing. These children are armed with technology and learning platforms such as the Frog Virtual Learning Environment (VLE), which will make them the most advanced kids in the world and catapult them into becoming Silicon Valley kids in the next 10 years."
Yeoh continues, "Don't be surprised when in 10 years' time, Malaysia's index on digital economy becomes the top in the world! Behind every success, there have been people working very long and hard. This is something that I love seeing."
The Language for Greatness
The say that for every big business, the foundation for its success is its people and a philosophy that guides them on to achieving big things. Yeoh says that at YTL, it is a simple three-language system that everyone in the company, particularly himself, relies on that drives the corporation.
"At YTL, all our staff are encouraged to learn three languages. Firstly, the Language of God. You have to master the Language of God, which is to have integrity and morality. The second is to master the Language of Men, which means to articulate. Ideas may be very good but you have to be able to articulate them else, you are not a leader. Thirdly, is to master the Digital Language, which is the Language of Machines. Master technology for all the services you offer.
"You must master these three languages (in that order) before you become a staff of YTL. We have a very low turnover here at YTL because our perspectives are very long-term. We don't believe in short-term rewards."
The other philosophy behind YTL is its motto that YTL is a 'force for good'. Yeoh emphasises that a big corporation full of talented people must believe that whatever is produced is genuinely for the good of people. "For me, CSR (corporate social responsibility) comes from the heart. If the business that you do is clean, does not pollute the environment, does all the right things and at the end of the day leaves everyone in the whole chain including your staff and customers, happy and that they sleep peacefully, then this is the meaning of CSR.
"Being a force for good is making sure whatever you're doing benefits people all round and all the time. How do I make sure that that is the case? If I fail, tomorrow I won't have customers. I've grown from a customer base of 10,000 in 1986 to 12 million customers today. In other words, I have 12 million people voting with their support every day. It is a constant joy (for me) to be able to increase our customer base. When people like what you're doing, something must be right about it and that is being a force for good."
Guided by Faith
It is a known fact that Yeoh holds true to his faith and it is probably the reason that YTL has grown a reputation as being a corporation with integrity and which sticks to its principles. For Yeoh, his faith has nothing to do with his wealth or material success. "You can be very poor materially but have a very rich life. Then, there are those who have suffered despite their fame or wealth because they don't know how to handle it.
"To make anything work in this life, for so-called success, it takes a trillion probabilities. It is impossible to put it together and claim that you did it or that you planned it. Everything is called God's tapestry and he embroiders people, time and probabilities together. There is no such thing called success that is related to faith. I know many people who are not rich but are full of joy and full of love and things that money cannot buy.
"If you are a rich man, and you have faith, the wealth doesn't really matter to you. It is just something that makes people ask questions as people always like to hear from the rich, to give their testimony. People always ask me what my secret of success is and I give back the truth humbly and truthfully; my secret is the Lord Jesus Christ."
Yeoh's advice for happiness is very simple and recalls a story about his daughter. "My daughter saw a beautiful sky from my house in Phuket, and shouted to me 'Daddy, God loves us because He made the sky so beautiful!' So I replied, 'Daughter, the miracle is not that God made the sky beautiful…but the miracle is that you saw it.' "
He continues, "My point is that everything is beautiful if you understand nature. There are so many beautiful things to know about nature. Like snow, I love snow because it is one of God's most beautiful creations. Every snowflake is different, it is gentle, white and pure."
Yeoh sums up his thoughts on happiness, "What do we know about beauty in our lives? Those who chase the wrong end of the stick, who chase after material things will end up being disappointed. Humans like to chase after happiness, not God, but if you chase after happiness you end up being very sad. Happiness is a by-product of chasing God. If happiness is your end result, I'm afraid you'll never be happy."
Back