YTL's The Gainsborough Bath Spa & Pangkor Laut Resort listed in Condé Nast Traveler Readers' Choice Awards 2019 as top hotels & resorts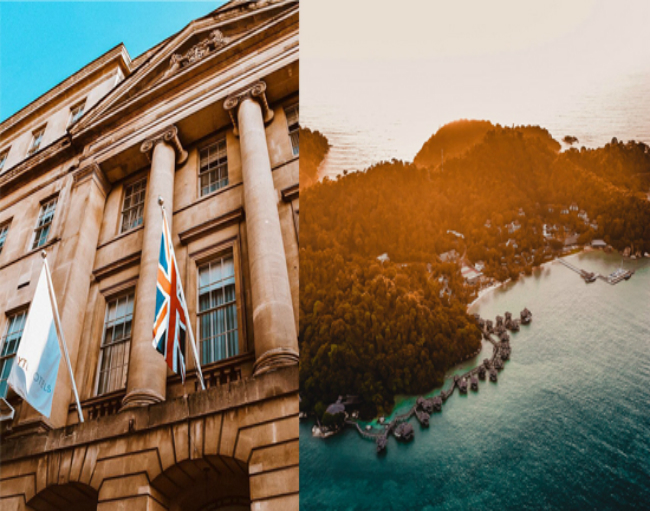 Kuala Lumpur, October 8, 2019
YTL Hotels' The Gainsborough Bath Spa placed #3 in the list of Top 35 Hotels in the United Kingdom and Pangkor Laut Resort placed #17 in the list of Top 20 Resorts in Asia at the Condé Nast Traveler Readers' Choice Awards 2019.
The Gainsborough Bath Spa
Originally built in the 1800s, The Gainsborough Bath Spa occupies two Grade II Listed buildings with distinguished Georgian and Victorian façades in the heart of the World Heritage Site. Named after the artist, Sir Thomas Gainsborough, the luxury hotel is centred around and, uniquely in the UK, has the exclusive privilege of having access to the natural thermal, mineral-rich waters.
A member of the Leading Hotel of the World, The Gainsborough Bath Spa is YTL's first Hotel in the United Kingdom. Paying homage to its colourful history, the hotel is designed by New York based Champalimaud Design to be welcoming, elegant, vibrant and social - a modern interpretation of a classic design which will provide a meaningful and enduring contribution to the life of the city.
Pangkor Laut Resort
Nestled amidst an ancient rainforest, on a private island fringed by white sandy beaches and emerald waters lies Pangkor Laut Resort.
Set along the Straits of Malacca, three miles off the West Coast of Malaysia, discover a piece of paradise 2 million years in the making.
Of the island's 300 acres, only a fraction has been developed to house this peaceful luxury resort and its Estates. Declared a paradise by the late Pavarotti and previously voted 'Number One in the World' by Condé Nast Traveller; here, wooden buildings blend seamlessly into the forest, walls curve around foliage, and roofs open up to allow trees to continue on their journey to the sky.
With YTL Hotels, no two properties are alike. Our global destinations for luxury holidays include dreamy paradise resorts, historic hotels, bespoke properties in secluded private estates, and more. Our luxurious escapes ensure a world-class hospitality experience en route to your dream getaway. Discover your "Treasured Places, Treasured Moments". Book your next luxury holiday with YTL Hotels.
Back