Making Malaysian Hospitality World-Class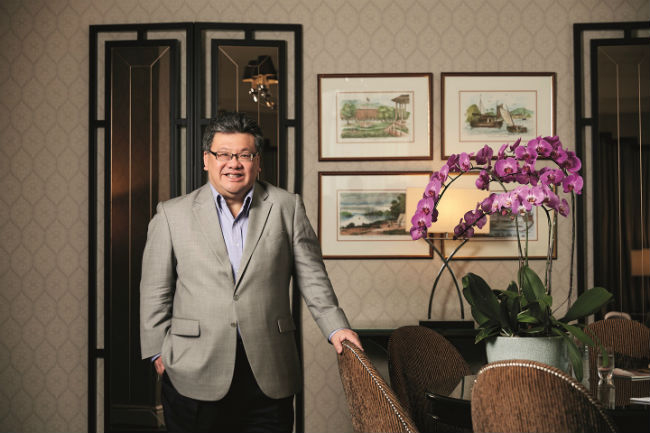 The Edge Options, March 11, 2019
by Diana Khoo
The English language has been inundated with a host of poetic, evocative foreign words of late and some truly are delightful. Besides being an audible treat, the words are able to express, resonate and conjure up visions and emotions all at once. One of my favourites is the Japanese komorebi – the sunlight that filters through the leaves of trees. At present, what still eludes me is the single perfect word with which to describe the glorious feeling that washes over me the minute I check into a really nice hotel.
It is oh-so easy to love luxury hotels and "when the going gets tough, the tough check into a resort" has always been my personal mantra. For years, my fail-safe bet has been Pangkor Laut Resort – set on a private tropical island in the Straits of Malacca just a three-hour drive from Kuala Lumpur, which is also the flagship property of YTL Hotels, the hospitality arm of conglomerate YTL Corp Bhd. The Majestic Malacca, housed in the former mansion of a 1920s towkay in Malaysia's most historical city, comes a close second.
LOOKING WEST
Of late, however, the country in which YTL hotels have been popping up most consistently is the UK. Its first major and most historically significant property is The Gainsborough Bath Spa, set in the ancient Roman town of Bath, cementing the group's presence there since 2015. Last year, YTL opened its second hotel in London, The Academy, to complement Threadneedles in the heart of the City. Up north, it has The Glasshouse, a boutique property in Edinburgh, as well as six beautifully appointed cottages with charming names like Lavender, Dormer and Sundial in the village of Bray, Berkshire, where Heston Blumenthal operates his triumvirate of restaurants – The Fat Duck, The Crown and The Hind's Head – and the Roux family hold court on the banks of the Thames at The Waterside Inn.
This month sees the soft-opening of Monkey Island Estate. Located near Maidenhead, it is set on seven acres of beautiful, bucolic land in Berkshire with 41 Champalimaud-designed rooms to offer guests a quintessentially English countryside experience – but with lashings of style. The location itself is millennia-old, dating back to 1197 when monks settled in the area, calling it Monks Eyot, a derivative of the old English ait for "island".
It was only in 1723, after Charles Spencer, the third Duke of Marlborough, bought the land and had two Palladian-style buildings erected that a whiff of stately glamour began to infuse the place. Local lore has it that it was on this very island that H G Wells met Dorothy Parker and where Dame Nellie Melba once partied the night away most indulgently.
"It's not an expansion in a massive way," says Datuk Mark Yeoh modestly, when asked about the British hospitality offensive. "We started our little toe-dipping exercise, really, with The Gainsborough Bath Spa. The cottages are a historical thing. My first ales and marketing director, Denise Ellis, used to live in Bray. So, I've been going there for the past 28 years or so. It's a small, quaint town where everybody knows each other. [British broadcaster Sir] Michael Parkinson lived there and so when the cottages came up for sale, I thought we'd dabble in a bit of real estate and began collecting a few. At the time, The Waterside Inn was the place to eat and we were told their guests couldn't enjoy a proper meal with drinks … you know, having to drive back to London and all that. Bray then had a shortage of accommodation, so I thought, why not do up the cottages so people could stay?"
The real estate investment paid off handsomely when The Fat Duck's fame took off, further skyrocketing Bray's reputation as a first-rate culinary destination.
MONKEY ISLAND BUSINESS
Springtime in the English countryside is always idyllic and somehow YTL has made Monkey Island more attractive: First, by enlisting New York-based Champalimaud Design to enhance the estate's aesthetic and second, by adding a whole list of earthy delights, including setting up beehives so that guests can breakfast on fresh honey, a smokehouse to cure their own fish and meats, chicken runs for the freshest eggs as well as lush gardens for herbs and vegetables. Guests who enjoy sybaritic diversions will be pleased to know YTL's famous Spa Village touch is also present, by way of a special floating spa housed in a barge, to channel the spirit of the iconic river boats that ply the Thames.
Based on the buzz it has generated, Moneky Island Estate seems to be an equally stellar acquisition. "It has great history," Yeoh concurs. "It was in the 1960s and 1970s that it was at its epoch. Everyone knew of the place or spoke of it – either they married there of attended weddings. After a while, things died down somewhat and the property changed hands several times. It was first offered to me about 10 years ago and, at the time, I wasn't quite compelled or convinced that I could turn the business around."
Intervention came in the form of Yeoh's late father and founder of YTL Corp, Tan Sri Yeoh Tiong Lay. "My father visited the property about six years ago and loved the island," Yeoh shares. "He called me u, told me he liked it and said the valuation was cheaper than buying a house in Wentworth! He then added that if I didn't buy it, he would put in his own investment. To cut a long story short, it was the easiest board paper I'd ever done. Since then, we have managed to turn it around. And judging by the enquiries we have received, I think – from a business point of view – it will turn out better than what we had initially anticipated."
SUCCESS + THE CITY
For those who subscribe to the Samuel Johnson school of thought that says London is life, YTL Hotels' two properties in the capital should please. Its first, Threadneedles Hotel, is for those who like being in the financial "Square Mile" zone. Housed in the former headquarters of London City and Midland Bank, it is but a short distance to St Paul's Cathedral, Borough Market and The Shard. However, it is the newer Academy that gets my personal vote.
"It was a dump of a hotel when I first saw it, though," says Yeoh. "But the location was fantastic! It's in the heart of Bloomsbury and all its backbones were still very solid. Again, we saw the opportunity to work with Alexandra Champalimaud, just like what we did with our other hotels, and turned it around. We are very proud of the renovation. We also decided to keep its name because of the location. It's next to University College London and the British Museum. So, we've put in all the elements to tie the hotel in with its academic, literary neighbourhood. For example, we have the Alchemy Bar with all the barmen called alchemists. And we made sure to stock a lot of Tanqueray's Bloomsbury edition gin – just like how The Majestic Malacca serves its limited-edition Malacca gin – as the Tanqueray distillery was once located nearby."
Yeoh also shares how The Academy's restaurant is called The Refectory and the meeting rooms "genius labs". There were plans to open an in-house spa called Mr Ma's, inspired by the satirical novel Mr Ma and Son by Lao She, one of the most significant figures in 20th-century Chinese literature and who once lectured at the then School of Oriental Studies (now the School of Oriental & African Studies) just around the corner. Things, however, fell through due to approval issues. Instead, the team at The Academy are currently planning an afternoon tea service inspired by Lao's most famous work – his seminal play aptly titled Teahouse.
GROWTH PLANS
With Brexit looming, Yeoh remains upbeat about the UK hospitality industry. "The pound has dipped somewhat but, conversely, tourism goes up. Our occupancy rates are pretty robust. In Bath, our arrivals are 80% from the UK and 10% from the US. Add the increasing significance of the Chinese market and we only see upsides from this," he says.
With regards to further UK expansion, Yeoh lets on that the group is on the lookout in Oxford and Cambridge. "We already have London, Bray, Bath and Edinburgh. With Oxford and Cambridge, we can form a UK circuit," he explains.
YTL Hotels' sole French property, the Muse Saint Tropez set along the country's glamorous Riviera, is also doing very well and its European portfolio has just seen the addition of the Marriott Hotel in the Hague. "We recently acquired that asset," says Yeoh, "as it's easier for us due to English being widely spoken there. The learning curve will be steeper for sure in, say, Greece or the heartland of Italy. But if an opportunity arises, we will look at it and, hopefully, execute very swiftly."
Asia, naturally, remains a happy hunting ground. The opening of The Ritz-Carlton, Koh Samui last year has been positive, but it is Hotel Stripes Kuala Lumpur, in the city's edgy Kamunting area, that surprised Yeoh. And most pleasantly too. "We closed its first year with 83% occupancy, making it the best performing hotel to have opened. Normally we give a three- to five-year window for the property to mature and stablilise itself. Stripes is the first to deliver 83% [so quickly]," he says.
Japan, where the group operates three resorts – The Green Leaf, Hilton and Kasara Townhouses, all in the popular winter playground of Niseko, Hokkaido – is poised for greater growth. "Last winter, we had the mock-up units and showrooms for our new Hinode Hills serviced apartments. We've also started work on our Ritz-Carlton Reserve, which is scheduled to open in December next year as well the design for our first W Hotel, both also in Niseko."
GROUNDWORK
Having chalked up 30 full years (and counting) with YTL Hotels to date, Yeoh bristles at that point and roars, "You are reminding me of my age!
"The history of how I started began around the same time the Ministry of Tourism was created, with Tan Sri Sabbaruddin Chik at the helm, for Visit Malaysia Year 1990, and YTL was asked to support the government initiative. I was chambering at [law firm] Shook Lin & Bok at the time, enjoying my social life and not being gainfully employed. Then, my father asked me to come back and pay my dues. In other words, repay my d-a-d scholarship," he laughs.
The early days were, as expected, quite a learning curve for the young law graduate. "It was an industry in which we had no exposure at all. And looking from the first hotel, Pangkor Laut, to where we are now, it is quite amazing," he beams. "I would like to say it is all me, but, truly, God has blessed me with a lot of wonderful leaders. In leadership, the boss is normally at the top of the pyramid. But in the hotel business, it's inverse – we are the most unimportant people." And although the young Yeoh has no hospitality experience when he started, he did have one important point of view – "I'm a consumer. And the first thoughts were how do I make this profitable?"
It was at this time that his eldest brother, Tan Sri Francis, introduced him to two people who made an impact on the budding hotelier. "The first was Adrian Zecha (of Amanresorts and GHM fame). He is an amazing visionary who comes up with incredible concepts and is just the most suave, sophisticated person. The second was Ong Beng Seng (the Singaporean tycoon behind Hotel Properties Ltd, which own resorts all over the world, including Asia, the UK and the Maldives)," says Yeoh. "When we wanted to relaunch Pangkor Laut, Francis called and said, 'Let's invite Pavarotti for a concert to open the resort.' I was tasked with getting it done and my first thought was: Who's Pavarotti? I did remember that Beng Seng had brought him to Singapore once. So, I got in touch and had the good fortune of meeting him. He's just so sharp and clever at making money! So, If you ask me, my benchmark for the hotel industry lay somewhere in-between these two men – and that's what I aspired to be."
It was also through Zecha that the Yeohs got involved with the fabled Eastern & Oriental train service. "We were asked to invest and even though it wasn't a very profitable venture – we currently chair the company and is its largest shareholder at 32% – it was a very instrumental move due to the brand's iconic name. At the time, if you said you were from YTL Hotels, no one wanted to see you. If you said the Orient Express, however, people would at least listen to what you had to say."
CREATING VALUE + VALUES
Today a hotelier par excellence, Yeoh stresses the importance of creating a culture of excellence and instilling strong values. All staff carry the group's own 10 commandments of sorts – customer first, integrity, leadership, ownership, innovation, growth and respect, among others. "It's our bible code, the values we stand for," he says. "We are in the business of people's dreams and fantasies. And I have this mantra: It's not a good sell for YTL unless it's a good buy for the customer. Up till today, I personally read guest comments from all our properties. Every single one," he firmly states. "Because that's our report card. I am, however, pleased to say over 90% is positive – you can't please everyone."
He adds: "I also spend more time not at our hotel school, where we have students, which means we have a couple of hundred graduating each year. And I am so confident of the school that we guarantee each one of them a job upon finishing."
Yeoh's words of wisdom at the end of the day is that there is no shortcut to success. "You have to work hard. Really hard. You know, I was at Stadium Merdeka in 1980, for the historic match that inspired the movie Ola Bola. I was a student at Victoria Institution then. Malaysia was in the same league as South Korea then … now we can't even beat the Philippines," he laments. "And South Korea consistently qualifies for the World Cup, beating Germany and so on. Why? It all boils down to work ethics and culture. For example, if the Korean coach asks someone to run a mile, the guy would probably run two to impress him and show he's better than the next person. In Malaysia, if you ask someone to run a mile, the guy would probably take up a petition, complaining you don't know how to coach. In Malaysia, we like the easy way out. I always tell my management team, 'Look at the Olympians, how they well up with tears when their flags are raised at the winner's podium. This is because they remember their sacrifices. Even Pavarotti used to sing for just US$5,000. Later on, he could command a million dollars. If you are good, you don't have to worry. The money will come."
Looking at his own journey, Yeoh says he had always thought he would be an engineer, considering the family business then was solely in construction. "A lot of my brothers studied engineering, so I thought I would too. But my sister Soo Keng beat me to it. There were too many engineers [in the family] by then, so my father said, 'Your choices are law, law or law. What are you going to decide' But having read law, I don't regret it as it teaches you to compartmentalise, digest and read things speedily and address issues. I always advocate law as a good, all-round degree."
Yeoh cheekily adds how his mother had to initially persuade his lawyer sister-in-law, Datin Kathleen, to write him a letter, convincing him of law's merits. "I was in my rebellious teens," he concedes. The turning point came when Francis gave the lad a pep talk, telling him the ratio of guys to girls was 100:5 in engineering versus 60:40 in law. "I was sold! And you know what? He was right. My course turned out to be majority-female and this story is the family joke now!"
Despite being surrounded by an empire of fancy hotels and resorts, those who know Yeoh well also know the consummate workaholic veritably lives in and out of airplanes, relentlessly scouring the world in search of new acquisitions as well as dropping in to check on existing ones. "Luxury, to me, is sleeping without needing to have a wake-up call the next morning," he says, only half-jokingly. His preferred mode of R&R though, is to be at sea, where he enjoys sailing. "I also have a strong affection for Hawaii as it's the only place in the US where I feel local. I've been visiting since I was 16, honeymooned there, brought our daughter and even celebrated our 20th wedding anniversary there." When asked if YTL Hotels might say "Aloha" anytime soon, Yeoh shoots a look of horror, saying, "My portfolio ranges from Australia to Europe right now and criss-crosses two time zones. If I add one more, I won't be sleeping! So, maybe I'll leave that to the next generation."
Back