Chinese stocks have their best day in 3 years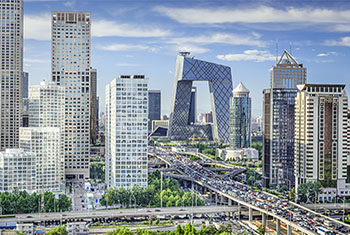 FT.com, October 22, 2018
By Emma Dunkley and Alice Woodhouse in Hong Kong and Tom Mitchell in Beijing
Chinese stocks had their biggest one-day gain in almost three years on Monday, staging a dramatic rebound after Beijing made a concerted move last week to reassure investors and buoy markets following a steep sell-off.
The CSI 300 index of companies listed on the Shanghai and Shenzhen stock exchanges closed up 4.3 per cent, its largest one-day gain since November 2015.
Shares in mainland Chinese companies listed in Hong Kong also climbed, with the Hang Seng China Enterprises index of Chinese companies listed in the city jumping 2.6 per cent, its best day since March.
The benchmark Hang Seng index rose 2.3 per cent, helped by a gain of 3.2 per cent for Chinese gaming company Tencent.
Investors have sold off Chinese stocks in the past several weeks, sending the CSI 300 spiralling towards its steepest monthly drop since January 2016. They have been unnerved by months of trade tension between China and the US and concerns over emerging market currencies.
The MSCI Asia ex-Japan index is in bear market territory, having fallen 23 per cent since January.
The sharp rebound over the past two trading sessions came only after an extraordinary effort on Friday to bolster sentiment by Vice-Premier Liu He, President Xi Jinping's top economic adviser and trade negotiator, as well as the heads of China's central bank, banking regulator and securities watchdog.
In his comments last week, Mr Liu dismissed fears about the economic impact of the escalating US trade war, saying "the psychological impact is greater than the actual impact".
According to people briefed on the trade talks, Chinese officials are increasingly sceptical that a meeting between Mr Xi and US president Donald Trump on the sidelines of next month's G20 meeting in Argentina can resolve the impasse. In an interview with the Financial Times, Larry Kudlow, Mr Trump's top economic adviser, accused Beijing of refusing to engage in serious trade talks.
But Chinese officials are nonetheless worried that slower economic growth and this year's stock market declines will only embolden Mr Trump to escalate the trade war.
Over the weekend, Mr Liu convened a meeting of a government commission that coordinates financial and economic policies. The commission announced no new policy initiatives, although details of previously announced tax cuts helped spur Monday's rally.
"The [commission] sought to project an air of confidence," said Andrew Polk at Trivium, a Beijing-based consultancy. "But their anxiety was belied by the fact that the meeting needed to take place at all."
Although Beijing is not expecting a breakthrough at the G20, Cliff Tan, east Asian head of global markets research at MUFG, said it was important for the government that Chinese markets stabilise ahead of the summit. "It would look like they don't have control of their own currency and control of their own stock market," Mr Tan said.
He added it is likely the so-called "national team" of domestic fund managers were ordered by the government to step in to buy shares and buoy the stock market, as they did through the Chinese equity bloodbath in 2015.
The measures announced last week included a pledge from China's central bank to ensure adequate liquidity in the banking system, and over the weekend state media also unveiled temporary changes to individual income tax law including additional special deductions.
China's has been the worst-performing major equity market globally this year, falling 25 per cent from its 2018 peak hit in January.
"After what has been a tense and terse month for Asia equities as a whole, they're taking a breather, but that's not to say volatility is going away," said Kerry Craig, global market strategist at JPMorgan Asset Management.
The slump in stocks has weighed on China's currency, dragging the renminbi towards Rmb7 against the US dollar, a threshold that analysts describe as psychologically significant and a level last hit a decade ago during the global financial crisis. The onshore currency rate was at Rmb6.9321 per dollar on Monday.
Technology stocks have had a torrid time, with shares in Tencent slumping almost 40 per cent from their peak this year in January.
"With concerns over trade impact becoming larger, we have also seen fund managers trimming their China positions," said William Yuen, a fund manager at Invesco. "China tech stocks are large and liquid and are seen as a proxy for China, so it's one of those sectors that is an easy candidate for people to trim."
Additional reporting by Hudson Lockett and Yuan Yang
Back