Global debts hit record US$182tril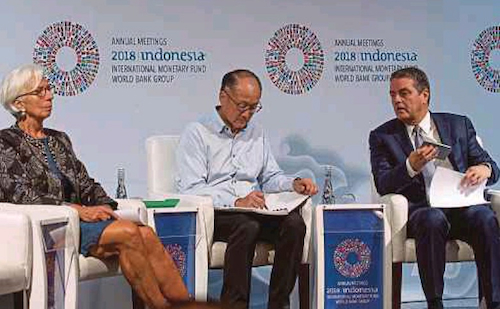 New Straits Times, October 11, 2018
But the picture looks less grim as assets of 31 countries that account for 61pc of world's output also grow to US$101tril
GLOBAL debt levels reached a record US$182 trillion (RM756.17 trillion) last year, having grown 50 per cent in the previous decade, but the picture looks less grim when public assets are taken into account, says the International Monetary Fund (IMF).
The IMF said a new data base in its semi-annual Fiscal Monitor report showed considerable net worth in 31 countries that account for 61 per cent of global economic output. Assets in these countries were worth about US$101 trillion, or twice their gross domestic product (GDP), with just over half the total in public corporation assets, and just under half in natural resources such as oil or mineral wealth.
"Once governments understand the size and nature of public assets, they can start managing them more effectively," the IMF said in the report. "Potential gains from better asset management are considerable." The fund said revenue gains from non-financial public corporations and government - financial assets alone could be as high as three per cent of GDP a year, equivalent to the annual corporate tax collections across advanced economies.
It cited Australia, New Zealand and Britain as countries that are taking positive steps to better manage their assets against the growth of future liabilities. The report analysed China's public balance sheet and found that its general government net financial worth has deteriorated in recent years to about eight per cent of GDP, largely because of subnational borrowing and underperforming public corporations.
It cited o-budget debt and weak corporate performances as risks for the future. Meanwhile, IMF chief Christine Lagarde said yesterday world leaders need to x global trading systems instead of trying to tear them down, in a rebuke to nationalist politicians pushing tariffs and protectionism.
"We need to work together to de-escalate and resolve the current trade disputes," she said at an IMF and World Bank gathering here. "We need to join hands to x the current trade system, not destroy it," she added. The IMF's latest report on world financial stability, released yesterday, said global growth could be at risk if emerging markets deteriorate further or trade tensions escalate.
"New vulnerabilities have emerged and the resilience of the global financial system has yet to be tested," it said in the twice-yearly Global Financial Stability Report. Around 32,000 members of the global financial elite are on the Indonesian holiday island for a week of discussions.
Back