Power shake-up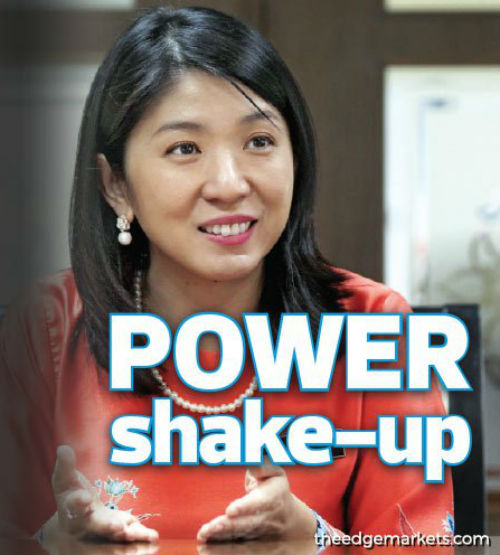 The Edge, November 24, 2018
by Adam Aziz, Tan Choe Choe & Kathy Fong
Less than two months after she was sworn in as the Minister of Energy, Science, Technology, Environment and Climate Change, Yeo Bee Yin gave the power generation industry - long regarded as the hunting ground for the country's tycoon cronies - a rude shock.
She announced that the government had decided to terminate four independent power producer (IPP) projects that were awarded by the previous government through direct negotiations andto review another four.
The reason given was that there would be overcapacity in the future and that the country's reserve margin would increase to above 46% if nothing is done.
Ironically, it was Tun Dr Mahathir Mohamad, when he was the prime minister for the first time, who gave birth to IPPs in the mid-1990s when there was a pressing need to rope in the private sector to ensure electricity supply security after several power outages.
Power purchase agreements (PPAs) at the time, which are now known as first-generation IPPs, were awarded through direct negotiations by the Economic Planning Unit (EPU), which then became the tradition in the industry.
Now, under the Pakatan Harapan government, Yeo, 35, is seeking to reform the power industry by growing the pie and dividing it among more parties, not just the IPPs.
Certainly, her ambitious plans involve more than just fine-tuning the fuel mix and pushing renewable energy. From the looks if it, the termination of the four IPP projects is a baby step towards more drastic changes in the future.
Yeo, a chemical engineer by training, warns of disruption ahead in the industry. In other words, the IPPs are facing a vastly different reality going forward. Gone are the days of easy money.
The minister had stated the unequivocallu that future power-generation projects will only be awarded through open tender, where bidders will have to compete on different fronts.
"I would say that in the next 5 to 10 years, the electricity industry will no longer be that boring. We will also see an increase in the pie because of the EV (electric vehicle) uptick," Yeo tells The Edge.
"The industry is going to be disrupted. The government's role is to make sure the disruption happens to the advantage of the people. Disruptive technology comes with innovation ... the government's role is to make it possible for these things to happen in Malaysia so that the people eventually benefit. And, hopefully, Asean as well."
Technology and innovation were probably not the focus at the negotiating table of old, with the seasoned players unlikely to have linked them to electricity production.
Blunty put, risk-proof PPAs probably topped the agenda in the direct negotiations, which is clearly illustrated by certain terms in the agreements. For example, as the sole off-taker, Tenaga Nasional Bhd (TNB) bears the fuel costs incurred by the IPPs, who also enjoys guaranteed internal rates of return regardless of their efficiency.
"The IPP regime is an old way of managing the market, especially now that we want a more efficient structure," says Yeo. "Now, the huge market is being shared by just a few players. The pie can actually grow bigger through innovation, not to mention our electric vehicles."
The ministed is not limiting disruption to the power generation segment. Indeed, she is looking at improving efficiency across the supply chain, including transmission and distribution, which are currently under the control of TNB.
Yeo also believes that changes are needed at the utility giant and not only power generation could be opened to third parties.
"At the moment, ours is a normal grid. But we want to move to a smart grid. Why? So that more people will be able to produce their own electricity," she explains.
According to Yeo, the reforms will revolve around two objectives - optimising the reserve margin and minimising system costs. She reactivated the Malaysia Programme Office for Power Electricity Reform (MyPower) in order to draw the road map to drive the reforms.
Yeo says MyPower's role is to handle the market infrastructure planning, namely power generation, transmission and distribution, which make up one-third od the electricity tariff.
"One-third of your electricity bill is [for] system costs. That means the PPAs and so on. Two-thirds of it are actually from fuel costs. So, whenever we talk about tariff rates, we are talking about market structure. Market structure is one-third of your electricity tariff," she explains.
THE RIGHT FUEL MIX
When talking about the electricity tariff, Yeo points out how vulnerable it is to fluctuations in the price of fuel, particularly coal.
"We are eavily reliant of fossil fuel. We'll always be susceptible to global fuel prices. This is because 48% of our power plants are coal-fired. And then, more than 40% are natural gas plants. So naturally you are very susceptible to this no matter how efficient your market is or how well you plan your infrastructure ... We are talking about at least more than half your electricity bill [being dependant] on something that you cannot control," she says.
She stresses that it is essential to push renewable energy in order to diversify the country's fuel mix for electricity production. The ministry is aiming for RE, excluding large hydro, to compose 20% of the country's generation mix by 2025. If large hydro is included, the composition would be 40%.
To Yeo, RE is not only about reducing carbon emissions. It would also help stabilise the electricity tariff, considering that power production costs are dictated by the fluctuation in fossil fuel prices.
Few would argue against the ministry's push for more RE in the country's fuel mix for power production. That said, concerns remain about its reliability, particularly when the layman has little knowledge of the technology.
Cost is another area of concern as sunshine and rain, like the movement of fuel prices, are beyond human control. This means the country will need to keep a supply of fossil fuel on standby to make up for any shortfall in RE due to weather conditions, among others. Idle capacity would add to costs, some quarters say.
Yeo counters that RE technology is advanced these days. Reliability was a concern 10 years ago but not now, she adds, pointing out that many countries have already moved beyond Malaysia's target of 20%.
"If you look at solar PV (photovoltaic), the price has dropped 80% from 2009 [levels]. I remember when I was in Cambridge (University), people were saying that solar energy was no go, that it would never be competitive. It is unimaginable that the price has dropped so much today."
According to her, offshore wind has become more competitive than natural gas in the UK. "Things like this happen - and because technologies allow a new mix to come in. We must not be fixated on one technology and plan [with it] for the next 25 years.
"We must be open to planning. That's why every half year, we review the generation mix according to the technological trends and costs," says Yeo, who strongly believes technological advancements will make Malaysia's RE goal possible and viable.
By the same token, she acknowledges that RE cannot be the baseload, which means fossil fuel will remain important, at least in the near future.
"RE, excluding large hydro, is intermittent. When it is intermittent, you cannot rely on it as a baseload in your energy planning. Technically, you will still need a large fossil fuel base. At present, RE storage is still not cost-competitive. But that doesn't mean things will not [improve] in four or eight years' time.
"So we are looking and tracking the storage price very closely. When the storage price for RE drops, making it competitive with natural gas or coal, then it will be common sense to move towards RE."
According to Yeo, a recent study shows that Malaysia can actually increase its intermittent RE to 35% without affecting the loss of load expectation (LOLE) of the system.
UPHILL TASK AHEAD?
It took longer than expected for the minister to reveal the four IPP projects that have been cancelled. They are Malakoff and TNB's 700MW gas-powered plant in Kapar, Selangor; Aman Majestic Sdn Bhd and TNB's 1,400 MW plant in Paka, Terengganu; Sabah Development Energy (Sandakan) Sdn Bhd and SM Hydro Energy Sdn Bhd's hydropower plant in the Palm Oil Industrial Cluster (POIC) in Sandakan, Sabah; and the solar power quota of 400MW to Edra Power Holdings Sdn Bhd for the utlisation of the solar power plant.
The names were only revealed in late October instead of end-July as promised, prompting speculation that Yeo might have had to clear several hurdles in the bold move.
"There was a due process that we needed to go through in identifying and cancelling the IPPs," says Yeo when asked if the cancellation was harder than she had anticipated.
She brushes aside the notion that she was being idealistic when she first announced the cancellation of the projects. "Sometimes, things take a longer time to do. But that does not mean that it cannot be accomplished. We are still looking at the IPPs, whether they are new or are expiring soon.
"We are looking at them from the energy-planning point of view. Again, two objectives: optimising the reserve margin and minimising system costs. We are looking at whichever can give us the best deal."
Yeo has implemented an industry rule that no PPA will be awarded through direct negotiations. Former prime minister Datuk Seri Najib Razak had promised the same but he did not manage to take the path that would have improved efficiency and delivered cost savings.
Whether the new government has the political will to reform the contract award system will certainly be closely watched.
To this, Yeo says, "Let us show by our actions ... in three years, you will see the tenders that we award."
INTERVIEW
The youngest woman in the Malaysian Cabinet, Yeo Bee Yin admits freely that she is an impatient person who cannot wait to move things along in the portfolio she manages.
Cool, poised and careful during the interview with The Edge, it is clear that the Minister of Energy, Science, Technology, Environment and Climate Change knows the weight her words carry and does not wish to show her hand in the watchful market until the time is right.
Below is an excerpt from the interview.

[Edge] In terms of market efficiency, where are we now? On a scale of 1 to 10, with 10 being very efficient.
[Yeo] We have a market structure that I'd give about 5.5 to 6. With the reforms, we will likely hit about 7.5 because there are many [areas], in terms of regulation and policy, where we are not yet future-focused. And in terms of competition across the value chain, there are some parts that are less efficient than others. MyPower will identify the gaps and fill them but we don't have anything to disclose at this moment.
[Edge] At the moment, generation is not monopolised while the other two, transmission and distribution, are handled solely by Tenaga Nasional Bhs. Are you looking at breaking down the monopoly?
[Yeo] Let me say this, I would not want to make any premature disclosures. When we finalise the decision, we will have an announcement. What we are trying to achieve is to look at the value chain and see how to make it more competitive.
[Edge] The reserve margin is at 32% and you said you want to optimise this to 25% by 2025. Is that the ideal level?
[Yeo] Not real. At this moment, because our grid is fixed and not smart, you need a lot of reserve margin. But when you have a more flexible grid, you can further reduce. Our target is 25% by 2025 but as we hit 2030, [it could reduce to] 20% - with improved reliability, fuel mix and all that. So you need to plan in such a way that you reduce [the percentage of] your reserve margin, increase renewable energy (RE) [uptake] and optimise costs through that. The tricky part is, when do you call for new tenders for RE projects? RE projects are time-sensitive because every year, technologies improve so much that costs can drop by 25%. That means, if I delay a project for two years, I can cut my costs by half. These are the things we are looking at.
[Edge] The coal portion of our fuel mix is getting bigger. You have set a target when it comes to RE. What would that mean in terms of cost of producing power?
[Yeo] Although coal prices have increased tremendously, it is still cheaper than gas. You need to see RE drop further in price to solve your energy tri-lemma of affordability, reliability and sustainability. That is why you cannot have a hard and fast target in your planning. We will slowly change the mix by looking at the cost of generation. So don't ask me about the impact if this target on costs. The target should always be that we want to give the most reliable, affordable and sustainable electricity to the people.
[Edge] As we have our own gas, wouldn't it be cheaper to use gas to produce electricity?
[Yeo] We will run our of gas by 2050. The seconf thing we must ask is, what are the opportunity costs lost? If I have RM100 worth of stock, I want to sell it to earn RM100. I don't use it to generate electricity that is worth RM60, and which I have to subsidise further. The nation would have lost RM40 in opportunity cost because it's not monetising its natural resources well. When you have gas, you must ask what you can do with it when you can generate electricity using other [scources] at a lower price. Gas is not free, nothing is. There is always the opportunity cost. So we must think, what is the most efficient way for us to maximise the country's income?
[Edge] What will our electricity tariff be like in the next 10 years? Because we know Malaysians are rather lucky to have one of the lowest tariff rates in the region.
[Yeo] Our mix is hugely dependant on coal - half of it is coal. So the tariff will still be very much reliant on the trend of coal prices. On the RE target and how much we push it, [that] depends on technology and other things. The government is tracking and optimising. We continually analyse what is the best solution. It is premature for me to disclose this but we may have a surprise [in the form] of a new good energy source for Peninsular Malaysia that may be competitive [with] the other things we are looking at.
[Edge] How will the 20% RE target by 2025 impact tariff rates?
[Yeo] We plant up only when we know it is not going to affect total system costs. We are talking about large-scale plants, not FiT (feed-in-tariff), which is very minimum and for the industry to grow. I know [LSS1 & LSS2] are punitive to the total system costs, so I am very, very careful on how I'm going to increase electricity tariff so people use less energy. We want to win together with the people [in our] gree agenda - and there are a lot of opportunities in the green energy - not punish them. So I'd say [the tariffs] won't be punitive but there are things I cannot control - like coal prices.
[Edge] As far as the public knows, there are more than four independant power producer (IPP) contracts that were awarded in direct negotiations. In fact, the Selangor government has just partnered Tadmax to continue one directly negotiated IPP contract.
[Yeo] There is nothing further to disclose. We will make the announcement when it is time.
[Edge] What about the project in Johor? The one (Project 4A) that YTL was [previously] involved in?
[Yeo] I'm not sure if it is under review. Anything that is operating will not be a priority. The priority will be those that are newly awarded because we have changed our energy plan. We have too much power.
[Edge] You said direct negotiation is not the way to go. That points to open tender. You are not the first to say thi. At least two prime ministers have said it but it did not happen. How confident are you that you can make this a reality?
[Yeo] I need to show you by my actions. In three years, I can show you we conduct the contract awards via open tender. Today I can say anything I want, politicians can say anything. So let us show by our actions.
[Edge] What will happen to the power purchase agreements (PPAs) that are expiring soon? A few first-generation PPAs are coming to an end - in fact, some have already expired. And some are held by Edra [Global Energy Sdn Bhd].
[Yeo] I can only give you a general direction without further disclosure. Further disclosure will come when we finalise the policy. We are trying to optimise our reserves margin and minimise system costs. Whatever allows us to do that will be the way to go. And that involves the first-generation IPPs. People can interpret this [however they want].
[Edge] You could always renegotiate the PPAs because they have already invested in power plants.
[Yeo] If renegotiating the first-generation PPAs will help us achieve the two objectives - optimising the reserve margin and minimising system costs - that is what we will probably do, right? But whatever you interpret today that will meet these two objectives will be announced through an action plan. I am still not at liberty to talk about it at the moment.
[Edge] You previously indicated there would be more IPP cancellations. Is that still true?
[Yeo] There will be announcements. If there is none, I will also announce because I would have to announce that certain power plants are actually coming up, right? (laughs)
[Edge] So, you are non-committal at the moment?
[Yeo] Non-committal. There are a lot of things that we are looking at in terms of implications to the government.
[Edge] That is the main challenge?
[Yeo] Yes. The implications. Legal implications, financial implications ... Let me put it this way, we are doing the best we can.
[Edge] Would it be correct to say that you are looking at liberalising the energy market?
[Yeo] I am actually looking at empowering the consumer. A lot of people say liberalising this and that [but] what is the end goal? Is is about getting the best for consumers, for our people. That will require you to work backwards and think what is the most efficient market structure to achieve it. So, we have a few options being studied. I cannot tell you yet what is best. People should not expect the government to make decisions on whims and fancies. We must be able to calculate properly because the implication is very, very big and we must evaluate all available options - liberalisation and other options. We are exploring.
[Edge] At the moment, other than the IPPs, is there anyone competing with TNB?
[Yeo] We will see that coming - it is consumers. Next year, we will have several small pilot projects to empower even more consumers. I'm not at liberty to tell you what they are yet. In 1Q2019, we will test that possibility. By the end of the year, we will have an idea. We cannot think that only IPPs are competing against TNB. Consumers can compete as well Consumers must have a choice, and their choice may be other [producers] or themselves.
With NEM (net energy metering), many of them will be producing themselves, especially commercial-industrial users with big roofs. It's very much a feasible case for them. You don't need smart grid for small generation. We will only need it when RE hits 35% to 40%, and we are heading towards that anyway. This [empowering consumers] can move concurrently. Once we hit that percentage, we would already have a smart grid. TNB is looking at all the smart grid possibilities. In fact, there are pilot projects to come. So the country is definitely moving towards digitalisation - smart grid being part of it.
[Edge] Could we say the government is committed to just letting the tariff be dictated by the imbalance cost pass-through (ICPT) mechanism?
[Yeo] IBR (incentive-based regulation) and ICPT help investors know exactly what they are investing in, elevate risks and make cost of financing better for electricity players like TNB. What you would like to see is for cost of financing to continue to stay low, to be like what it is today, and not be affected by government decisions. The share market is irrational. Because of that, we always have to be very careful about the policies the government makes. At the end of the day, investors don't look at the rational part by the irrational part. We will announce the surcharge or rebate in mid-December.
[Edge] You have such a huge portfolio. Can you actually give equal emphasis to the different areas?
[Yeo] Let me be frank. I was very reluctant [to have] science and technology in this ministry. But it was finalised as such. So, you will be hearing a lot from me next year on science and technology, in terms of nanotechnology, biotechnology, where we are headed. Different technologies from the one that [Communications Minister] Gobind is in charge of, which is digital technology, or agriculture, or primary industries. All the others are driven by the Ministry of Energy, Science, Technology, Environment and Climate Change (MESTECC).
But we must not see ourselves as the driver of a particular technology; we must see ourselves as an enabler. We do have a couple of things already [announced] such as [on] research funding. You will see the restructuring of five technopreneurship funds under me - Cradle [Fund Sdn Bhd], Kumpulan Modal Perdana Sdn Bhd, MDTC (Malaysian Technology Debt Ventures Bhd), Mavcap (Malaysia Venture Capital Management Bhd) - to commercialise and drive more technologies into the market. We are developing the matrix to measure these in order to allocate R&D funds. This will be announced next year.
There is a lot [we want to do] but things will not happen if we don't empower our people. Because a single minister will not be able to achieve anything. We have energy, science and technology, environment and climate change, all with different objectives.
Another objective for us is to make MESTECC the best place to work. We are a very future-focused ministry, so I need my people to innovate, to really think outside the box. We cannot do that in a normal bureaucratic setting. More than half [the staff members] in my ministry now are below 35 years old, yet people are still managing them like they are baby boomers. It's not fun and there's no purpose. We must accept the reality that we must manage them differently. There is a steep learning curve for me in managing this. Becoming a minister at a very young age, you must know you have weaknesses. So you must consult a lot of people, to take input from people with more experience.
Back