Opening of YTL's new Thermae Bath Spa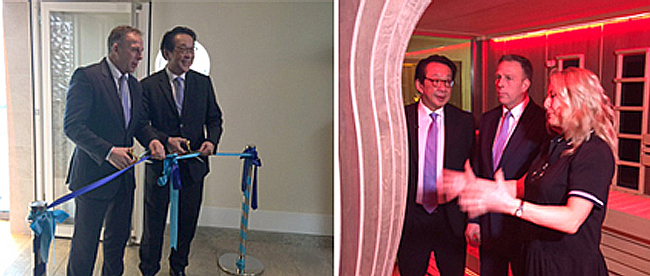 Bath, UK, 28 March 2017
SPEECH BY TAN SRI (DR) FRANCIS YEOH
AT THE OPENING OF THE NEW YTL's WELLNESS SUITE
THERMAE BATH SPA


Leader of the Council, guests, YTL colleagues.

I am delighted to be here today, almost 14 years since we gathered for the official opening of Thermae Bath Spa. This event is lower key and we don't have the Three Tenors, but it is an important development in enhancing the offering at Thermae Bath Spa. This is one of the best Spas in the world, housed in an architectural masterpiece, sited in one of the beautiful and most visited cities in the world.

The new wellness suite replaces four steam rooms which have been in constant use for the last 10 years and so needed replacing.

But instead of replacing like with like, we have introduced a range of new facilities, including:

· A Roman steam room
· A Georgian steam room
· An infra-red sauna
· A celestial relaxation room and ice chamber
In planning this, we have taken inspiration from Bath's unique history and the people who have made the city so special:

- The Roman and Georgian steam rooms reflect the two most significant periods in Bath's history.

- The celestial relaxation room celebrates the astrologer William Herschel, who discovered the planet Uranus from his home in Bath.

I want to thank the Roman Baths for their permission to use the wonderful image of Sulis Minerva in the Roman steam room; Dale Sauna and their contractors for carrying out this challenging project so effectively. We know that we have been very demanding clients so I would like to particularly thank Stephen Taylor and Lynn Russell for their creativity, hard work and patience!

Thank you also to Duncan Hay and the team who have co-ordinated the complex schedule of work and the staff at Thermae Bath Spa who have kept the spa up and running over the last three months while the work was taking place.

And thanks also to the management team at Thermae, in particular Andrew Jordan, Angela Bonner, Matt Young and Peter Rollins for their invaluable input.

Finally, and by no means least, can I thank Bath and North East Somerset Council for their support for this major project.
I pray that our Lord Jesus will bless the wellness of the people working here, the people using the Spa and all the people of the beautiful city of Bath.
I am delighted that Tim Warren, Leader of the Council, is with us today, and I would now like to ask Tim to say a few words.
Tim Warren, the Leader of Bath Council said, "Bath is honored with the presence of the YTL group. It is a world class business establishment. YTL has continually invested in Bath since their large investment in Wessex Water in 2002. YTL's Gainsborough Hotel has already made a positive impact on the City and also to travelers to Bath. Today's opening of the new state of art Spa facility invested by YTL, the Themae Bath Spa, further enhances Bath as one of UK's favourite tourist destination. The Thermae Bath Spa is without doubt one of the best spas in the world. We are indeed blessed to have YTL as a long term investor in this region."
Back