The legacy of British expats on Hong Kong's jewellery scene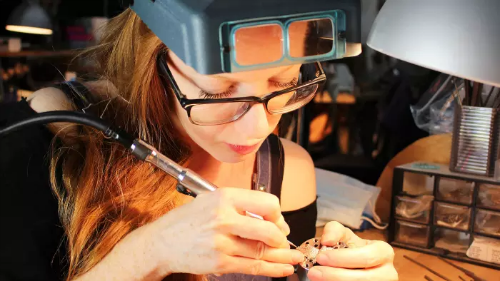 Financial Times, September 28, 2017
By Rachael Taylor
In 1972, Marcia Lanyon left a job in London with society jeweller John Donald and followed her husband to Hong Kong, where he was working for airline Cathay Pacific. Ms Lanyon says: "As an expat spouse, you were just expected to take up flower arranging, but I was always pretty ambitious."
Instead of conforming to expat life, she took a job in a "grim" jewellery factory in North Point as a gem buyer, but after the glamour of London's elite jewellery circles, she did not last long. She quit and started a business out of her home, giving gemmological courses to small classes of bored expat housewives and curious Chinese students. Ms Lanyon stayed in Hong Kong for just three years ("my husband hated it") but she has been widely credited as the founder of gemmological education in the city — and a role model for the generations of jewellers, local and expat, who have followed her.
"Hong Kong was a big centre for jewellery . . . yet when I arrived, you could count the number of gemmologists on one hand," says Ms Lanyon, who is retiring after almost 40 years at her wholesale coloured gemstone company. She observed gems passing hands without any form of grading or understanding of their value. "My argument was that people would pay more if they knew what they were getting."
When Ms Lanyon arrived in Hong Kong, there was an appetite for western jewellery, says Chinese jeweller Wallace Chan, who started his creative career in Hong Kong as a sculptor. "During the 1960s and 1970s, the Hong Kong jewellery industry was booming with two types of clients: the traditional Chinese, who preferred pure gold, and the Europeans and Americans. The latter brought with them new taste and knowledge. New types of designs flooded in, with orders for 18ct and 14ct gold and gemstones."
The ground, then, had been prepared for other expat jewellers, such as Tayma Page Allies, who landed in Hong Kong in 1987 and runs Tayma Fine Jewellery from a plush store in the Landmark Prince's building, keeping company with Cartier, Chanel and Van Cleef & Arpels. Ms Page Allies soon turned her love of commissioning jewels in local workshops into a business idea, selling western-style designs set with lesser-known coloured gemstones, such as tourmaline, rubellite and aquamarine. She undertook gemmology training, attending evening classes at the house of a fellow expat and sitting her exams among the boys of a school in Kowloon.
The Chinese love of more expensive metals and stones meant Ms Page Allies had to turn to the expat market, flush with earnings from the so-called "hardship postings" of westerners sent there by the colonial UK government and multinational groups.
"The business was founded on expats," says Ms Page Allies, recalling her first sale to two women she lunched with. She found it easy to join elevated expat social circles, becoming a regular at the parties of the embassy circuit. "It was like Disneyland," she says. "In our era, you knew everybody from top to bottom and it was led by the colonial Brits."
The scene did not last for ever. In 1997, the UK transferred sovereignty of Hong Kong to the Chinese: "It stopped in 1997 on the dot," she says.
Now the Chinese wield such spending power that jewellers are keen to tailor their collections accordingly. Instead of Ms Page Allies' rare and expensive semi-precious gemstones (a term she is not fond of), demand grew for diamonds and fine jade. Chinese jewellery designer Dickson Yewn, who started working for private clients in 1995, says that "the Chinese are crazy for jewellery and value-keeping commodities due to the past 300 years of social instability."
Mainland Chinese consumers have become ever more powerful in Hong Kong as travel regulations have relaxed. The Individual Visit Scheme was introduced in 2003, allowing personal travel, and in 2016 there were 42.8m travellers from China, up from 6.8m in 2002, according to the Hong Kong Tourism Board.
Mr Chan believes this has had an enormous effect on the Hong Kong jewellery market: "With the rising living standard of consumers and a change of taste due to the western influences, luxury jewellery brands from Europe and America have bloomed alongside local jewellery brands to satisfy the demand of both traditional Chinese customers and those who prefer western styles."
The arrival of global brands has not stopped smaller jewellers growing as the market matures, says Natalia Obolensky, chief executive of ecommerce jewellery site Plukka, which also has a store at Chater House in Central district. Plukka's designers include British socialite Chelsy Davy and Chinese jeweller Wendy Yue. The mainland Chinese market is "looking for something different" from Hong Kong's former expat style, says Ms Obolensky.
That suits expat jeweller Nathalie Melville (top) perfectly. When goldsmith Ms Melville made a break from London in 2010 after "things went belly up" during the recession, she rebuilt her business in Hong Kong, but could not find bench space to rent.
"Hong Kong is very well known for manufacturing jewellery, but the idea of you wanting to make your own . . . People looked at me like I had three heads," she laughs.
After a few frustrating months working at her dining table, Ms Melville took on her own studio. "The price per square foot is eye-watering," she says. "I thought, either I can find a postage stamp I can pay for or I can go for an envelope-sized studio and stick in a couple of benches and see if anyone wants to take classes."
Ms Melville's Hatton Studios jewellery school — its name is taken from Hatton Garden, London's jewellery district — has been a runaway success, despite being meant only to help pay the bills and fund her main business, Melville Fine Jewellery, Hong Kong's first Fairtrade gold licensee.
The school has moved to 2,000 sq ft premises in Sheung Wan and has five teachers running courses from illustration to stone polishing and setting. It also has benches available to rent and offers mentoring.
There are currently 17 designer-maker jewellers working there, all at different stages of their careers. Marcia Lanyon's legacy lives on.
Back