ERL Leads The Way with Cashless Partners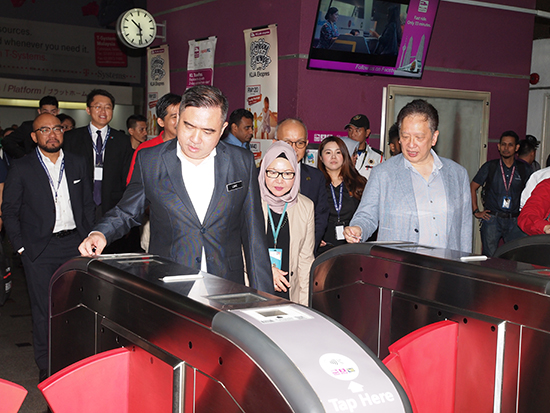 Kuala Lumpur, 17th June 2019
The Minister of Transport, Yang Berhormat Tuan Loke Siew Fook today launched the "Go Cashless on Public Transport" Campaign which was organised by Express Rail Link Sdn Bhd (ERL) at KL Sentral. The launch event saw the participation of ERL's strategic partners, namely, Boost e-wallet, GrabPay, Mastercard, Maybank, Touch 'n Go, UnionPay and Visa.
In support of the national agenda, the campaign serves to promote awareness and usage of contactless cards and digital/mobile wallets by the travelling public on train services and at stations. In conjunction with the launch event, an on-the-ground activation was held on the same day until 7pm at KLIA Ekspres Arrival Hall in KL Sentral where the public could get to visit the participating partners' booths, play games and win prizes.
Tan Sri Mohd Nadzmi Mohd Salleh, Executive Chairman of ERL said, "We are using innovative technology to improve our customer experience. ERL has been at the forefront of the cashless movement on public transport since 2010 by working with strategic partners to promote the awareness and usage of cashless transactions. Besides online ticketing, we encourage the usage of contactless cards at the gate, self-ticketing at self-service kiosks and mobile wallets to reduce cash transactions and ease congestion at the counter."
Today, the usage of cashless transactions on all our services is 47%, an increase of 5 percentage points from 2018. We target to increase the cashless usage by our customers by about ten per cent over the next 3 years. To achieve this target, we certainly welcome more partners onboard, and more educational as well as promotional efforts to encourage the usage of cashless transactions by our mutual customers," added Mohd Nadzmi.
Loke kicked off today's Go Cashless Campaign launch with a ride on KLIA Transit to KL Sentral from Putrajaya & Cyberjaya Station where he personally experienced using a cashless payment mode at the gate. Loke in his speech said, "I am truly happy to witness the fruits of cooperation between ERL and its partners. When it comes to public transport, a progressive approach towards a fully cashless system is preferred, starting with educating the public on the benefits of going cashless. In this respect, the government would like to urge rail operators to play their part in ensuring benefits are felt by the people. Offering value deals to commuters such as unlimited access card and discounted monthly passes can certainly ease the rakyat's burden. Joint promotions with partners who share a common goal can also benefit the travelling public."
A mindset shift and change in habit will take a lot of time and effort but I believe a concerted effort by all parties concerned will help meet the government's overall goal of a digital and cashless society," he continued.
At the same event, Mohd Nadzmi announced new promotions for ERL customers.
From 17th June to 16th September 2019, lucky KLIA Ekspres and KLIA Transit customers who pay with Boost will be eligible to win either 100% cashback of their purchase or RM1,000. On top of that, customers who buy their KLIA Ekspres ticket from within the Boost app also get a 15% discount off the ticket price.
From 1st July to 31st December 2019, every ticket purchased with UnionPay Credit or Debit Card at the gate, counter or self-service kiosk will be rewarded with an instant random cashrebate between RM2 and RM888.
Maybank is offering customers a 10% discount on KLIA Ekspres tickets bought via their MAE e-wallet from now until 31st December 2019 and a one-day only 15% off discount on the 17thof June 2019.
The public can visit www.KLIAekspres.com for more information on the offers.
Back