The International SeaKeepers Society Asia Dinner Awards 2018: Turning Tides for Marine Conservation and Education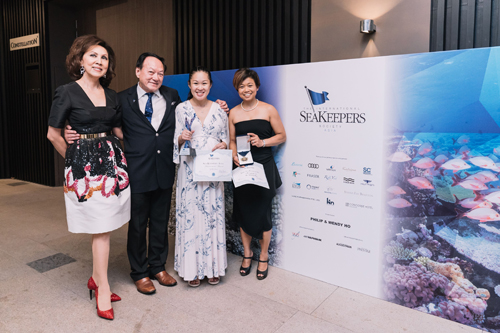 Singapore, April 13, 2018
The International SeaKeepers Society held its 3rd annual Asia Awards Dinner at One°15 Marina. Hosted by Dinner Chairs Julian and Sandra Chang, the theme for this year's Dinner was about turning tides.
One of the evening's highlights was the announcement of this year's award winners. Dr. Karenne Tun and YTL Hotels took home the prestigious awards for SeaKeeper of Singapore and The International SeaKeepers Society Asia Achievement Award 2018 respectively. These awards recognize the award winners' responsibility towards the health of Asia's marine health through research, education, protection and/or restoration. Dr. Tun's current work at NParks covers issues related to the management and conservation of Singapore's coastal and marine environment and the biodiversity they support. Whilst YTL Hotels was recognized for their commitment to integrate responsible environmental strategies into their core business decisions which protect and improve the natural environment for future generations to come. In addition, 6 Discovery Yachts were highlighted and awarded for their contribution and participation in last year's programming.
The event was attended by special guest speakers Dr. Toh Tai Chong, lecturer at National University of Singapore and the co-founder of Our Singapore Reefs; and eco-entrepreneur Melissa Lam, founder of Bamboo Straws Worldwide. The idyllic marina setting was the perfect backdrop to discuss how environmental and marine conservation has grown in the last few years. Both speeches echoed the same need for the different stakeholders in the community to come together and make an impact for long-term environmental conservation.
And honoring the Society's commitment to community and educational outreach, guests were treated to a lively percussion performance by a group of children from Tasek Jurong Limited, a non-profit organization in Singapore. A message from Tasek Jurong's Patrons, Mr and Mrs. Tharman Shanmugaratnam was shared thereafter. The performance was especially significant because the performers were beneficiaries of The International SeaKeepers Society Educational Outreach programme. Sandra Chang shared, "There is a lot of data that we have gathered over the last year which is certainly valuable to the scientific research community. But having the kids here, performing on stage and being part of this event, this is something really special for us and for them. It's a testament to how we can bring the community together and tonight we celebrate our success."
Another key part of SeaKeepers Society's success is the support received from individual and corporate sponsorships. Julian Chang proudly announced that Luzerne, Singapore's longest established ceramics producer, has come on board to sponsor education programmes. Schools across Singapore will continue to benefit from the environmental awareness programmes in their classrooms as well as with their students onboard private yacht which are part of the SeaKeepers Discovery Fleet, for a day of hands-on learning about marine science and conservation.
Advocates for educational awareness and research on marine science conservation, the SeaKeepers Society use yachts to host educational programs for youth and conduct field research in the region. Donations made to the Society directly fund programs designed to nurture environmental awareness amongst the next generation, as well support research expeditions. To play a part and help turn the tide on marine conservation, visit SeaKeepers Society to learn more about how you can volunteer, become a member or donate your yacht for the cause.
Back