All-New Lot 10 Invites You To Truly Meet.Play.#LoveLot10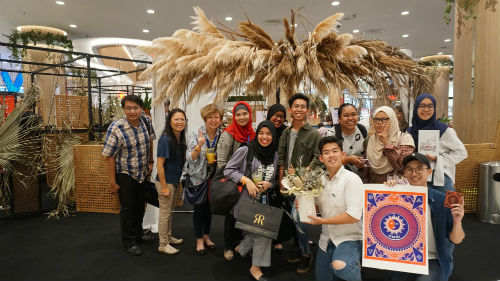 Kuala Lumpur, 13 April 2018
Make a beeline to the new social hotspot in Kuala Lumpur right in the heart of Bukit Bintang! Lot 10 is inviting one and all to mee.play.#lovelot10 at the mall in the first of a new series of events - #Lot10Wanderlust this weekend. The iconic green cornerstone landmark of the famous shopping street, newly reimagined as a dynamic and inclusive space imbued with fun and creative youthful experience, is now a true social destination for locals and tourists to shop, dine or simply chill out.
"Lot 10 is re-conceptualised as a social destination of choice where people meet and connect, where customers not only shop and eat, but also play, and where all under our roof will feel the spirit of love. The reimagine Lot 10 is built upon the key pillars of Youhful, Fun, Creative and Connected. Our Youthful spirit aims to excite and inspire customers in a trendy environment, and we collaborate with tenants, partners, and visitors to amplify the Fun at Lot 10 in a holistic way, We embrace and foster everything with Creativity to shape unique and memorable retail experiences for all. Ultimately, we aim for Lot 10 to keep every Connected through our inclusive social space that celebrates diversity and encourage all to meet, gather and connect," said Joseph Yeoh, Vice President of YTL Land.
"Since we have embarked on our renovation over a year ago, much of the new hardware enhancements have been completed. We are thrilled numerous new tenants have joined us including the first offline Reebonz store in Malaysia, J's Gate Dining with its cluster of 18 authentic Japanese eateries, Tokyo Candy Factory, Molten Chocolate and our latest Sennheiser pop-up store. Today, a mall must go beyond hardware and retail mix to offer differentiated experiences to attract shoppers, especially when online shopping is fast changing the retail landscape. A mall must incorporate value-added lifestyle elements such as arts, culture and entertainment that are not found in online shopping. We must give shoppers a hand in shaping their own authentic experiences to stay relevant in their social media space," Joseph added.
The fun never ends on weekends
Kicking off on the weekend of 13 - 15 April 2018, the #lot10wanderlust series offers a host of exciting weekend activities and experiences. Fans of independant artisans can make their way to the inaugural Pasar Sari, and all-Malaysian homegrown artisan market that will last til 22 April 2018. In line with Lot 10's push for local entrepreneurship amongst the creative youth, a curated collective of 12 local artisans will take centre stage here to showcase their selection of locally-sourced and produced goods perfect for local visitors and tourists. Get hands-on with creations from The Apothecary Malaysia, Kapten Batik, Buih & Co, ZaHuoHang and more. You can shop for fragrances and toiletries, pick up art, stationery and apparel, or perhaps take home some homeware and decorations, and even select from a variety of agrocultural products from social enterprise Langit Collective. Don't miss the yummy local delights from Lot 10 Hutong and RococoCafe Restaurant too! Lot 10 has plans to bring Pasar Sari back every quarter.
Celebrating local entrepreneurship and tying in with Pasar Sari, the first-ever Open Forum kicks off with the #GirlBoss Talks session on 13 April 2018. Five influential women entrepreneurs give their take on starting our and thriving in the fashion and beauty industry, featuring Aina Syahirah, Co-founder of Kulet; Jenn Low, Founder of Wanderlust & Co; Didie Nasir, Co-Founder of Dida Cosmetics and Founder of Dynda Designs; Tengku Jamidah, Co-Founder of Dida Cosmetics and Founder of THAVIA the label; as well as fashion stylist Haida Yusof. Open Forum will return with more weekend sessions featuring other creative minds in the months ahead. Coming up in August is a session featuring purveyors of the trending coffee culture.
The Lot 10 Rooftop comes alive on the evening of Friday 13 April 2018 with the first-ever screening of Korean movie "The Battleship Island" starring Hwang Jung-min, So Ji-sub and Song Joong-ki, playing on 13 and 14 April 2018 at 8pm. Upcoming screenings of more movies have been scheduled on Saturdays 28 April, 12 and 26 May 2018, with more to be announced later. The outdoor movie screening, held in partnership with iflix, BenQ, Sennheiser and Strongbow, is targeted to energise the rooftop in the evenings while exercise sessions like yoga under the sky are also planned for weekend mornings in the future.
For fans of e-gaming, Lot 10's newest e-gaming tenant The Geek Arena will stage quarterly charity e-sports matches, such as Street Fighter, FIFA, PUBG, Rainbow6Siege, League of Legends and more. The inaugural match will be held on 14 April 2018 at 2.30 pm at Level 3 featuring a duel between the KL Hunters and Geen Fam. Not to be missed for all e-gamers.
Lot 10 is synonymous with busking in Bukit Bintang on the weekends, During #lot10wanderlust, music and busking performances at the main entrance next to the Lot 10 mascot Lottie and the new side entrance facing the MRT exit are stepped up from noon to 9pm with performers on the piano, saxophone, guitar, cello and other instruments. A new addition to encourage free musical expression is Lot 10's very own Open Piano, a first-ever in a Malaysian mall, where the public is encouraged to showcase their own musical talents on the keyboard at any time of the day. Look out for the public piano beautifully painted by three students from the Raffles College of Higher Education Kuala Lumpur.
Lot 10 goes social
To embrace the digitisation of experiences, Lot 10 encourages visitor experiences to be shared in real-time on social media platforms. Numerous new Instagram Spots dot the mall across floors from the rooftop swing to coloufrul Insta-worthy walls with angel wings and pink telephones. New Play Walls have also been created to encourage shoppers to have some fun while shopping. You can have fun with hand-shadowplay, personalising messages on chalkwalls, or even discovering hidden quotes in the fire escape stairwell. Temporary pop-up and changing art installations will surprise visitors, keeping the Lot 10 experience fresh and engaging on social media all year round. To keep all shoppers connected, Wifi is free throughout the mall and the Lot 10 Cheerleaders Squad is always on hand with their tablets to help visitors with everything - from directions and sharing the latest promotions to taking photos for shoppers.
Art is in the air
A big push for the arts through the "Art in the City" programme is happening at Lot 10 through its collaboration with Cendana, the Cultural Economy Development Agency, to bring local artists and their creations to the heart of Bukit Bintang. Artworks will be displayed on the new LED screens at the new side entrance facade, while art installations, exhibitions, wor
Back