Students, Teachers and Parents Across Malaysia Level Up At FrogAsia's Leaps of Knowledge Conference 2018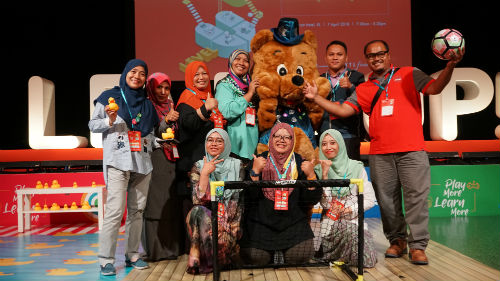 Kuala Lumpur, April 7, 2018
The Leaps of Knowledge Conference 2018 presented by FrogAsia today with the support of YTL Foundation saw more than 1,000 educators, parents, students, and members of the education sector gathering to elevate 21st century education in Malaysia. Held at the JW Marriott Hotel Kuala Lumpur, this year's conference aimed to inspire, equip, and empower Malaysians to collboratively and collectively do more to raise the bar in education.
The Leaps of Knowledge Conference 2018 - themed Level Up! - centred around the commitment of the community of educators, parents, and individuals to continue leveraging on the foundations built over the last six years, levelling the playing field across all schools in Malaysia through technology. This year's conference explored how the community can work together to raise the bar by celebrating each other's successes, learning from each other and collaborating on new ideas to increase outcomes for 21st century learners.
"At FrogAsia, we believe in a world where everyone loves learning and where technology removes boundaries. With technology, there is equal access to quality education regardless of location or boundaries. By bridging the digital divide, the education divide is also bridged at the same time. After six years of driving 21st century education in Malaysia, we have seen the huge difference that Frog is making in the Malaysia education system. Schools from across the country can collaborate and support one another, and student progress can be monitored and tracked to help them improve. Today, we are gathering educators, students, parents, and other members of the education community to join forces to raise the bar further and make 21st century learning even more accessible and empowerinf,: said Lou Yeoh, Executive Director of FrogAsia.
At the conference, FrogAsia launched its inaugural FrogPlay World Championship, a competition that aims to encourage students around the world to collaborate and optimise the use of the FrogPlay gamified learning and revision application on the Frog Virtual Learning Environment (VLE). FrogPlay, available online on the Frog VLE and in the Google Play Store, motivates students to learn and progress by doing revision using gamification. Thousands of quizzes are available for the students' revision, inclusing quizzes from trusted education partner Pelangi Publishing Group, teachers, and the Ministry of Education. FrogPlay also provides detailed reports to help parents and teachers help their child and classroom of students perform better.
Since its launch last year, students have clocked over 1.5 million revision hours on FrogPlay. By tracking the hours spent on FrogPlay and the progress of students, FrogAsia saw evidence that revising via the gamified-learning app resulted in an improvement in student performance across all subjects for both primary and secondary schools. For example, students who used FrogPlay for physics revision are observed to have increased their average scores by up to 29% points.
Lou added, "We were so excited to see the impact of FrogPlay last year, which was driven by the FrogPlay Championship. The competition was successful in encouraging students to proactively learn and revise on FrogPlay even after the competition ended which led to an improvement in their academic performance. We believe in providing Malaysian students with exposure to the best education possible and equipping these students to be globally competitive. This is why we are taking the FrogPlay Championship to the global stage, where students in Malaysia will get to compete with students from all around the world including schools in the United Kingdom, Australia, Denmark, France, Hong Kong, Italy, Luxembourg, the Netherlands, Saudi Arabia, South Africa, Spain, Switzerland, and the United States of America."
The conference featured Shaheen Mistri, Founder of Akansha and CEO of Teach for India who spoke on her belief thhat educators and students are partners in building education in a nation, and encouraged collective impact through the contribution of all in the community. Through her talk, she called upon the participants to evaluate the tools they already possess and to use them effectively to raise the bar in education in Malaysia, which will set a standard and be a role model for the world.
Programme Director of YTL Foundation, Datin Kathleen Chew was also one of the featured keynote speakers. She spoke on the impact and success stories that were the result of the collaboration between YTL Foundation, FrogAsia, and the Ministry of Education. "It is evident that change has taken place and that technology has made a huge impact to education in Malaysia. We are so glad to be partners with changemakers in this country and will continue to contribute to this initiative that aims to inspire and upskill learners nationwide."
After her speech, Datin Kathleen invited three teachers from schools that benefitted significantly from the various initiatives like the Frog Classroom Programme, 1BestariNet Teacher Award and FrogPlay Championships. These three teachers were the Headmistress of SK Kayang Pn. Noridah Hamdan, 2nd Runner Up of the 1BestariNet Teacher Award 2017 En. Mohamad Jalil, and Admin Chew Soo Lee of SJK(C) Choon Seng, School Winner of the FrogPlay Championships 2017.
Leaps of Knowledge is sponsored by YTL Foundation, also a key partner in the Frog Classroom Programme where they, together with the Ministry of Education, contribute to building 21st century learning spaces for schools. YTL Foundation had recently contributed a sum of RM1.5 million together with the Ministry to provide 21st century education infrastructure to 50 Tamil schools nationwide. During the workshops, the participants gained deeper understanding of higher order thinking skills and how educators can incorporate them into teaching and learning. There were also gamified experience workshops that introduced the new features of the Frog VLE to parents and tachers to demonstrate the capability of such technology when implemented in today's education system.
Back