As Malaysia spends billions, Dr M says high time for external audit on state spending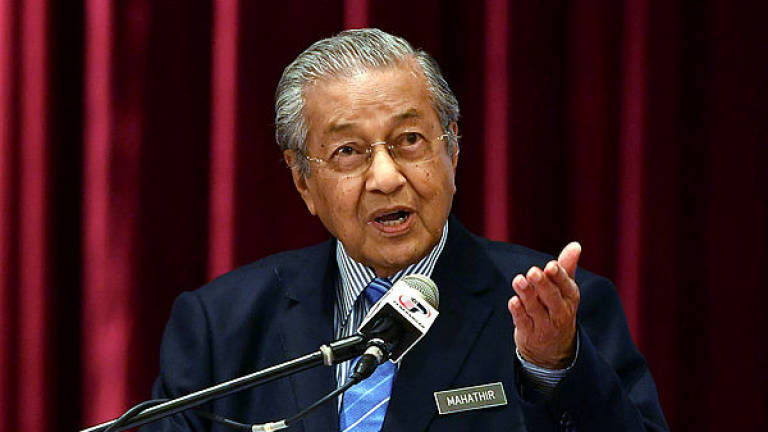 The Malaysian Insider, January 29, 2015
Putrajaya should appoint external auditors for all its agencies to allay public concerns about the billions being spent on investments across the world, Tun Dr Mahathir Mohamad wrote in his blog today.
The former prime minister suggested that the external auditors be kept separate and free from the government's general orders or salary scheme and be paid by an independent body.
"The audit firms should be beholden only to the independent body as well as be paid by them. Government and its agencies should have no say at all," he wrote.
These moves were necessary, he said, for Putrajaya to gain credibility in the public's eyes, given that entities such as state-controlled planter Federal Land Development Authority (Felda) and pension fund Employees Provident Fund (EPF) were on a buying spree abroad.
"This need is urgent now because with Malaysia's greater wealth, large sums of money are being expended and managed by both the government and its agencies.
"We see entities such as Felda, EPF, Tabung Haji spending billions in acquiring foreign properties while others such as MAHB (Malaysia Airports Holdings Bhd) and Petronas have bought shares in airports and Canadian ventures also involving huge sums of money," he wrote in his blog.
It was reported last month that Felda Investment Corp (FIC), a subsidiary of Felda, had acquired the Grand Plaza Kensington Hotel in London to "diversify its investment assets". The acquisition makes it the first London property for FIC and the second for Felda.
Dr Mahathir said while the accounts of these entities have been made public, there were still many things the public wanted to know.
A proper and independent audit would establish the clean management of public funds and clear the government's name, he added.
The public should be allowed to give information on anything they may know about the accounts being audited, noting that while there should be transparency, the identifies of informants should also be protected.
Dr Mahathir's suggestion comes as Prime Minister Datuk Seri Najib Razak's administration is being criticised especially over the government-backed strategic development fund, 1Malaysia Development Bhd (1MDB).
The drop in the price of crude oil has also shone the spotlight on nett oil exporter Malaysia as the weakest of Southeast Asia's major economies and has also set off alarms among foreign investors who own more than 40% of the domestic bond market.
The DAP yesterday had also urged Putrajaya to conduct a special audit of 1MDB's finances after the strategic investor reportedly requested for a third extension to repay a local RM2 billion loan.
Earlier this week, The Malaysian Insider had also reported a plan by the Auditor-General to turn the National Audit Department into a commission that would free it from the conditions and salary structure of the civil service.
Public Accounts Committee (PAC) chairman Datuk Nur Jazlan Mohamed had said that this would allow the department to hire and pay professional accounting staff rates to enhance the department's competency.
The department, which produces the Auditor-General's report, had only four or five professional accountants, Nur Jazlan had said, and needed to improve its capabilities as well as the way it produced and wrote the report. – January 29, 2015
Back