TM's Q1 revenue climbs to RM2.62b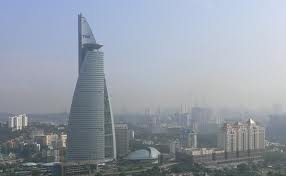 NST, May 29, 2014
TELEKOM Malaysia Bhd (TM) has registered encouraging growth in revenue for its first quarter ended March 31 2014, despite posting a slight 1.2 per cent fall in earnings to RM210.63 million against the corresponding period last year.
The telco said the 8.1 per cent revenue increase to RM2.62 billion recorded in the period under review was driven mainly by Internet, data and other services, while the lower net profit was mainly due to the absence of lower deferred tax income on unutilised tax incentives.
TM group chief executive officer Tan Sri Zamzamzairani Mohd Isa said Internet services recorded 12.7 per cent higher year-on-year revenue of RM726.1 million, driven mainly by growth in UniFi customers and higher subscription for HyppTV Content.
Data revenue rose by 3.5 per cent year-on-year to RM605.5 million in the first quarter boosted by new circuit installations and upgrade to higher bandwidth.
He said as Malaysia's broadband champion, the company's customer base grew 5.7 per cent from 2.11 govmillion in the first quarter of 2013 to 2.23 million customers in the current quarter, with continued growth seen in UniFi and Streamyx.
"UniFi demand remains strong, and we recorded 22.6 per cent growth year-on-year with close to 653,000 customers, an additional 121,000 customers," Zamzamzairani said in a statement yesterday.
He added that UniFi continues to see healthy growth. With over 665,000 customers to date, it is now available via 1.507 million ports providing coverage to 2.512 million premises on the back of 105 exchanges and translating into about a 43 per cent take-up rate.
Zamzamzairani said TM will stay focused on giving the best experience to its customers.
"In line with the growing demand for data, we will continue to offer innovative products with integrated and strong value propositions that will make our customers' lives easier at home and beyond.
"It is important that we keep up with the progress we are making across the group while continuing to deliver enhanced customer experience via the various improvement initiatives we have embarked on to improve our levels of service," he added.
TM also expects the telecom industry to remain positive this year, with data and broadband continuing to be the key growth drivers, alongside improving external demand and strong private investments.
Back