Analysts neutral to positive on Mahathir's appointment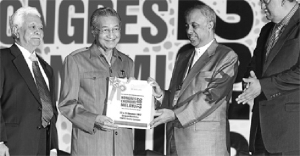 The Edge Financial Daily, May 22, 2014
Analysts following DRB-Hicom Bhd were neutral to positive on the appointment of Tun Dr Mahathir Mohamad as non-executive chairman of national carmaker Proton Holdings Bhd, a wholly-owned unit of the diversified group.
Investors appeared indifferent as the counter closed a marginal two sen or 0.82% lower yesterday at RM2.42 per share.
The counter saw 391,500 shares changing hands and was traded to a high of RM2.46. In contrast, DRB-Hicom's shares closed two sen higher on Tuesday with a lower trading volume of 138,000.
Some analysts, however, were positive about Mahathir's return to steer the beleaguered carmaker given the various challenges it is facing.
"We view Mahathir's appointment as chairman of Proton as positive for DRB-Hicom, as we believe his clout within the government and auto industry will be beneficial for the automotive maker," Public Investment Bank analyst Lee Wee Sieng said in a report yesterday.
The research outfit has retained its 'outperformed' raring and on DRB-Hicom. It is also maintaining its target price at RM3.40.
"In addition, Proton's global small car (GSC) which is expected to be launched in the second half of this year (delayed from April 2014) will likely be a game-changer for Proton," said Lee.
Mahathir, who conceived the concept of the national car in 1979 as part of his administration's efforts to spur the country's industrialisation programme, cools use his political clout so slow down the liberalisation of Malaysia's automotive sector and in effect, protect Proton from debilitating blows that other carmakers could bring, said analysts.
Proton was set up in 1983 and through a joint venture with Japanese carmaker Mitsubishi, it launched Proton Saga in 1985.
In the mid-2000s, Proton lost market share amid a competition industry landscape. It was taken over by DRB-Hicom in 2012.
Filings with the Companies Commission of Malaysia showed that Proton's net loss for its financial year ended March 31, 2013 (FY13) was RM821.4 million, more than 35% higher than the previous year's net loss of RM606.3 million.
An analyst, who declined to be named, said Mahathir could be the right individual to spur changes in Proton.
"Mahathir is the pioneer in Proton; it was his brainchild. As Proton is going through a restructuring process, Mahathir – who has been with Proton since Day One- could be the right man to call the shots.
"Proton recently named a new chief executive officer as well (Datuk Abdul Harith Abdullah). He is seen to be an outsider. The employees might be more willing to listen to someone who is seen as a Proton man through and through," the analyst said.
Another analyst, however, said that at worst, Mahathir's emergence could be neutral to Proton.
"Mahathir had already been and adviser to Proton (from 2003). Has there been any improvement in its cars?" asked the analyst. "The chairman does not create the product. Proton's problem lies with its products."
Bernama reported yesterday that Proton had appointed Mahathir as its chairman effective May 16. The former prime minister has also been named as chairman of Proton's subsidiary, Group Lotus plc.
Mahathir will assume the post from Tan Sri Mohd Khamil Jamil who is stepping down as executive chairman, but will remain on the board of directors of the company.
Proton said in a statement that Mahathir's determination to see the national carmaker succeed mad it natural for him to step in as chairman, in what would be a new chapter in the company's journey.
"Dr Mahathir will now be able to dedicate more of its time to Proton as chairman. This will certainly continue to strengthen the company in its mission to become a globally recognized automotive player," said Proton chief executive officer Abdul Harith Abdullah.
Mohd Khamil who is also DRB-Hicom group managing director, said Proton is honoured by Mahathir's acceptance to serve as chairman.
Back